What Are Pop-Ups: A Definitive Guide With Examples & Best Practices
What Are Pop-Ups?
Pop-ups are specific messages shown to a user while they are browsing. This type of message usually appears over the content of a website and is designed to grab users' attention. 
Being of either informational or promotional (or both) nature, pop-ups are leveraged by marketers to boost sales, reduce cart abandonment, grow email lists and more. When used wisely, pop-ups can become a handy asset for your marketing strategy. And vice versa, one false move may mean total dissatisfaction and losing the trust of your potential and existing customers. 
What are pop-ups that convert? Are there any great examples that apply to your marketing strategy, and how to measure if a pop-up is effective? Your pop-up guide is right under this introduction, so follow the read.
What Are Pop-Ups: Types and Examples
Answering the question "what is a pop-up?", most of us still imply a classic exit-intent message. In reality, it's been a long since pop-ups moved far from that. A pop-up definition years ago and now are completely different. Depending on the format, desired action and display rules, pop-ups may have different views, goals and formats.
Pop-Up types differ:
by view

by goal

by trigger
Let's have a look at the popular pop-up examples in each category.
Pop-ups by view
Depending on how they appear on the screen, users may see pop-ups in a number of different ways. These may be just a small window shown in the very centre of the page or a bar that is moved aside. A pop-up may occupy the full screen or be a small horizontal bar that appears on scrolling. Below are the most commonly used pop-up types by view.
Lightbox or a modal window. This pop-up opens as a small window and appears over the webpage content, making its background darker to grab the user's attention.
Example of a lightbox pop-up
A yes/no pop-up is usually a form of lightbox that has rather informational than promotional intent and is often a part of the user experience as a whole. Such pop-ups look like boxes with simple questions that inform visitors of their actions and the consequences. 
Example of a yes/no pop-up
Fullscreen message. As the name implies, these pop-ups cover the content of a page in full and prevent a visitor from further browsing until they perform the desired action. 
Example of a fullscreen pop-up
Floating box. This type of banners is often present on a website without popping up. They look like static horizontal bars and convey some promotional information. Floating bars can become pop-ups if the rules to display them are adjusted. They are effective for communicating the news, informing about free shipping deals, or creating buzz around time-limited sales.
Example of a floating bar pop-up
Sidebar pop-ups usually appear on the right or left side panels of a webpage. They may have different styles, and as a rule, also include a CTA. Their location makes them look less intrusive as they do not prevent a user from further browsing of a webpage.
Example of a sidebar pop-up appearing on scrolling
Multi-step pop-up is a complex pop-up campaign that can combine several views and goals traditional pop-ups may have. Their principle is redirecting a website visitor to several pop-up pages after they perform the desired actions. For example, during step 1 a user may be prompted to get a discount, while in step 2 a user will need to fill in a short contact form in order to get the discount. 
Example of a multi-step pop-up 
Pop-ups by goal
Although most popping-up messages are of informational or promotional nature, there are still a number of goals they may pursue. Among them are: customer profile enrichment, getting feedback, upselling & cross-selling, retention and more.
Profile enrichment. This goal is achieved by prompting website visitors to fill-in popping-up forms with personal information. A very basic example is requesting an email or phone number. More details may be answering certain questions about visitors' sex, interests, marital status, having children/pets etc.
Example of Profile Enrichment Pop-up
Product recommendations and abandoned cart pop-ups come helpful when the aim is to upsell or cross-sell or increase AOV.
Example of a pop-up with product recommendations 
Example of a cart abandonment pop-up
Social proof is letting website visitors understand what other people are doing on the website. These pop-ups are usually triggered by specific widgets and have a promotional intent. Usually, they show how many people are viewing a certain product at this moment or inform about the number of items left in stock. This way, you can make potential customers understand that a certain product is popular among other website visitors, and suggest to hurry up.
Example of a social proof pop-up
Pop-ups can be based on a specific campaign like a sale, time-limited event or holiday season. The aim of those is to promote and support a related marketing campaign, announce a discount or inform about the date until which a certain offer is valid.
Example of a campaign-based pop-up
When the goal is to get feedback and NPS, an asset is a survey pop-up. There may be a couple of fields to fill-in, grades to assess customer satisfaction, a window with thumbs up and down or various emojis. For a visitor, such pop-ups look like a part of their journey on the website, while for marketers they are a tool for measuring customer satisfaction right where they are getting it.
Example of a pop-up for getting feedback
Cookies & GDPR pop-ups are the most common examples of informational pop-ups that preserve customers' privacy. Appearing at the very beginning of the user journey, they are now an integral part of any website.
Example of a cookies pop-up
Pop-ups by trigger
A trigger is a rule to display a pop-up. Here we select the conditions to show a pop-up, including the frequency, the time spent on a page, scrolling behavior, number of page visits, source, specific groups of website visitors or even the clicks they make on certain UI elements.
Time on page. This type of trigger calls a pop-up when a visitor has stayed on your page for a certain period of time (for example, 30 seconds). They are displayed when a user demonstrates their interest to stay on a page and are usually accompanied by a specific CTA.
Example of a time on page pop-up
Device-based trigger is a rule that allows showing certain pop-up types to users on specific devices, for example mobile phones only.
Page-based trigger makes it possible to include or exclude certain pages from the display rule. For example, to keep users concentrated on making an order, you may choose not to display any pop-ups on the Cart and Order Details pages.
Source-based trigger is a way to display pop-ups to users based on the source they followed to reach your webpage. For example, you can use UTMs to differentiate users who came from a specific email campaign to display a pop-up to them only. 
Time-limited triggers are used when there is a need to display a pop-up over a limited period of time. It works like a timer and automatically turns a pop-up off when the rule prescribes. 
On-scroll pop-ups are based on a certain percentage of the page a visitor has scrolled down by the moment, and allow to display pop-ups tailored to specific content. For example, showing product recommendations just after the user has learnt about them.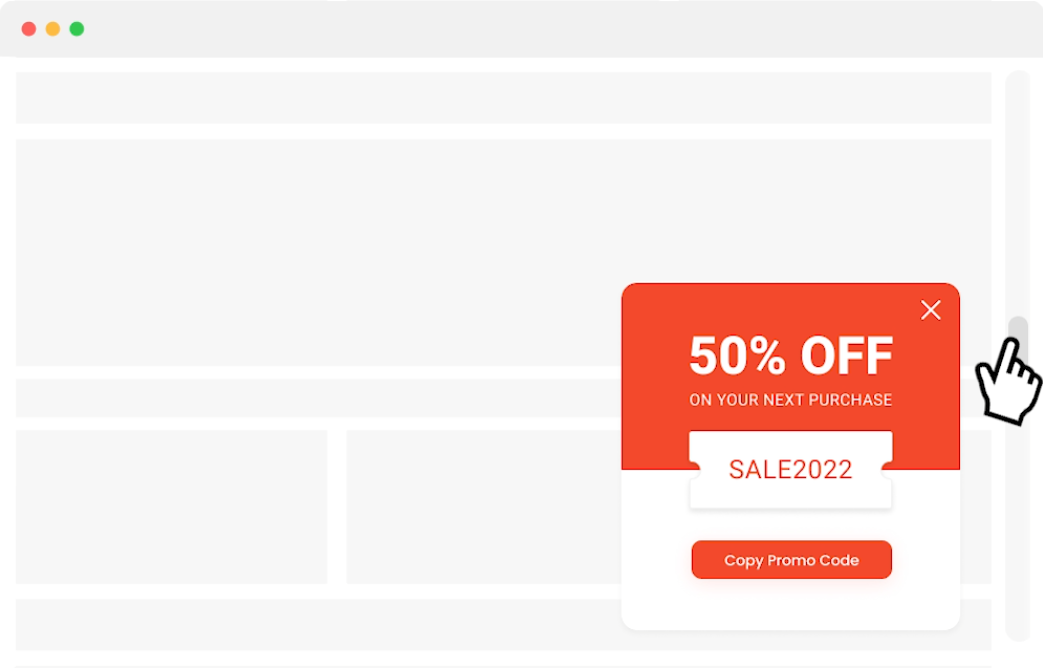 Example of an on-scroll pop-up
On-click pop-ups are triggered after a user makes a click on some UI element, for example a click to call button located in the bottom of a webpage.
Example of an on-click pop-up
Activity re-engagement pop-ups are triggered when a user remains inactive for some time but the window is left open in the browser. These can be on-page follow-ups based on the content users have viewed or a discount offer that encourages users to continue shopping.
Example of an on-page follow-up
Exit-intent pop-ups are a classic way to stop users from leaving your website. The action that calls the trigger is a user trying to leave a webpage without performing the desired action, i.e, completing an order, adding a shipping address or submitting a registration form.
Example of an exit-intent pop-up
How to Create a Great Pop-up?
First goes the question "What is a great pop-up?". In most cases, by great pop-ups marketers mean pop-ups that convert. Conversion may mean various actions performed by a website visitor. So, first and foremost, you need to understand what's the primary aim you are having with pop-ups. This will help understand what a great pop-up means in your case, and then measure how you are doing.
Why use pop-ups?
To get contact details of potential customers

To upsell and increase your AOV

To improve user experience

To grow user engagement

You need to be really careful with pop-up advertising, as most users by default have a negative perception of this kind of ads. And the reasons for that could be:
Inappropriate time of showing a pop-up. Pop-ups work when they "catch" a website visitor just in time. That's why prior to running your pop-up advertising campaign, try to analyse in what way users interact with certain types of content on your website and act accordingly. 
Inappropriate location of a pop-up on the website. A good pop-up doesn't prevent a user from interacting with the key elements of a website, like the menu, language settings etc. Make sure your pop-up overlaps no essential parts, and is easy to minimize or close.
Unclear CTA. You want your visitors to do what? In the majority of cases, pop-ups are to convey a certain call-to action. It may be a box meant to collect an email address or a couple of product options to add to the cart, or a redirecting button – whatever it is, all your efforts will be in vain if a CTA looks ambiguous or does not correspond to the desired action of a user.
Intrusive content of a pop-up. If your pop-ups equals a sales pitch it is unlikely to be taken positively by any of the website visitors. A good pop-up is an element that balances between making user experience easy and helping achieve your business goal. 
Using the reverse logic, we can now sum up and conclude that a great pop up is the one that helps you reach a certain aim and is designed accordingly. 
Pop-up Best Practices
"We ended up creating one of the most hated tools in the advertiser's toolkit: the pop-up ad", this is how the founder of pop-up advertising describes his creation. Luckily, it's been more than two decades since the first popping-up window saw the world, and lots of mistakes were already made before us. Sticking to the best practices for using pop-ups help to avoid common mistakes in pop-up advertising and create messages that convert.
Keep your goals simple and CTAs clear 
If your goal is getting an email address, don't ask for more. Let users clearly understand what action you want them to perform. Focus on only one goal with each popping-up message, and  supply it with a straightforward CTA.
Bring real value 
An average website visitor receives about 3-4 pop-ups just when they visit a website for the first time: a cookie notice, a Privacy Policy alert, a "Subscribe box", an "Allow using your location" window. Think twice before making them see and click on more. Come on, they may have just come to check your website occasionally! And the way you treat them with your pop-ups may affect whether they will stay or never remember your domain name. Make sure to display pop-ups only when they are to the point, and again, proceed from bringing a user-friendly experience.
Segmentation & targeting
Segmentation is often a synonym of success when it comes to marketing. Pop-up advertising is no different. Dividing your website visitors into segments helps to bring the desired user experience and target the right people with the right offers. Here are the targeting options to be used in pop-up advertising:
geo-based targeting (showing different messages for users from different regions);
Example of a location-based pop-up
targeting based on a traffic source (Google, Facebook ads, email campaigns etc) ;

campaign-based targeting (the content of each pop-up corresponds to the campaign a user has already seen);

targeting by engagement (tracking how many pages visitors have seen, time spent on a page, returning customers etc);

cart-based targeting (displaying product recommendations based on the content that's already in the cart);

excluding the previously subscribed visitors;
Personalization
If you want to catch your visitors' attention, you can use custom variables at the segmentation stage and further adjust them to make your messages personalized. You may use a visitor's name, occupation, tastes & preferences. Such information provides a number of chances to reach your visitor with some special offers be or simply call them by name, letting them know they are special to you. But be careful not to breach any private space. 
Assess how your pop-up is performing and make adjustments
You never know before you try. A good pop-up is also the one selected during rounds of experiments. Here are several fundamentals you can stick to in order to make the right decisions: 
first of all, analyse how pop-ups influence your website conversions and measure how they affect conversion of each webpage;

if you have a multi-stage pop-up campaign or use a click to call button, measure each of the steps separately: calculate the number or clicks & calls and the number of target actions;

conduct A/B, A/A/B testing to understand how certain phrases, shapes, images and CTAs are perceived by the website visitors;

create different pop-up campaigns for desktop and mobile users and measure them separately to get valid results;
If your pop-up does not convert, try changing the text, its appearance, the time when it's displayed. Use holiday occasions to test new formats and entertain your visitors. 
How to Measure the Effectiveness of Pop-ups?
The majority of tools for pop-up advertising offer built-in measurement options. These are usually dashboards that provide an analytical view on your ongoing and past pop-up campaigns. Things you can measure usually are:
Conversion rate or how pop-ups affect the number of target actions performed on the website. This will help to understand how your CTAs are performing and optimize trigger actions.

Number of website visitors. Inappropriate pop-ups may negatively influence your website traffic. Calculating the number of visitors will allow tracking the offers, pages and contents that users love most as well as identifying the devices they use to access your website. 

Drop-off rate. This metric helps identify any specific pop-up fields that make your visitors exit a webpage and work the content of your messages out.

Timing. Understanding if you are delivering the pop-ups in the right time affects the number of visitors and impressions you are getting from them and adjusting display rules accordingly. 
There can be more metrics and options for customization, we are only listing the basic ones.
Measuring success is a logical part of your pop-up advertising strategy. It starts with understanding your aims and defining what are pop-ups that work in your particular case. Analyzing the performance of your campaigns helps to spend your budget in a more effective way and, of course, puts you one step closer to your potential customers.