14 Shopping Deals Popups to Boost Sales Promotion
03 December 2021
21 March
~ 12 min read
4980 views
Popups are not just a tool to get new leads and save up some contacts to send letters in the future. They can also be used for multiple purposes including notifications and promotions. Yes, popups can help you sell your products and services nonchalantly.
Besides, they can help visitors get into that funnel and lead them to the checkout. It's a win-win situation as you end up with a purchase and the customer will get a discount.
Have you ever noticed that people tend to look for promo codes online? There are even websites for those. It can be played in your favor – provide users with promos when they are on your website. Thus you can get immediate purchases (in most cases) and happy customers as you save their time looking for promo codes.
Notify users about your goods that are currently on sale, show them the discounts, and help to find the discount code. You can also offer free shipping on orders that go over a particular price. You don't have to go crazy with it, don't block the content with your popup or anything like that. A simple, elegant window in the corner of the page is enough to get the desired attention. Even with this simple move, you'll get web traffic. However, you need to test different pop ups for different audiences as the results may vary. 
Let's break down some of the coolest examples brought by shopping deals popup on the Internet!
14 Examples of Great Pop Up Promotions
Each of the following examples has its purpose and is intended for a specific target audience. So make sure to check your priorities and discuss the options with your marketing team before placing it online.
Free Shipping
The good news is that by offering free shipping as an incentive, you can remove a major barrier to purchase your products, thus converting more visitors into customers.
The best part, you don't have to offer free shipping all year round for it to be effective. With a limited-time free shipping campaign, you can encourage visitors to buy from you, and boost your popup sales.
Countdown
This popup surely creates a sense of urgency that people can't stand. It is hard to resist such an option. Customers will more likely buy a thing if you offer not only free shipping but also a small discount. Do you remember the time when you've decided you need 5 new T-shirts just because you've had a coupon on your hands? Exactly! That's what we are talking about. There is always something you need to buy and such offers will make it possible.
Make sure that the message you share on your popup is easy to understand and read. No one will sit there trying to decode a fancy font. Add a simple call to action on your button to highlight your offer. And make sure that the "No, thanks" offer looks not so distinctive as the "Yes" button.
Email Subscription
Connect the best of two worlds: email leads and extra purchases. Offer your new customers to get free shipping if they send you their emails. But make sure to provide the news and notify them about popup sales once they ask you for it.
This strategy will help you grow your email list, get new customers, sell additional goods, build up your subscription list, and expand your business.
This popup should provide users with all the necessary information regarding the following steps. You don't trick people into buying your goods with a discount, but rather help them make the first move.
Free Coupons
Get a Deal Right Away
Provide the user with a code that can be copied and used when purchasing from you. It can be a limited-time option, or with no particular ending date.
This works the best with first-comers as they don't know your service and products yet. Thus, after using a discount code they have a chance to enjoy your high-quality products. So make sure that your manufacturing is also doing a great job. Remember, using marketing tools is great, but they won't last for a long time if your products and services are not fine. 
Build up the Subscription List
This tactic will help you grow your subscription list while offering pop up coupons to use any time the person wants. Make sure to put as little text as possible so the main accent is on the coupon and the subscription.
Don't forget to run an A/B test on the positions of the elements. This will help you create the perfect and engaging design.
Multi-Step Popup
Celebrate your most engaged customers with an additional hidden gem — a coupon pop up. If they use your website on a regular basis, know their way around, and have lots of stuff in a cart or in favorites, then it's time to give them a little push.
You can ask them some kind of question, even "Do you want a discount?". No doubt they will click the "Yes" button.
This can be done with any type of popup: the one that is situated in the top or bottom, the one that is in any corner, or even a fullscreen one.
Can't Miss Discounts
Make an exclusive offer that is hard to leave behind. Make sure to state that the customer won't get another chance to use this promo code, but now. You can also add a timer to speed up the choice.
Spoiler alert: everyone loves a good discount, especially if there is something in the cart already.
Superb Deals for the Newcomers
Make the newcomers feel like they are getting the best deal. This is the option for you to help them use your product or service for the first time. We all know that it's hard to start using a new brand: there are a lot of doubts and uncertainties.
You also can get an email to inform the person about upcoming restockings, news, sales, discounts, etc. Basically, this is the best option to be friends with your new customers and develop them into loyal admires of your brand.
Limited Time Offers
Promotions were created to run for a limited time only. They can help to build a loyal community, or simply get more purchases during a limited period of time.
It's a great tool when done right. It helps to upgrade your digital marketing and business overall.
Gamification
Everyone loves a bit of entertainment. Even during recent years, every marketing specialist seems to be talking about the "Experience Economy". Incorporating this popular tool into your practice can be both fun and profitable.
You can surely boost your sales by providing customers with different games. But make sure they are easy to pass. Don't place extra hard sudoku for a 2% discount — no one will use it. The gaming technique and the discount percentage should be suitable and easy to perform.
The fortune wheel is one of those well-balanced examples that combines it all: the person sees the possible profit, is interested in getting the biggest discount, and understands that it's easy to "spin" the wheel.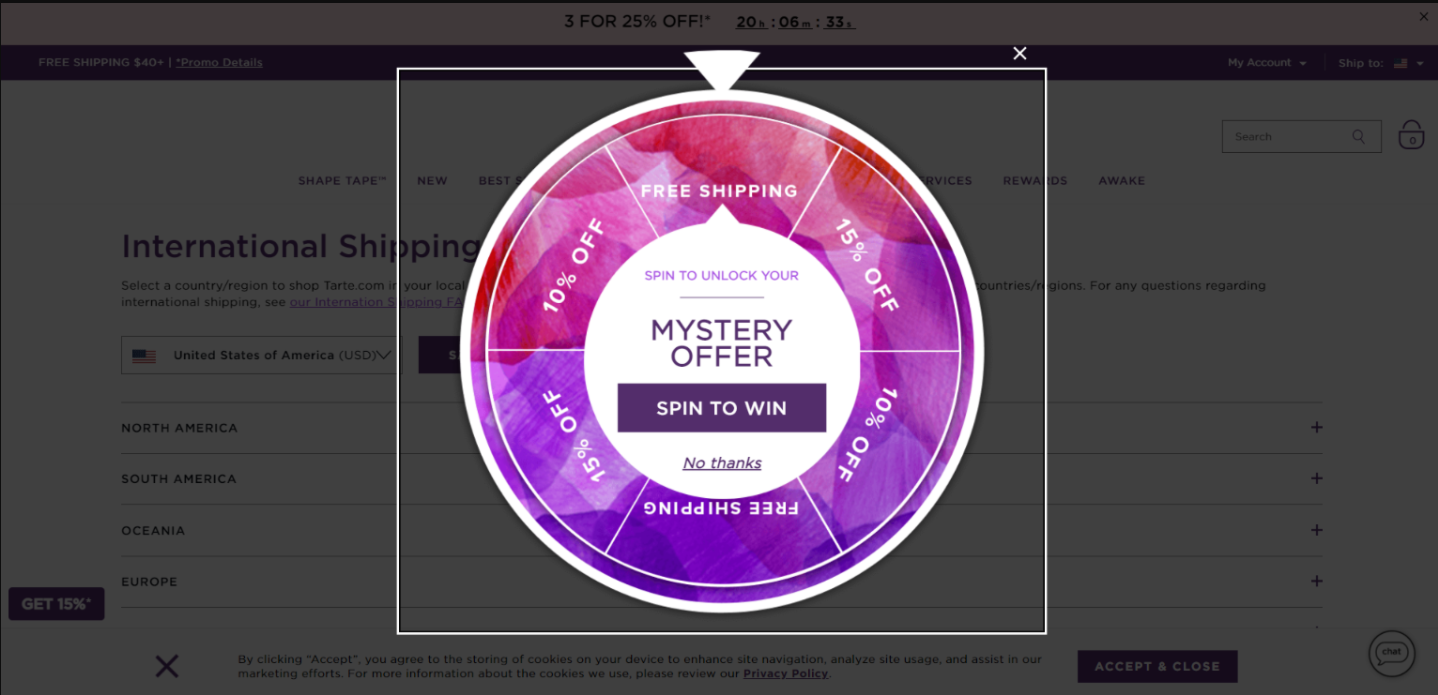 FOMO
Another popular marketing social tool. It's not just a tool, rather a well-known psychological trait of our generation.
Have you ever noticed how you fear missing some important news that you don't even know about? That's FOMO (Fear Of Missing Out). And that's what you can also use while creating a popup with a promo code. 
A limited-time discount motivates people to clean out their full carts. If they are your loyal customers, they surely have some items saved in favorites or even a full shopping cart. And your small discount simply pushes them to check out items that are out there anyways
Seasonal Promotions
Even though we believe that most holidays aren't just a marketing move, we still use them as a special event to give away promotions, codes and run any other sales to satisfy our loyal customers and attract newcomers.
Who doesn't want to surprise friends and relatives with over-the-top presents additionally picking something for themselves? YOLO!
Halloween Promotions
A newsworthy event is always a good idea to create a new goods and services section where you place all relatable stuff.
For example, when the Halloween obsession arises, make sure to get all the related things and start your popup campaign. You can cross-run several popup mechanics as gamification and limited-time offer of the day pop up. Also don't forget to get the email!
Black Friday Promotions
It's not only the Black Friday sale anymore. There are Pre Black Friday, Post Black Friday, Cyber Mondays, etc. The main idea here is to sell as much as you can for a limited time. There's no surprise that people spend lots of money during Black Friday. Thus, you can sell extra goods during this period.
Make sure to notify your users about your intentions beforehand. Lots of people plan their shopping during this time of the year and with the help of your timely popup that can include your store in their lists.
Write down exactly what discounts you plan to offer. Is it 50%, 70%, or 90%? Don't try to hide that. If you are not doing Black Friday then don't do it all rather than offering 2% off when everyone around offers 99% off.

Christmas Promotions
Christmas is always about presents for those who are close to you. For that reason people will look for the best goods at the best prices.
As one joke became the reality, there is no doubt that Christmas is not about December exclusively.
Even though most promotions start emerging at the beginning of December, many people think about Christmas presents way before December starts. Usually, customers buy some goods during Black Friday. So, maybe, writing a bit about Christmas presents for your loved ones while promoting the Black Friday popup isn't a bad idea. Try that and comment on this post about how it worked. 
Upsales
Nothing can go wrong with recommending your clients the related product that comes with the discount. You can even promote items in bundles. The customer might not be aware that some additional item is necessary to use the first one.
You can also suggest items based on the user's searching history and browsing behavior. It's hard to resist a nice discount for the item you've been thinking about.
Show Your Popular Items
Notify your customers about the most popular items or services on your website. This is a part of social proof that basically tells your customer that these particular items are good, in high demand, and have a great price.
Show the most popular items in the category the customer is most interested in. Don't show exactly opposite products as they will stay unnoticed. However, you can test the popup where you show several items from the nice and one random popular item
Remind Customers About Their Favorite Products
Your loyal customers surely have their favorites that they don't rush in to buy. Remind them about those items. You may even show some reviews from other customers that have bought the item. 
Many people do forget about particular items as there are way too many things out there to think of. Make it in the most nonchalant way possible and watch people drop those items from the Favorite category right into the Cart.
Extra Tips for Creating Your Own Sales Promotion Popup
As you've learned some examples that you can use in your store, let's see what exactly you can do to stand out among your competitors and get extra attention to your promos.
Experience Economy
Surprise your customers as you add some engagement to your popups. Ask to spin a wheel or solve the simplest riddle. In any case, your customer gets a promo code that he or she can use immediately or in a short period of time that you state in your promo.
Implement Your Knowledge About User's Behavior
You know best what your client wants and needs the most. Don't lose this opportunity to offer specific discounts on specific items.
Of course, you can promote random items for no good reason, but you won't get the desired outcome for sure.
Your Popup Text and Design Should Be Simple
The second the customer sees your pop up deal, they should immediately understand what it's about without having to read deeply into the text. This involves a relevant image: if you do a Christmas promotion, use a Christmas image. Then make sure to state what exactly you are offering.
Also, the CTA should be swift and big. The user should not spend time looking for a button.
Keep the Branding
Your popup style and colors should match your brand and website colors and fonts. The customers should see the connection between the pop up deal and your brand.
The popup is the part of your website and not a stand-alone page with random stuff.
One Popup For One Message
Make sure to invest your customer's time into one particular offer of the day pop up. Don't make them think of too many options. If you want lots of promos then stretch them out for a time window and roll with one at a time.
Pay Attention to the Smallest Details Using Popups
Popups are a great tool to boost your business game with the help of marketing. Of course, in order for popups to work, you need to keep attention to the smallest details of your product as well: the quality and service should be superb.
Also, pay attention to what you are saying with the popups at the moment. Check for holidays and news as they can help you create an event that deserves a relatable discount.