Email Pop-ups Ultimate Guide with 15 Excellent Examples
31 July
16 November
~ 20 min read
20599 views
Email popups are a powerful tool for marketers and businesses to engage and convert visitors into loyal subscribers and customers. This comprehensive guide aims to equip you with the knowledge and inspiration you need to master the art of email popups. Here, we will delve into the best practices that will help you maximize your email popup campaigns and achieve outstanding results.
What Is an Email Popup?
An email popup is a window that appears on a website, allowing visitors to enter their email addresses for sign-up.This window can either slide into view or overlay the site's content to capture the user's attention. 
In 2016, Google implemented a penalty that affects mobile websites displaying intrusive popups or interstitials. Websites that use popups that cover the main content, display standalone interstitials before accessing the content, or require users to dismiss the popup before accessing the main content may be negatively impacted in mobile search rankings. That's why now you can often see email popups that look like this:
Use this template
Use this template
Are Email Popups Effective?
Nothing proves the effectiveness of email popups better than real-world numbers:
Email popups show an average conversion rate of 5.10% 
Entrepreneur reports that popups with opt-in offers allowed them to increase the number of subscriptions by an impressive 86%.
Copyblogger also confirms the rapid growth of email list opt-ins after implementing the popup strategy.
Thus, popups with a subscription form can be a great solution if you want a simple yet proven way to expand your list of subscribers.
Email Popup Examples by Type
1. Discount or Promotion Email
These email popups by LUGZ offer visitors a discount or promotion in exchange for subscribing to your email list.
What makes this email popup good?
It highlights a compelling offer, discount code, or limited-time promotion.
What about this popup may be improved?
You can utilize personalization techniques to make the popup feel tailored to the user, such as dynamically inserting their name or referring to their previous interactions with your website.
2. Mobile Popup
Mobile popup by ZAFUL is a great example of specifically designed email popups for a seamless user experience on mobile devices.
What makes this email popup good?
It considers the smaller screen size and touch-based navigation of smartphones and tablets.
What about this popup may be improved?
It may provide a clear call-to-action to download the app from the respective app store.
3. Exit-Intent Email Popup Example
The retailer's work is more than collecting leads. It is always cheaper to retain a customer rather than find a new one. An email popup can inform the user about special offers or provide a personal coupon.
What makes this email popup good? 
Big Clothing 4u online store offers a discount on the next purchase after a visitor places the first order. Great motivation to come back.

What about this popup may be improved?
Such pop-ups remain invisible until the user starts moving the mouse toward the top of the page. At this point, the site makes one last attempt to get his attention.
4. Countdown Timer Email Popup Example
Email popups with a countdown timer convert better than forms without it by 112%. Email popup with a countdown helps push visitors to buy and increase sales. The discount, valid for several minutes, makes people more irrational and leaves no time to think twice or ask for advice.
What makes this email popup good? 
The SwissWatchExpo watch seller offers a $100 discount and free shipping to those who subscribe and place an order within 15 minutes.
What about this popup may be improved?
To grab customers' attention, you should use beautiful photography and bright colors. 
Using Claspo drag-and-drop popup builder, you can add and fully customize your widgets. In your personal account, you can choose from a variety of popup ads templates with a countdown timer and set widget display conditions.
5. Cross-Sell Popup
These popups by FatBitFun appear when visitors browse specific product pages or add items to their cart. They offer related products, upgrades, or additional items to encourage visitors to purchase or increase their order value.
What makes this email popup good?
It's personalized content. The study shows that 79% of consumers say they are only likely to engage with an offer if it has been personalized to reflect previous interactions the consumer has had with the brand.
What about this popup may be improved?
Such a limited deal should make the client feel cared for, not deceived, so do not forget to offer what your customers are really interested in, and not products that have been in stock for years.
Email Popup Examples by Industry
Dividing email popup examples by industry allows for more targeted and relevant examples for businesses operating within specific sectors. Here are a few email popup examples tailored to specific industries:
6. Ecommerce Email Popup Example
This example by Tomtop combines a compelling discount offer with the promise of staying informed about new arrivals and special promotions.
What makes this email popup good? 
The clear CTA button encourages visitors to take action and claim their discount.

What about this popup may be improved?
You should remember that it is essential to connect with users, so they can make another purchase in a while.
7. B2B Email Popup Example
This example by Prospero emphasizes the value of trying the B2B company's product by offering an exclusive opportunity.
What makes this email popup good?
It highlights a compelling offer.
What about this popup may be improved?
Consider incorporating elements that demonstrate expertise, such as customer testimonials or industry accolades.
8. Nonprofit Email Popup Example
The headline and body the Catholic Relief Services email popup text emphasize the importance of donating and creating positive change. The clear CTA button encourages visitors to take action and join the nonprofit's efforts.
What makes this email popup good?
This example highlights the nonprofit's mission and invites visitors to join their cause.
What about this popup may be improved?
Regularly evaluate and optimize the popup based on user feedback and data to maximize its effectiveness in capturing supporters and fostering engagement with your nonprofit.
9. Travel Email Popup Example
This popup example by Lonely Planet appeals to the audience's desire for adventure and exploration.
What makes this email popup good?
The headline and body text highlight the exclusive travel deals, insider tips, and destination inspiration that subscribers will receive. The clear CTA button encourages visitors to subscribe and start their journey of discovery.
What about this popup may be improved?
Consider incorporating captivating travel imagery, testimonials from satisfied customers, or special promotions to further entice visitors.
10. Automotive Popup Example
This example by WHEELS.ca taps into the excitement and passion associated with automobiles.
What makes this email popup good?
The color scheme stands out among others.
What about this popup may be improved?
Its clean and minimalistic style makes the popup understandable from the first look. However, it is a bit plain, maybe adding some color to the subscription button would help.
11. SaaS Popup Example
The popup by ZOHO appears with an automotive-inspired design, featuring sleek visuals and elements reminiscent of the automotive industry.
What makes this email popup good?
This example focuses on offering a personalized demo of the SaaS solution to interested prospects.
What about this popup may be improved?
An optional checkbox for users to indicate their specific automotive interests (e.g., luxury cars, classic cars, off-road vehicles) for personalized content recommendations.
12. Beauty Email Popup Example
Besides offering a discount and free shipping, the Cult Beauty popup describes what the user will receive if they subscribe to the newsletter.
What makes this email popup good?
The message is bold and appealing.
What about this popup may be improved?
Make sure to state everything you want to share. If this is done poorly, you might lose the user and get a negative opinion of your brand.
13. Sports Email Popup Example
Find the right words to hook your visitors instantly and make them want to take action, as Reebok does. 
What makes this email popup good?
An offer to share your email in exchange for a selection of exclusive materials on a blog will certainly work better than a simple invitation to the mailing list.
What about this popup may be improved?
Tell the user why you are asking them to fill in the fields. For example, "Specify a city, and you will see if the product is in stock".
14. Food Email Popup Example
What makes this email popup good?
Tasting Table pays attention to photographs of colorful, fresh, and tasty meals.
What about this popup may be improved?
Experiment with the placement of the pop-up and its size. 
15. Fashion Email Popup Example
Farfetch shows another good example.
What makes this email popup good?
More optional email popups with the ability to choose the way of getting information: email or phone. Also, to only receive the appropriate news, visitors can choose a gender. A fantastic hack to reduce the number of unsubscribes.
What about this popup may be improved?
The simpler and shorter you formulate your proposal, the better.
Email Pop-up Examples with Best Practices and Tips
Like any tool, email popup brings the desired results only when used correctly. Therefore, before creating it, consider our advice on what you should write in an email popup, how to design and set it up, and what tricks to apply for good conversions.
1. Make a Catchy Headline
Use attention-grabbing words or phrases to pique curiosity and make visitors want to learn more. There are no intricately detailed illustrations or photographs here — only an inscription and a neon green color:
Claspo simplifies your task. Our email popup templates already contain short, attractive headlines that will appeal to your website visitors. But you can also always easily change them to suit your brand message.
Use this template
2. Make a Clear Offer

Email popup example
To make a pop-up, think about the benefits you offer your visitors. The purpose of the pop-up window is to trigger immediate action, so you should describe your offer clearly and succinctly: everyone has to understand as soon as the pop-up is opened. Find the right words to hook your visitors instantly and make them want to take action. It is ideal for the customer to understand your offer in 2 seconds. That's about how long it is usually required to close the inopportune pop-up window and return to viewing the page.
3. Add a Lead Magnet
A lead magnet is a specific benefit you offer prospects for free in exchange for their emails. This could be a discount, helpful information, a tiny free service (audit, delivery), an e-book, a white paper, etc. Shoppers love perks; therefore, using a lead magnet in an email pop-up can increase signup rates by more than 100%.
4. Create a Powerful CTA Button
Use a clear and specific call-to-action that tells visitors exactly what action they should take. Incorporate words or phrases that create a sense of urgency or exclusivity, encouraging visitors to take immediate action. The CTA button must be clearly visible on your pop-up form. So make it visually stand out from the rest of the email popup using a color that contrasts with the background. Remember, the text entered must be understandable and make people want to click on the button.
Email popup example
5. Add Opt-out Buttons
This solution has two main advantages. First, it makes it easy for site visitors to close your pop-up, resulting in a non-intrusive experience. Second, opt-out buttons on a pop-up increase the click-through rate by almost 15%. However, the text of this button requires no less attention than the text of the CTA button. In this case, your task is to show the opt-out choice as less attractive and profitable.
In this email popup example from Claspo, the customer is offered to either receive a discount (CTA button) or pay the full price (opt-out button). It's obvious which option sounds more tempting.
Use this template
6. Work on Visual

Email popup example
An attractive visual will capture more of your visitors' attention. An image in an email pop-up can help you better reflect your business, create an emotional connection with prospects, and generate more leads. Specifically, an image increases email subscriptions by 63%.
With Claspo, you can add an image to your pop-up in three different ways:
Upload it from your computer
Paste an image link into your layout
Choose the right one from our built-in photo stock.
Use this template
7. Make the Pop-up Match Your Brand

Email popup example
An email popup on a site is sometimes knocked out of the general interface. We recommend tailoring your popup to your branding and overall website design to avoid this. The same goes for the tone of voice (the tonality the brand adheres to in communication with its consumers). A well-thought-out tone and storytelling style will create a positive experience for site visitors, making them more likely to take the targeted action.
Therefore, before displaying an email popup on a page, ensure that the colors, font, image style, and tone of voice are consistent with the site ecosystem. With Claspo, you can specify your branding colors when creating the first pop-up and store these assets to design subsequent widgets quickly.
8. Adapt the Pop-up to the Page
Use this template
Your email pop-up should be optimized for your website's desktop and mobile versions. This way, you can provide a positive experience for all potential customers, regardless of their device.
With this in mind, Claspo lets you preview your pop-up's appearance on desktop and mobile screens before publishing it. If it does not suit you for some reason, you can always change its height and width per the page layout.
9. Don't Overuse Input Fields
The more information you have about prospects, the more personalized offers you can create for them. With this in mind, some business owners add multiple input fields to their email pop-ups. But such a decision can play a cruel joke on you because statistics say that each added input field reduces the conversion rate. So, if an email pop-up with 2 fields has an average conversion rate of 3.31%, then 5 fields show just 0.90%.
Claspo email pop-up templates have the optimal number of input fields for your conversions. You can add, remove, or replace them directly in our editor.
Use this template
10. Use Exit-Intent Trigger
With this trigger, you can display your email popup to visitors who move their cursor away from your website, intending to leave it. This tactic has some advantages. First, almost 30% of online shoppers negatively perceive popups appearing on the site in the first seconds. Thus, postponing the display gives customers more time to get acquainted with your product and content. But most importantly, you can increase conversions by 5% - 10% by showing a popup with a great offer or a lead magnet right before the exit.
Claspo allows you to set an exit-intent trigger in one click. Thus, increasing the effectiveness of your email popup does not require any extra effort.
Use this template
How to Create an Email Popup?
Using the Claspo popup builder simplifies the process of creating and customizing popups, saving you time and resources, and ensuring that you have visually appealing and effective pop-ups that engage and convert your website visitors.
View this video for detailed step-by-step guidance and recommendations:
But also here we have step-by-step instructions with images and text below.
Step 1. Create New Widget
First, create a free Claspo account. Then, once logged in, press the New Widget button.
Step 2. Select a Template
You can choose a ready-made template from the library or create one from scratch. Then, choose the appropriate use case, "Collect user data", and tip an email popup template you like.
Step 3. Make Basic Settings
After choosing the template, make some basic settings like color and launcher. Take a look at different variations of view according to the progress stage. Then press the Select Template button on the top right corner.
Step 4. Customize Your Widget
Make modifications to the appearance and the offer. Ask yourself, "What could I possibly give my subscribers to get them to provide their email addresses?". It might be a discount for the first purchase.
Step 5. Choose a Trigger and Set Up a Launcher
You need to decide when and where your widget should be shown.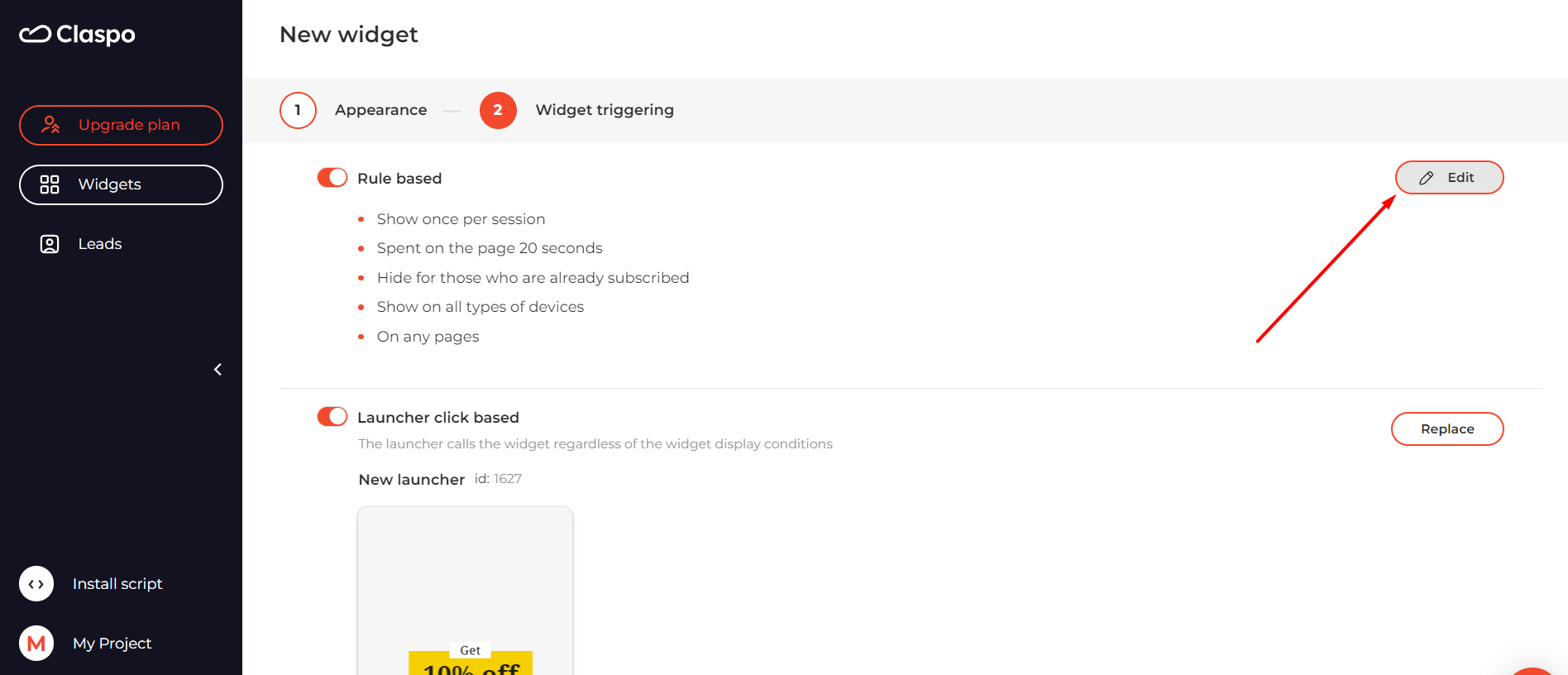 For example, it can be only after a user spends 20 seconds on your site and only on the home page.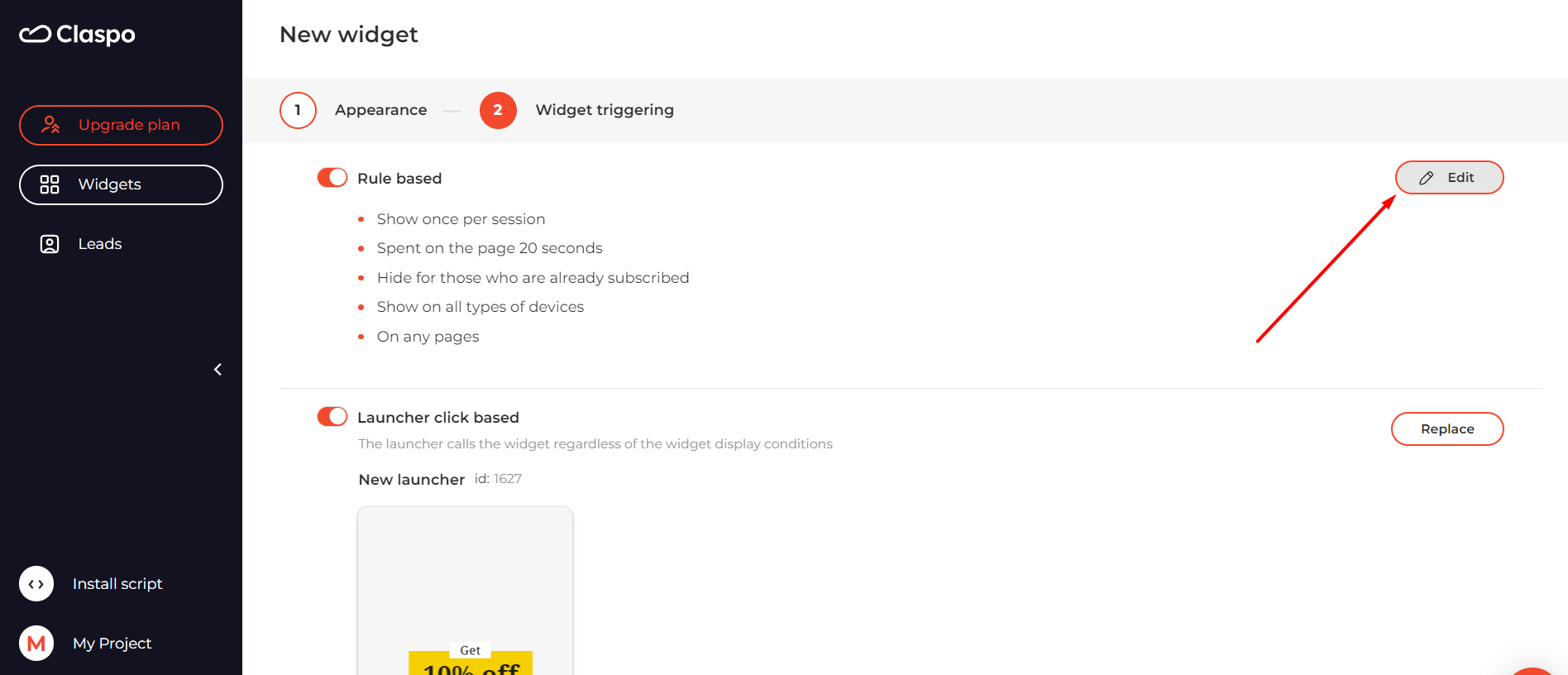 Step 6. Specify Where to Transfer the Data
Select integrations where you want to transfer the data to make an analysis.
Step 7. Check the script
Copy code and paste it using Google Tag Manager. Check the script.
Step 8. Save
Save your widget and add the script to your website. 
Make Your Own Email Popup With Claspo!

Use This Popup
Email Popup: Not to Annoy, But to Convince
Pop-up is a promising and valuable business tool that allows you to build communication with customers quickly. Pop-ups can increase website conversions, build a warm lead base, expand your customer base, and gather helpful information. But you need to use them carefully, so that site visitors do not see annoying ads but a pleasant addition.
We wish you high conversions. Ask for help if you want to create a killer email popup for a subscription but don't know where to start!