Email Popup: Complete Guide with 18 Excellent Examples
What Is an Email Popup?
An email popup is a little window displayed on a website visitor's screen, requesting its email address in exchange for a promotional offer. It helps you get new leads, newsletter subscribers, feedback, or boost your email campaigns.
Popups are useful, but if they are overly large or difficult to close, they may block access to the page's content, degrading the user experience. It is designed to engage the user and get extra attention to a piece of specific information or an offer.
Typically, pop-ups include a call to action that encourages visitors to do a specific action: for example, leave an email to create a list of users that are interested in your product or services.
Are pop-ups effective? Yes, they are, if done right.
A strong email popup helps you to:
Help visitors perform the desired action
Subscribe to your newsletter, promotions, additional information, etc.
Get email leads
Boost your campaign.
Here we will cover 18 email popup examples to see how they work and describe why you might need one.
Email Pop-up Examples & Best Practices
Most often, online stores use pop-up windows to collect emails. But not every business owner or marketing specialist decides to ask to leave an e-mail for free. The first-time visitor might lack brand awareness and just decline your subscription offer. Because of that, many businesses offer additional discounts, free shipping, and other goodies for a simple subscription. It seems to work with many brands that provide both products and services.
Some brands don't offer any rewards and just create engaging content that might be interesting for the user. In any case, it should work – it just depends on your marketing strategy.
Email Capture Pop-up Examples
1. SwissWatchExpo
Pop-up windows with a countdown help push visitors to buy and increase sales. The discount, which is valid for several minutes, makes people more irrational and leaves no time to think twice or ask for advice.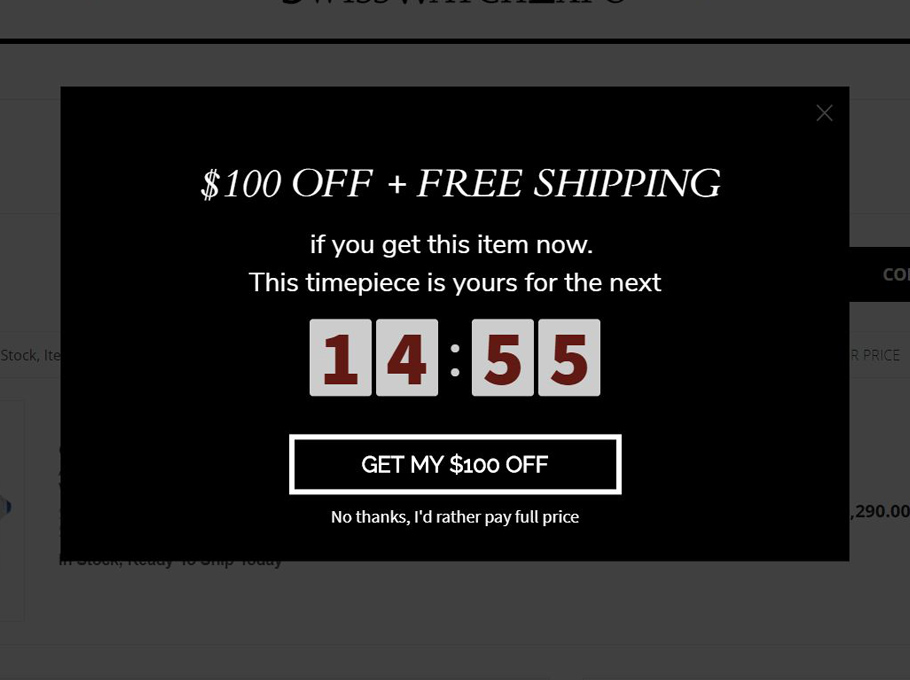 SwissWatchExpo email signup popup
The SwissWatchExpo watch seller offers a $100 discount and free shipping to those who subscribe and place an order within 15 minutes.
2. 100% Pure
This brand provides users with 100% natural cosmetics and products.
100% Pure mystery email capture popup
100% Pure mystery email popup example
The brand added a bit of interactivity to their email popup. They've come up with a simple lottery design that brings excitement and hopes for a better reward. In the end, there might be one type of discount for all, but the first look makes the user stop and sees what's going on. Besides, the user can personalize the offer and pick what types of products are the most interesting.
We hope that this idea played outright, and all people got the sense of a lottery and a chance of winning something bigger.
3. HelloFresh
HelloFresh presents healthy meal plans for a variety of diets, etc. that save a coin and keep bodies in best shape.
Hello Fresh email pop-up example
Notice the popping photography that is just so colorful, fresh, and tasty, that users see that their meal plans are way better than their ramen noodles from yesterday. It is a service for mostly hard-working people that don't have time to cook or don't like it. That's why it is important to connect with them with straight offers and vivid images.
It also offers $80 off for the first three orders, which probably, brings most of the customers. The message is bold and appealing. However, it is better to have less of a subtext that offers too much information. It seems that this subtext isn't even that important. Try to move it and see that nothing really changes.
4. Reformation
Now think about this: people are so used to discounts that they are constantly waiting for them. But brands cannot cut the price every time. This will quickly devalue the product and decrease the overall profit. This means that you need to push visitors to subscribe in some other way.

Reformation email pop-up example
A simple and elegant solution: a nice, minimalistic design with cool text, like the Reformation online store has. Their email pop-up is laconic and rather witty in every sense.
5. Snow Monkey
Snow Monkey is a vegan ice cream retailer that wanted to target the audience based on their geography to maximize regional sales. They've started to collect emails with zip codes so they could send emails about their particular products and offers based on the closest store with their goods to the customer.
Snow Monkey email popup example
Mostly you see email capture pop-ups that are designed in simple forms like rectangles, etc. It is ok, but if you want to create something more engaging and your branding allows you to do so, try different shapes and sizes. This will make your pop-up more memorable and outstanding.
6. Big Clothing 4u
The retailer's work is not limited to collecting leads. It is also important to connect with the user, so he or she can make another purchase in a while. It is always cheaper to retain a customer rather than find a new one. Here, pop-ups can inform the user about special offers or provide a personal coupon.
Big Clothing 4u email popup example
Big Clothing 4u online store offers a discount on the next purchase after a visitor places the first order. Great motivation to come back.
7. Cigars.com
The worldwide e-commerce store of cigars & accessories CIGARS.COM provides a discount offer for the next order for a subscription to the newsletter - a 15% discount is not bad, right?
Cigars.com email popup example
8. Starter Story
Sometimes, it is difficult to find inspiration to start your own business, especially when your budget is limited. Starter Story offers a great list of 52 ideas you can start with less than $1,000. And email is not a big fair for these ideas. 
Starter Story email popup example
Email Sign-Up Pop-up Examples
1. H&M
The worldwide-known brand H&M provides plenty of tidbits for a simple newsletter subscription:
A 20% discount on the first order
Free shipping for the newsletter subscription
This discount has no expiration, so the visitor can go back to shopping at any time.

H&M email subscription offer
Besides offering a discount and free shipping, the brand describes what exactly the user will receive if he or she subscribes to the newsletter. That's a nice touch so your future client knows exactly what content will be in the mailbox. But make sure to state everything you want to share. If this is done poorly, you might lose the user and get a negative opinion of your brand.
2. The New Yorker
This is one of the most known newspapers in the world that offers a variety of news and topics to any taste. Anyone can find a piece of information to the taste, read some quality material and check the culture.
This is one of the brands that work on their awareness all the time with plenty of great material, promotions, and big names. The marketing team can be sure that people will subscribe just for the content itself. Even though they have extra campaigns, people still come here for the quality content and topics that others might not have.
The email capture pop-up is clean, minimalistic, and simple. The only highlighted element is the subscription button that brings more attention to the desired action. The other button is less attractive and is easier to miss.
The New Yorker email popup example
It is a great case where people come for content rather than for actual things.
3. Tower Paddle Boards
Instead of giving a discount to each customer, you can create a giveaway and give one big present to a lucky subscriber. Tower Paddle Boards online store gives one subscriber a surfboard every month, thus attracting new customers and retaining those who have already signed up for the newsletter.
Tower Paddle Boards email popup example
This email pop-up has a bit of an unconventional look and is hard to notice right when entering the website. However, it has a direct text that means exactly what it means: subscribe and get the chance to get our top-notch quality board each month. Who would say no?
4. Mala the Brand
This brand offers curated candle monthly subscription boxes thus all their tone-of-voice is mellowy, friendly, yet inspiring. It is important to keep the brand's voice in any kind of campaign, and this is exactly what Mala does with their email pop-up offer. Kudos to that!
Mala the Brand email signup popup
You can see that the language the brand uses is a bit more personal which gives a friendly feeling and a sense of trust. They also note that they won't spam your incoming box since they know how hurtful it can be. And last, but not least, the Join the Club button creates a sense of community that many brands try to build.
However, it is better to emphasize things like 10% off that can trigger many users.
5. Unif
People sign up for more than just a simple newsletter that says that your business is ok. The pop-up promises customers that they will receive discounts and participate in closed promotions, but not right now. Unif clothing brand does the same. The only difference is that instead of a pop-up window, visitors see a horizontal banner. It does not overlap the main page and at the same time is highlighted in bright purple.
Unif email popup example
Displaying the subscription form on the site is a question that each brand decides on its own. Ideally, it's best to try both options, pop-up and horizontal banner, and choose the one that works best.
6. Canva
Canva email pop-up example
Canva brings excellent content in the form of design school projects every week. Once a visitor finished reading the article and is about to leave the page, Canva reminds us that a person can stay up to date with their latest news by subscribing to their newsletter. When a user subscribes, he or she gets a free design and branding instruction book for newbies. The green call-to-action button stands out from the rest of the pop-up.
In exchange for an email address, offer your audience something of value for free.
7. Heidi Cohen
This email pop up example is taken from the website of a great blogger and speaker Heidi Cohen, who works in the field of media marketing. After reading her article, you will see an offer to regularly receive practical advice. A simple design draws attention to two main things: a header and a call-to-action button.
Heidi Cohen email popup example
When offering something for free, make sure that users know what they will get and that they understand what actions they need to take to subscribe. Use a simple color scheme for pop-ups.
8. P.E. Nation
P.E. Nation offers a big variety of outdoor clothing and they surely add new items quite often. Of course, they want to notify all users they can about new collections, discounts, sales, etc.
P.E. Nation email popup example
This is a straightforward email pop-up that is easy to understand, so the user will have zero extra thoughts while reading this. 10% off brings more attention to the offer and boosts the chances of receiving the user's email.
The color scheme stands out among others: it is clean and minimalistic which makes the email signup pop-up understandable from the first look. However, it is a bit plain, maybe adding some color for the subscription button would help.
9. Bathing Culture
Bathing Culture offers, as you can guess, a large variety of bathing products, everything from a back scrub to a bath salt. And as a product brand, they've chosen the option of giving 10% off for signing to the mailing list.
Bathing Culture email popup example
It is a far from ordinary email pop-up that is hard to ignore. Notice how well the brand picked the design that adds to their bath visionary. The message is quite simple so each person understands clearly what is needed to do.
But this subscription offer lacks a bit of extra push. The email field and the Sign-Up button are of the same color, which is quite confusing from the first look. And the No, Thanks button is way too small. Such small and almost invisible buttons might be considered as manipulation.
10. Farfetch
Another good example is shown by Farfetch. More optional email capture pop-up with the ability to choose the way of getting information: email or phone. Also, to only receive the appropriate news, visitors can choose a gender. A great hack to reduce unsubscribes.
Farfetch email popup example
What Do You Need to Create Email Subscription Pop-up 
Here are some tips that will help you to make effective pop-ups, which allow you to collect new leads.
1. Work on Visual
An attractive visual will capture more of your visitors' attention. Making a pop-up cannot be improvised. Think it over because your pop-up should reflect your business.
2. Make a Clear Offer
To make a pop-up, think about the benefits you offer your visitors. The purpose of the pop-up window is to trigger an immediate action, so you should describe your offer clearly and succinctly: it must be understandable by everyone as soon as the pop-up is opened. Find the right words to hook your visitors instantly and make them want to take action.
3. Create a Powerful CTA button
The CTA button must be clearly visible on your pop-up form, and the text entered must be understandable and make people want to click on the button.
4. Perfectly Integrate the Pop-up into Your Page
To obtain the expected results, don't forget to integrate your pop-ups perfectly with your web page: your prospect shouldn't have the impression of leaving it.
How to Create an Effective Email Pop-Up Using Claspo?
Step 1. Create New Widget
First, create a free Claspo account. Then, once logged in, press the New Widget button.
Step 2. Select a Template
Then, choose the appropriate use case - collect user data - and tip an email popup template you like.
Step 3. Make Basic Settings
After choosing the template, make some basic settings like color and launcher. Take a look at different variations of view according to the progress stage. Then press the Select Template button on the top right corner.

Step 4. Customize Your Widget
Make modifications to the appearance and the offer. Ask yourself, "What could I possibly give my subscribers to get them to provide their email addresses?". It might be a discount for the first purchase.

Step 5. Choose a Trigger and Set Up a Launcher
You need to decide when and where your widget should be shown. 

For example, it can be only after a user spends 20 seconds on your site and only on the home page.

Step 6. Specify Where to Transfer Data
Select integrations where you want to transfer the data to make an analysis.

Step 7. Save and Enjoy
Save your widget and add the script to your website. After this new email pop-up will be available!
7 Things to Take Care of When Creating an Email Popup
What should be the pop-ups look that will benefit your web project? After all, if you use them correctly, you will be able to replenish your contact base for subsequent email marketing activities.
Here are 7 tips that will allow you to look at pop-up windows in a new way, and also allow you to effectively use them on your website.
1. Don't Show Pop-up Right Away
Showing a pop-up window from the first seconds is like when meeting a person, instantly asking some personal questions – intrusive and ineffective. Let the visitor get to know you first, at least a minute. Let him or her know that you have a great product or provide top-notch service. And then offer to subscribe to your newsletter.
The optimal time for displaying pop-up windows should be selected individually. Indeed, depending on the scope of your business, as well as on the traditional scenarios of the behavior of visitors, the time will be different.
2. Remember Cookies
It gets annoying when the same ad is chasing us everywhere. Therefore, remember the user's action with your email pop-up, and do not show repetitions. For example, if I have already subscribed to your newsletter via a pop-up, then why would I suggest doing it again? By remembering cookies, you can avoid unnecessary duplicates. And keep you in good standing among the site visitors.
3. Link Pop UPS to the Content
The content of the pop-up should be a logical continuation of the main content.
Consider what you can offer a website visitor in exchange for the email in addition to the mailing list. Free demo access? Or a video tutorial course? It is important to give something useful because so just so few people want to leave their contacts.
4. Highlight the Pop Up on the Page
The email pop-up should be visible and not merge with the rest of the information on the page. For example, you can darken the background a little so that the pop-up is conspicuous and does not distract from its content.
Experiment with the placement of the pop-up and its size. There are great examples when the gigantic pop-up appears on the full screen. And for cautious companies, you can try using the pop-up at the side of the page.
5. Take Care of Usability
Even something as small as a pop-up should be user-friendly. There should be the following elements:
Clear text that states what you'll receive for a subscription
The place to enter the contact
CTA element
The possibility to close the window
Information privacy and spam protection
Social proof
6. Copywriting is Important
An email pop-up headline that motivates you to subscribe, a little text describing the benefits of subscribing, and even the name of the CTA button matters. You have a very limited number of characters to convince a person to give you their contact. Therefore, formulate your USP as succinctly as possible. If positioning permits, you can use humor, this is conducive to trusting relationships.
Experiment with the text on the CTA button. Try to name it not Subscribe, but, for example, Upgrade Yourself
7. Keep Testing
All of the above need to be tested. How long does it take to show the pop-up? Which headline is catchy? Which button is clicked better? Where is the higher conversion rate? What can be removed and what can be added? Everything needs to be tested, since there is no recipe for the success of the pop-up, everything is very individual. Therefore, try, measure, and look for the option that will work for you.
Email Pop-up: Not to Annoy, But to Convince
Despite users' negative attitude towards pop-ups, they remain an important tool for converting site visitors into leads. It is important to balance between being useful and annoying.
Never forget these simple rules when creating an email pop-up:
Think about your users first and then think about your brand.
Offer something free of charge before asking for an email.
Make your pop-up appear at the right time and in the right place.
Provide site visitors with a convenient option to close the window if they do not want to become part of your community.
Don't forget to include your brand-specific ingredients in the pop-up design.
Use different colors for the CTA button and its text to be sure that everything can be seen.
Pop-up is a promising and useful business tool that allows you to quickly build communication with customers. Pop-ups can increase website conversions, build a warm lead base, expand your customer base, and gather useful information. But you need to use them carefully so that site visitors do not see annoying ads but a pleasant addition.
We wish you high conversions. Ask for help if you want to create a killer pop-up window for a subscription but don't know where to start!
FAQ
1.  Are there pre-existing email popup templates? 
Yes, Claspo offers templates that suit all businesses. You can find them in the templates library.
2. How to create an email popup?
You can effortlessly use Claspo popup builder with no coding required. Check out the basic principles and start creating your perfect popup.
3. What are the types of email popups?
Claspo Sign Up & Capture popups are designed to help you achieve your marketing goals. You can sign up now for free to try building pop-ups with no time limits.