Limited Time Offer: 10 Examples to Boost Conversions
A limited time offer is a discount, unique gift, a reward, a nice deal, or anything related to your products or business that a customer can get during a specific time period that you state yourself. Such periods can depend on holidays, stock, promotions, or on your good mood, really. But we will dive deeper into that a bit later. 
Limited time offers tend to boost users' interest and skip the second-thought part. It means that people decide whether to use your promotion right here, right now, or not. And if the offer is good, most customers will use it. 
Offers that are for a limited time only are like a ticking clock that interests people with its value and time opportunity. This is a marketing tactic that tells loyal customers and visitors to act now if they want to receive something from you. In most cases, the gifts won't cost you much compared to the profit you'll receive from such marketing promotion. You can offer a discount, free shipping, or a nice gift. 
The question is, how can you create your own powerful limited time deal to bring new customers and retain old ones? Let's check how you can use fear of missing out (FOMO) in your favor.
Contents
1. What Is a Limited Time Offer?
2. Main Advantages of Limited-Time Sales
3. 10 Limited Time Offer Examples
3.2. Personal Anniversary Sales
3.3. Loyal Clients Limited Offer
3.4. Clear Your Stock
3.6. Seasonal Offers
3.7. New Customer Offer
3.8. Customer Anniversaries Offer
3.10. Free Shipping Offers
4. 5 Tips on How to Use Limited Time Offers Effectively
4.1. Keep It Simple
4.3. Make It Urgent
4.4. Don't Overuse It
4.5. Run A/B Tests
5. Conclusion
What Is a Limited Time Offer?
A limited time offer is a promotional deal that is available only for a specific amount of time stated by the business owner, marketing team, or during a holiday season. In most cases, the deal includes free shipping, discount codes, special gifts, or any product or service that a business can offer for free or with a big discount. You've seen such deals in the form of ads, campaigns, pop-ups, banners, email offers, and anything else that you can name. 
Do you remember the time you were in a book store wandering around, taking time to read every book spine? And now remember how they have a table with books at a huge discount? We are sure you've bought several of those. Were they the ones you've ended up in a store in the first place? We doubt it. But the price! And that's exactly how a limited time sale works.
And because of its urgency, more and more people buy goods without giving them a second thought. Some marketing specialists say that it works like a miracle. However, any game and any campaign have its own rules that are necessary for fair play. Limited time promotion has its own, and you have to follow this perfect recipe to get the most out of such a campaign.
Main Advantages of Limited-Time Sales
As we stated before, a limited offer is a promotion or a special deal that is available for a specific amount of time. And this marketing campaign can bring lots of benefits to your business, among which:
Bring new or attract irregular customers. A promotion for a limited time only can encourage people who are a bit off from your target audience or have any kind of a barrier getting products or services from you. Basically, such a campaign lowers the barrier that is between your business and your customer. If you have a nice deal, the customer won't be afraid to get something from you even if it will appear to be not of the best quality. But this is another topic; however, you should care about the quality of your products. 
Build a sense of urgency. A limited time deal will help you to tell the customer that there won't be another time to get this product for such a price. In many cases, even products are limited time offers themselves; for example, you don't expect Christmas products to be on the shelves all year round, right? 
Test new products and services. You can use a limited time special offer specifically to test your new goods or services. This is how more people will get it and leave a review if you ask properly. Learn more about that in our How to Ask for Reviews article. After such a campaign, you'll see all the pros and cons of your product or service and understand your further development steps. 
Boost loyalty. If you run specific promos during a specific period of time, you can get more customers that spend more money during this period and anticipate it when it's not happening. You've heard about Black Friday. And you know how much people spend money during that day. You can make your own Black Friday-like event any time of the year, offering an overwhelming discount for only one or two days. Guess where people will come to spend their money? 
10 Limited Time Offer Examples
So now you know what benefits you can get with limited time offers and are ready to boost your business. Let's check what kind of offers you can create and their examples. It's time to get more customers and more purchases!
Holiday-Related Offers
This is a never-ending story that can affect your products and services as much as ads and campaign ideas. We have holidays all year round, and many people look for presents or specific items for specific holidays, like a plush heart pillow for Valentine's day. You can use this knowledge for a limited time promotions of your offers. Among all holidays and events that exist, the most marketing-driven are: 
Start of a school year
Halloween
Thanksgiving
Christmas
Hanukkah
New Year
Easter
School breaks
Summer seaside vacations
Your brand's birthday
You can get a turn out of any existing holiday, awareness month, or observances. And the products that fall under your limited time sale can be specific and related to the event or every product you have on your website. 
Personal Anniversary Sales
To gain more trust from your clients and get more loyal customers, you can celebrate your small and big wins with them. As soon as you hit a big number of users or any other important milestone, throw a limited offer party with your best products. Besides resulting in purchase growth, you'll connect with your customers more, which will turn them into your hardcore fans. 
Loyal Clients Limited Offer
If you are a rather small business, you probably know most of your constant shoppers and clients. You can make them a small present in the form of a limited-time offer. Such campaigns don't have to be loud. You can just notify such brand's friends with a simple email, saying that you value your friendship. 
If you want to reach a bigger audience, you can post this campaign on your social media page so users that follow you can use your limited time deal. We are sure that each of your loyal customers will feel appreciated and happy after receiving a good word from you. 
Clear Your Stock
You've seen such offers where the brand is selling everything off. Such campaigns are usually season-driven, meaning brands try to get rid of everything they have before getting a new collection. And for such campaigns, brands usually set generous offers. For some people, this might not be an option, especially if the brand offers fashion-related goods and the buyer is a fashion mogul that has to have everything right after the release. But for most people, such promotions are perfect for getting new items of clothing for a better price. 
Use such limited time special offers to get rid of your old stock before getting new. 
Weather-Driven Offers
There are always hot and cold seasons. We know this sounds too obvious, but we have to tell you about this. Use this information to plan your limited time offers. During hot months or seasons, you can sell related items that people most likely buy. And during the cold season or month, you can do vice versa. 
However, you can sell off your aging stock for cold weather for a good price, offering people to get ready when it is cold. The same offer you can create for hot weather. 
Seasonal Offers
Some products are only good for specific seasons. For example, you won't buy Easter bunnies and eggs for Christmas, right? So plan your limited time special offer before the holiday season so people can pick your business over others and purchase your goods and services for a good price or offer. Besides, you won't have tons of Christmas items right after Christmas ends. 
New Customer Offer
You can run a limited time promotion for new customers. This will attract new customers, and some of them will be your loyal customers after a while. You've experienced such limited time deals when purchasing some app or buying a gym membership. There's always a short period of time when you can use their services for free. 
Customer Anniversaries Offer
Celebrate your customers as much as you can. The best way to start with is customers' anniversaries using your business products or services. And it doesn't matter if the customer is not that loyal. You can approach a one-time buyer with such an offer that he or she will eventually purchase something from you once again.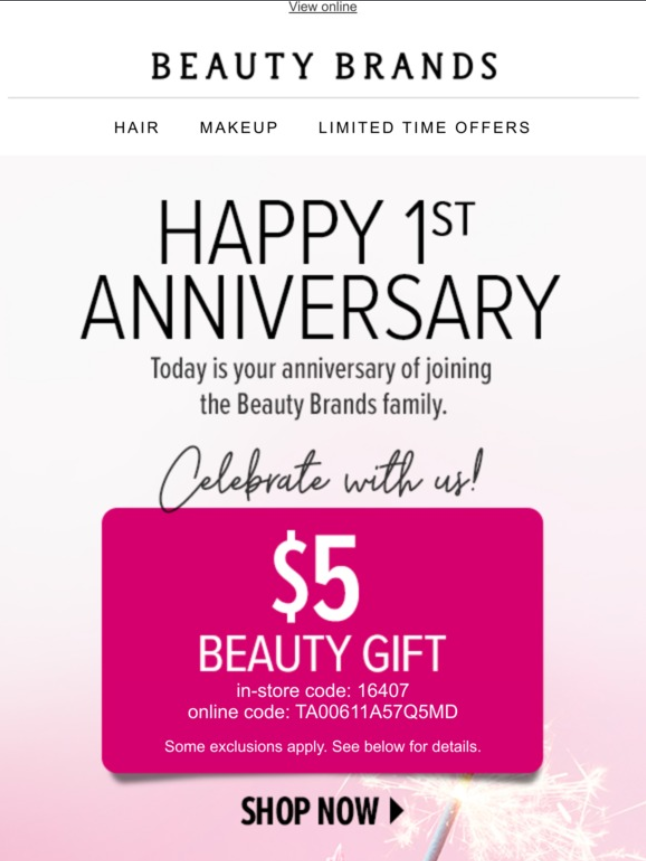 Customer Birthday Offer
There's nothing better than birthday presents. Everyone loves them, and everyone loves to spoil themselves on such occasions. Give your users an opportunity to do so. Send a nice offer, discount, or a coupon to celebrate the birthday and get the product that he or she has wanted for a long time. 
Besides getting a purchase, you'll build better relations with your customers that appreciate such gestures. 
Free Shipping Offers
Here's a secret for you: no one likes to pay for shipping. It's like you could buy something else for that amount of money that you have to spend on shipping. So to be a nice brand that values your customers, run a limited time offer of free shipping. People will get everything they have in their favorite lists or in their carts, no doubt. 
You can also attract new customers who also would like to buy your products with a free shipping option. This is one of the best offers that you can run. 
Many stores have it on a regular basis, but the overall purchase price has to start from a specific amount of money. If you think that such an approach won't work for your business, you can start trying it as a limited-time offer and test it. 
5 Tips How to Use Limited Time Offers Effectively
Creating a superb limited time offer is not just about writing everywhere and everyone that you have one, but also doing it with class and friendliness. There is much more to this art than just throwing a text over a picture. Let's see how you can make a perfect limited time special offer campaign. 
Keep It Simple
Any person has about 12 seconds of attention span, thanks to the clip thinking. And that's what you have to face when creating a marketing text. We advise you to avoid unnecessary details and get straight into the topic of your offer: what, when, and why you offer what you offer. 
Your design should be clean as well. There should be no distractions so the users can easily understand what you want from them.
Show What Users Can Lose
It is unbearable when you can't have something. And you can use this as a pain point for your limited offer campaign. State that this is the only time you'll sell these items for a good price, and if all of them are gone, you won't have a new stock. 
The loss aversion that the users might face after such a message can do wonders to your promotion campaign. 
Make It Urgent
You've heard about FOMO. It is the bread and butter of any limited time promotion campaign. Everyone is scared to miss some information, some news, some products, some sales, some something. And marketing specialists tend to use it to motivate people to buy products. 
Happily, for you, this is extremely easy to awaken the sense of urgency in any customer. Place a ticking timer that countdowns your limited time special offer. 
Don't Overuse It
Don't create one limited time offer after another. This is extremely dangerous in the long run. Yes, you can grow your revenue in a short period of time, but you can lose your stock value during a longer period of time. 
Besides, if users understand that you run one discount campaign after another, they'll stop buying from you anything at a full price. 
Run A/B Tests
Don't go around guessing which limited time offers will work and which won't. You have an A/B testing tool that will answer all your questions like this one. Learn your competitors, run optimization, and be the best on the market! 
A/B testing is a great tool as you can't be sure 100% whether customers will prefer one offer over another. And don't guess it when you can check it and know for sure. Aren't we right? 
Conclusion
Using limited time offers in your marketing strategy is a smart move. People enjoy good deals, and you have an opportunity to connect with them and befriend them, which will eventually make them loyal to your brand, neverminding the actually limited time deals. 
Use our tips and examples when creating your campaign and don't forget to analyze your results and talk to your customers. These are the key tools for any marketing strategy.