Countdown Timer Pop-Up: Encourage Your Customers Buy Now
15 January 2022
31 August
~ 9 min read
6505 views
With today's high competition and the struggle for consumer attention, shoppers are confident that they are in control of time and can endlessly study and compare different options. That's why they browse your products and offers but delay buying indefinitely. 
Adding a countdown timer pop-up to your website is a proven way to show customers that your offer is limited and thus regain control over their time. When the counter tends to zero, it stimulates even the most indecisive buyers to hurry up with the purchase because a clear deadline leaves no room for procrastination. As a result, you can increase your conversions by 2.1x, as the conversion rate of pop-ups with a countdown timer is 8.07% compared to 3.7% of pop-ups without it. 
To help you get the most out of the countdown timer pop-up, we will provide a detailed definition, explain how it affects buying behavior, and show some successful examples of its use in this article.
What is a Countdown Timer Pop-Up?
As the name suggests, a countdown timer pop-up is a pop-up with a central focus on the countdown timer. It shows customers exactly how much time they have left to complete any targeted action: purchase at a discount, take advantage of limited-time offers, register for your event, and so on.
In addition to the countdown timer itself, these pop-ups usually contain details of your offer and a call-to-action button that takes interested customers to the relevant product page or signup form for conversion.
Some pop-up countdown examples include input fields to collect email addresses or phone numbers. It works great if your offer is aimed at attracting new customers with a welcome discount or if you need to successfully validate an attendee registration for your offline or online event.
Create your timer pop-up in a matter of minutes with Claspo's user-friendly builder
Countdown Timer Pop-Up & Customer Psychology
If you understand the feelings and motives of your customers, you have leverage over their behaviors. The countdown timer pop-up is one such leverage. It appeals to urgency, fear of missing out, and a sense of scarcity - proven sales pushers.
Sense of Urgency
​​Researchers at Boston University have proven that a limited time frame creates a sense of urgency that increases purchase intent and grants impetus to action. The shorter the time limits of your deal, the higher the purchase goes up in your customer's to-do lists. Due to this, your offer with a tight deadline can increase the probability of buying by 33% on average.
How It Works on Your Website
The countdown timer pop-up demonstrates that every hour, if not a minute, counts. These time restrictions put pressure on your customers and force them to make a buying decision faster. They realize that your offer will no longer be valid soon. So if they can only get a particular benefit just now, why postpone?

Use this template
Fear of Missing Out (FOMO)
FOMO as a phenomenon has become widespread with the rise of social media. People began to flaunt their lives and share mostly their positive experiences (including shopping). As a result, it has turned into a competition where everyone fears missing out on the occasion, opportunity, or product that others have taken advantage of.
Today, many e-commerce platforms, including key players like Amazon and Sephora, actively appeal to customers' FOMO to drive conversions. And it works great. 60% of the shoppers surveyed admit that precisely FOMO pushes them to make an impulsive purchase in the first 24 hours after getting acquainted with a limited-time offer.
How It Works on Your Website
Customers understand that as soon as the countdown timer pop-up shows 00:00:00, their chance to take advantage of your great deal will be missed, leading to regret in the future. They also think that while they delay, other more determined shoppers are already showing off their bargain purchases. It adds to their fear and makes them act immediately.

Use this template
Sense of Scarcity 
According to the scarcity principle, buyers perceive rare or limited opportunities as more valuable. Thus, showing shoppers that your product or a specific price is only available in a short time automatically increases the value of your offer and their desire to buy.
How It Works on Your Website
The countdown timer pop-up serves as a reminder that website visitors now have a unique chance to grab something valuable that will soon be unavailable to others. It not only encourages them to buy immediately but also enhances their satisfaction from being ahead of the rest and taking advantage of a rare opportunity.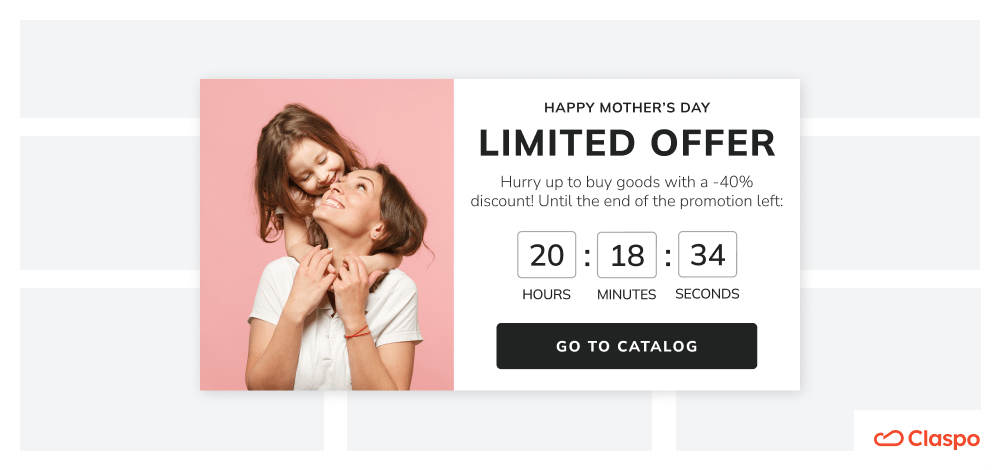 Use this template
Countdown Timer Pop-Up Examples
There is no single successful formula for displaying a countdown timer on a website. Therefore, you always have room for creativity and experiments. For your inspiration, we have collected several different countdown timer examples below.
In this example, the countdown timer is located on the site's homepage above the discounted product gallery. In addition, the online retailer shows the percentage sold out under each image, which also appeals to a sense of scarcity.
This limited-time offer includes a clear and enticing message, simple yet catchy images, and a countdown timer whose colors blend in with the overall design.
This Claspo's countdown timer pop-up is content-blocking and is guaranteed to catch website visitors' eye. The image successfully complements the overall concept and enhances the emotional connection with the customers.
In this online store, the countdown timer is displayed at the top of the homepage. Although the timer is relatively small, the color contrast still allows it to grab customers' attention.
Red and white is one of the most popular color combinations in promotional texts. Thanks to this combo, your message is attention-grabbing and easy to perceive. At the same time, the countdown timer stands out from the general color scheme, which makes it noticeable.
The retailer duplicates their offer in large print below the countdown timer. Therefore the visitor's eyes may first catch on to a "Free 1-day Shipping" and then switch to a timer. In addition, the black numbers on the countdown timer stand out against a white background.
H&M focuses on the offer itself rather than on the countdown timer. However, once visitors are interested in an offer, they are more likely to read the text below it, as important details are often written in small print.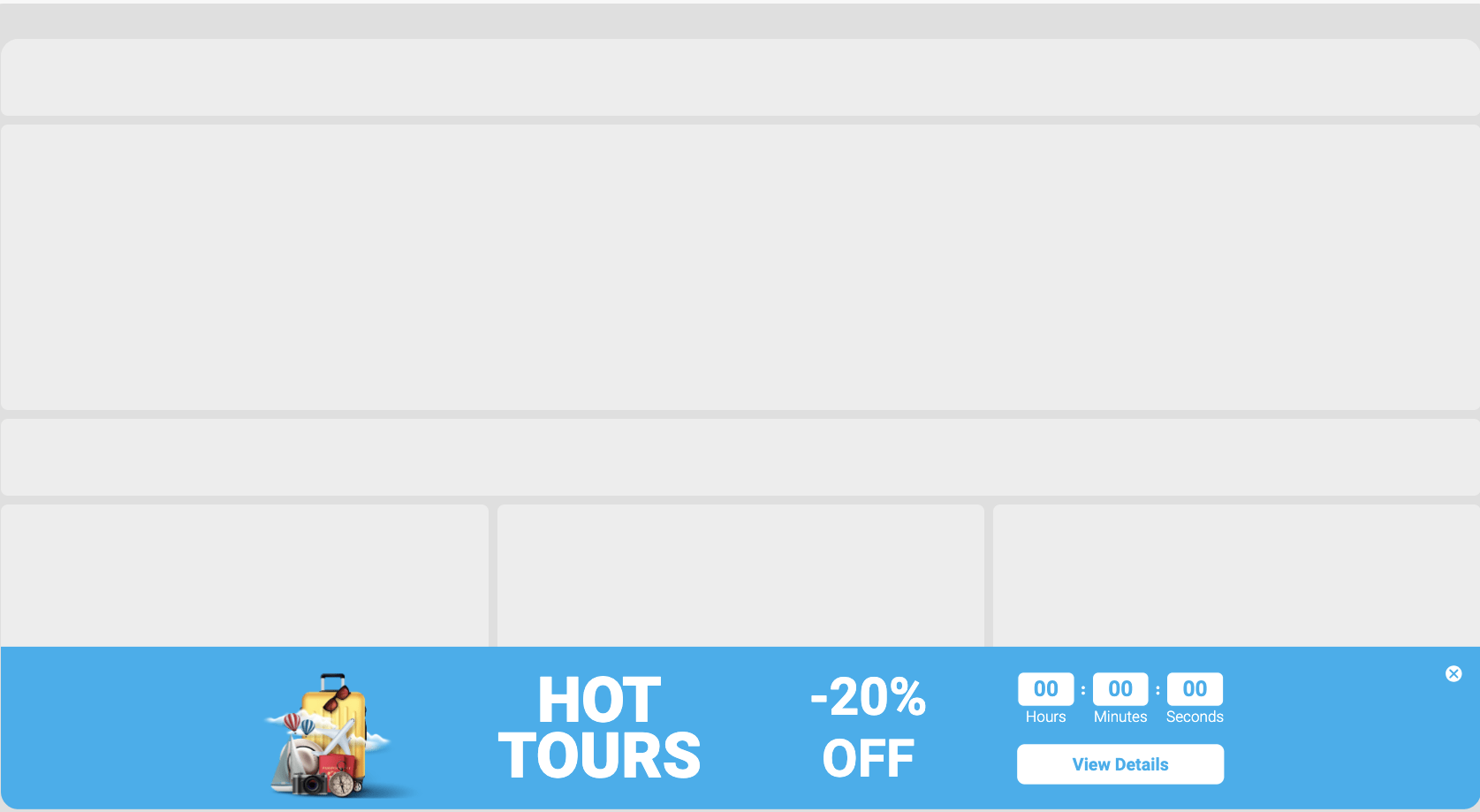 Use this template
This countdown timer pop-up by Claspo is designed as a floating bar. Its main advantage is that it does not block the site's content but unobtrusively shows your offer at the top or bottom of the page.
This pop-up appeals to a sense of urgency thanks to not only the countdown timer. It also says that the discount is decreasing every day, so shoppers have an additional incentive to buy immediately.
In this example, the countdown timer is on a dedicated sale page. At the same time, visitors see a big catchy banner announcing this sale on the homepage and can quickly go shopping to see all the products and the time left to purchase them at a discount.
It is another countdown timer that is hard to miss. As a bonus, Walmart thoughtfully placed it above the list of product categories and sale items, thus simplifying navigation and making finding the right products quick and easy.
Countdown Timer Pop-Up from Claspo: Key Benefits
As you can see, there are many ways to implement a countdown timer on your website. Whether you like the specific countdown timer example from above or have a unique idea for your pop-up, you can always bring it to life with Claspo's innovative features for your success.
80+ Countdown Timer Templates 
Your limited-time offer can serve various purposes, whether attracting buyers with a seasonal or holiday sale, getting their emails in exchange for some lead magnet, or promoting your bestsellers. With that in mind, we've prepared over 80 ready-to-use templates on different themes with a built-in countdown timer. Thus, you can choose the one that best suits your idea. 

Go to Claspo's library
Full Customization 
Choosing one of our countdown timer pop-up templates, you can tailor each element to match your website's design. What's more, if you're building your pop-up from scratch, you can still add the countdown timer as a separate component anywhere in your layout.
In fact, the countdown timer can work just fine regardless of location. For example, placing a countdown timer next to the call-to-action button boosted conversions by an impressive 147%. In another case, it was seated next to product details, which allowed the online retailer to increase revenue by 9%. Whichever strategy you choose, Claspo's builder gets it covered.
Overlapping Protection & Annoyance Safeguard
Your on-site strategy may include several great deals you want to display in addition to the countdown timer pop-up. But if they overlap or change too quickly, it ruins the user experience and makes it difficult for website visitors to perceive your messages. Claspo helps you avoid it:
The annoyance safeguard feature allows you to set a silent interval between your widgets and show them one by one after a period you choose.
You can also choose display conditions under which customers will see only one shopping deals pop-up per session to keep them from overloading with information.
Finally, if you want your countdown timer pop-up to be displayed with your other widgets simultaneously, Claspo will ensure they don't overlap, keeping your customers' experience great.
Campaign Scheduling
If the countdown timer pop-up says that your offer is only valid for 10 hours, you should keep your promise and turn off the pop-up as soon as the timer reaches zero. Otherwise, the pop-up will take visitors to the appropriate page, but they will not be able to take advantage of your offer, undermining their trust.
With Claspo's campaign scheduling, you can specify the date and time of the launch and end of your offer in the settings, and we will automatically start and stop the pop-up at the right time.
Slider with Unlimited Visual Content 
If you give a limited-time discount on different products, you may want to show them all to interest most website visitors. Meanwhile, many pop-ups on the homepage can make visitors leave, and if they are scattered across different product pages, there is a risk that visitors will not get to the point that appeals to them best. 
With Claspo, you no longer need to worry about it. Collect all images of your discount products in one Claspo slider and let customers choose the most relevant one. For example, you may add a countdown timer to the first slide and set up a sequential display order. In another scenario, you can place it on every slide and display them randomly. It is an excellent solution if you, for example, have different discounts depending on the product.

Go to Claspo's library
Advanced Targeting
With Claspo, only you decide who sees your countdown timer pop-up:
Geotargeting. Show your pop-up to customers from your chosen locations only if your offer is valid only in certain countries.
UTM targeting. Display the pop-up only for visitors who have navigated to your website from a specific marketing campaign. For example, you advertise 3-day free shipping to your existing customers through an email campaign. Specify the appropriate UTM parameters in the settings and show your pop-up only to the selected segment.
Exit-intent targeting. Set your countdown timer pop-up to only show to visitors who intend to leave your site without making a purchase. Realizing that your offer is limited in time, they may reconsider their decision.
Countdown Timer Pop-Up FAQ
What is the typical mistake when using countdown timer pop-ups?
Use them too often. In this case, site visitors will get used to your time-limited offers, and you will no longer be able to appeal to urgency and fear of missing out.
Can I set various countdown timer pop-ups for different pages on my website? 
Yes, you can do it, thanks to Claspo's flexibility. For example, put one slider with all time-limited offers on the homepage and add a unique countdown timer pop-up to each product category page.
Will the countdown timer pop-up work on different screen sizes?
Certainly, Claspo pop-ups are friendly for desktop and mobile versions of your website. You can always preview how the countdown timer pop-up looks on different screen sizes and, if needed, adjust its width and height to fit the page layout.
Can I integrate the countdown timer pop-up with my email marketing platform?
No problem! Claspo integrates with the most popular email marketing services, including but not limited to MailChimp, SendGrid, and MailerLite. 
Final Thoughts
With today's customer procrastination, online retailers use new ways to promote immediate purchases. Сountdown timer pop-ups are one of the most effective of them all. They show your limited-time offer attractively while constantly reminding customers that the clock is ticking and time is running out. So if a limited-time offer fits your current strategy, get closer to a sales boom with the timer pop-up.
Boost your website visitor's purchase intent with a catchy countdown timer pop-up from Claspo