What is a Lightbox Popup? Step by Step Guide How to Create One
30 November 2021
08 September
~ 15 min read
9887 views
Engaging your website visitors and capturing their attention towards content or promotions can be achieved effectively by incorporating a lightbox popup. This thoughtful addition can enhance your website's conversion rates and enable you to collect leads. Here's a step-by-step guide on how to create a lightbox popup:
Determine your goal.
Choose a platform.
Design your popup.
Create content.
Set targeting rules.
Enable tracking and analytics.
Test and optimize.
Make sure you find the balance when it comes to the frequency and timing of your lightbox popups. Bombarding your visitors with lots of popups or showing them at inconvenient moments could result in a negative user experience. Also, reviewing and refreshing your lightbox popup to ensure it stays relevant and in line with your marketing objectives is important.
What is a Lightbox Popup?
A lightbox popup is a captivating overlay that appears on top of a website's content. It grabs the attention of visitors, showing them relevant information, promotions, or calls to action. The popup makes the background darker, highlighting its content, which usually includes an engaging headline, persuasive text, an image, and a clear button to take action. Lightbox popups are utilized to boost conversions gathered. They draw attention to specific content or promotions, finding the balance between timing, frequency, and relevance is crucial for a positive user experience and achieving desired results.

Use This Template
Difference Between Lightbox Popup And Popups
Lightbox popups and traditional popups differ in appearance and behavior. Lightbox popups overlay webpage content and darken the background, while traditional popups can be seen either as windows or integrated within the webpage. Lightbox popups are commonly activated by user actions or predefined rules, whereas traditional popups can be triggered by different events such as page loading, exit intent or scrolling.
How to Create a Lightbox Popup in a Few Minutes
It's possible to create a lightbox popup fast with the right tools and approach. A noteworthy tool that offers simplicity, versatility, and numerous advantages is Claspo. Whether you're new to creating popups or you're an experienced webmaster, Claspo provides a smooth and effective solution for creating captivating lightbox popups in no time.
Claspo is an excellent platform that allows users to create popups without the need for coding skills. With Claspo, you can customize your popups to make them more engaging and help you connect better with your audience. Claspo can increase your website's conversion rate and take your business to the next level.
1. Login or Register
Start by signing up for Claspo or logging in to your existing account. 
2. Create a Widget
Click the "New widget" button to create one.
3. Customize Your Lightbox Popup
Then pick one of the provided choices. We'll go with "Template library" from now on as it is a faster and easier way to create your popup.
4. Select a Widget Template
Choose the most appropriate widget appearance. You'll be able to edit it further.
5. Edit Your Popup
As soon as you pick the popup, you can use it and edit to your taste and goals.
Once you select the widget template, you are redirected to the popup builder dashboard. Here you can see various blocks that can be deactivated or included as you experiment with your popup. Those can be blocks with texts, images, buttons, and form fields.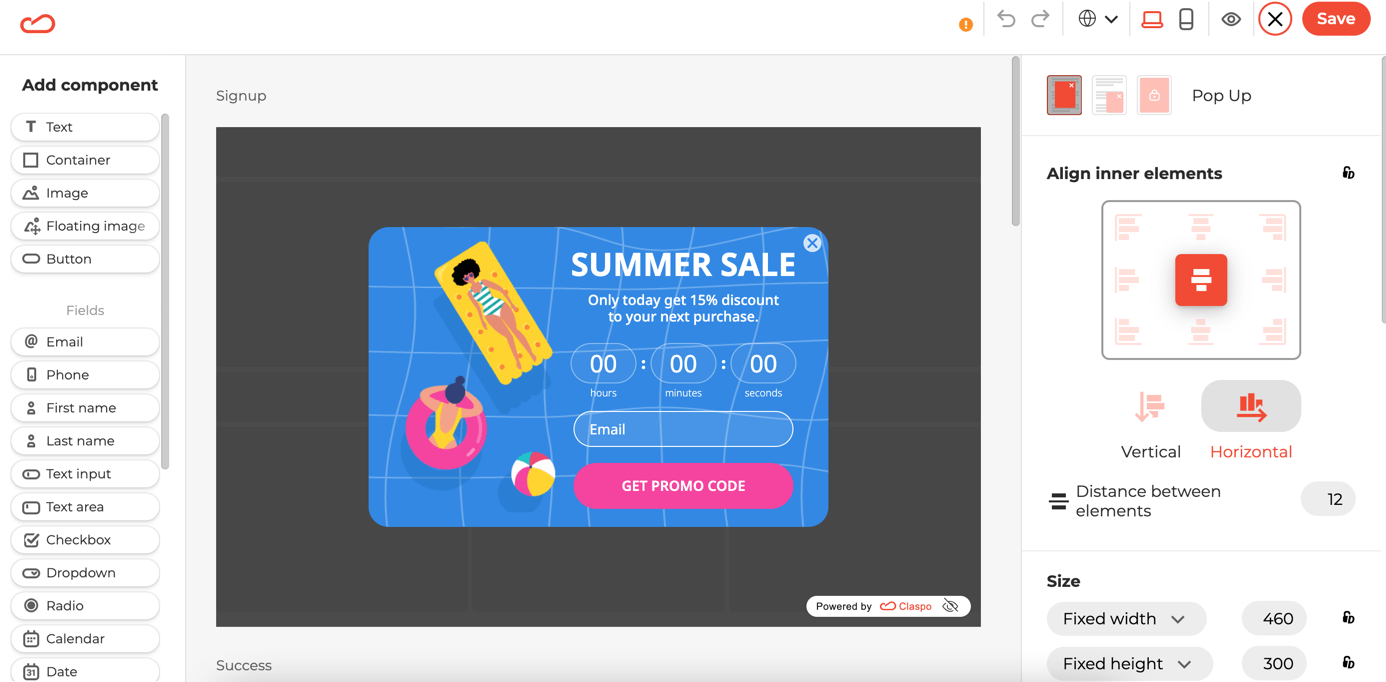 After all the editing is done, save your popup.
6. Set Up Triggers, and Other Parameters
Define the list of actions that make the popup appear and apply other properties for targeting certain users.
Press the Next button.
7. Install the Script
It's easy to install and you just have to click through all the steps, copy the script, and add it to your project's code. 
If you don't feel confident, don't hesitate to contact us so we can help you out with script integration for free.
8. Use Your Popup
Your lightbox popup is ready to be used! Add it to a website and enjoy.
9 Lightbox Popup Examples
Many entrepreneurs employ lightbox popups on their websites to grab attention, interact with visitors, boost conversions, provide personalized messages, and collect data. Lightbox popups present a method for showcasing content, promotions, and calls to action resulting in improved conversion rates and enhanced user satisfaction. Owners can optimize their popup approach and effectively meet their marketing goals by utilizing triggers and integrating analytics.
A good popup is always a great tool to get leads for your business.
Here are 9 examples of lightbox popups to inspire your business journey.
Lightbox Popup for Cookies Notification on Nike Website
A cookies notification lightbox popup is a popup box that website owners use to let visitors know about the use of cookies on their site and to ask for their consent as mandated by various data protection regulations, like the General Data Protection Regulation (GDPR).
Pro Tip:
When you add cookies notification lightbox popup to your website, it's important to make sure that the message is easy to understand and straightforward. Clearly explain what cookies are used for and include a link to your privacy policy for details. Make it simple for users to dismiss the popup or manage their preferences respecting their choices and improving their experience.
When you utilize Claspo's popup builder to incorporate a cookies notification lightbox into your website, you can personalize the appearance and functionality, guaranteeing a user experience that acknowledges their selections and preferences.
Lightbox Popup with Location Information on Tiffany & Co Website
A popup window appears on the screen to guide visitors in locating stores. It provides real-time updates on the availability of items. It appears on top of the website allowing users to input their location and search for stores nearby. The popup showcases the store and informs visitors about product availability, enhancing user satisfaction and encouraging visits to physical stores.
Make sure you also adjust these popups for mobile view so everything works smooth.
Pro Tip:
When creating a lightbox popup to display location information on your website, it's important to prioritize user friendliness and appeal. Make sure to include a user search function that allows visitors to input their location effortlessly. To attract visitors to your physical stores, provide real-time updates on item availability within the popup. Additionally, customize the popup with your brand's style to ensure a consistent look and feel. Lastly, consider integrating mapping services for a user experience allowing visitors to easily find their way to the desired store location.
With Claspo's popup builder, you can seamlessly incorporate mapping services into the lightbox popup that displays location information. This allows visitors to navigate to their desired store location effortlessly, making their overall user experience more convenient and enjoyable.
Lightbox Popup for Upsell
Whether you operate a nonprofit or an e-commerce site, the upsell website lightbox is another excellent technique to boost your earnings. You could be attempting to complete the checkout process when a popup offering similar items for your basket appears. Or you can notice a popup asking whether you'd want to make it a monthly gift while making a one-time donation on a nonprofit website.
Pro Tip:
Increase your profits by incorporating a lightbox popup to encourage purchases at the checkout. Tailor the offer to suit your customers, employ call-to-action phrases, and monitor its effectiveness to enhance your upselling tactics.
Using Claspo's popup builder, you can experiment with offers and call-to-action phrases within the lightbox popup during checkout. This enables you to tune your upselling tactics and ultimately increase your profitability.
Lightbox Popup for Email Subscription Offer on Cafe Leandra Website
A popup box that appears on the screen allows visitors to subscribe easily for newsletters or updates. It provides advantages, captures email addresses, and assists businesses in establishing a group of subscribers for direct communication and interaction.
And once you've snatched that email address, you can go on with creating impactful emails with beautiful subject lines.
Pro Tip:
When you create a lightbox popup for email subscriptions, make sure to include an incentive, keep the subscription form simple, and emphasize the benefits. It's important to design the popup in a way that aligns with your brand and also integrate it with an email marketing platform for seamless engagement.
With Claspo's popup builder, you can integrate an email subscription lightbox popup into your preferred email marketing platform. This enables you to engage with your subscribers and effectively nurture leads efficiently.
Lightbox Popup for Paid Subscription Offer on The New Yorker Website
You can utilize a lightbox popup to provide an opportunity for visitors to opt for a paid subscription to access information or content. Once triggered, this popup will appear on top of the website's content. Present an enticing offer to encourage visitors to subscribe and gain access to premium or restricted content.
Within the lightbox popup, businesses have the ability to highlight the value and advantages of the paid subscription, which may include in-depth articles, exclusive tutorials, premium resources, or members-only discounts. Additionally, the popup generally includes a subscription form where visitors can input their payment details to successfully complete the subscription process.
Pro Tip:
Utilize a lightbox popup as a means to promote paid subscriptions effectively. Emphasize the benefits of content, simplify the subscription procedure, and regularly update the offer to maintain its appeal.
Claspo's popup builder allows you to set up automated updates and modifications to the content displayed in the lightbox popup for your paid subscribers. This way, you can ensure that the offer stays current and enticing to subscribers.
Lightbox Popup for Downsell
A downsell lightbox pop up will offer a lower price than the previously displayed one. A good indication that the product is too pricey for the customer's trip is also provided by this circumstance.
Your potential consumer will immediately buy a comparable product at a reduced price if you demonstrate it, raising their average purchase.
Pro Tip:
Offer a popup lightbox that presents an affordable option in cases where customers hesitate due to the price. Emphasize the value and advantages of the discounted product to motivate them to make a purchase away, thereby boosting the average order value.
Create time offers in a lightbox popup from Claspo to create a sense of urgency and motivate customers to seize the opportunity of discounted prices. Boost sales and enhance the average order value as a result.
Lightbox Popup for Sizing Information on Net-A-Porter Website
A lightbox popup that assists visitors in selecting the size for products can significantly enhance customer satisfaction and minimize the chances of returns or exchanges caused by items that don't fit well. It achieves this by offering measurement charts or helpful guidelines to ensure sizing information.
It's important to work on your overlay view here, read our post on overlay popup best practices to be sure everything works as planned.
Pro Tip:
Increase customer satisfaction and minimize product returns by implementing a visually appealing and user-friendly lightbox popup that offers precise sizing information. Make sure to include measurement charts or guidelines that are easy to understand and visually pleasing.
With Claspo's popup builder, you can easily incorporate sizing guides into the lightbox popup. This feature ensures customers have an effortless experience when finding the perfect fit for their desired products. Doing it also helps minimize the chances of returns and exchanges.
Lightbox Popup for Login/Signup
This pop-up simplifies the living of an average user. The login/Signup lightbox is a great way to make users register when they need more information on your site. For example, Pinterest does not allow users to open pins using a lightbox popup until they register.
Pro Tip:
Consider implementing a login/signup popup box to make it easier for users to engage with your website and encourage them to register. Strategically utilize this popup to grant access to extra site features or exclusive content, which can motivate users to create an account. By limiting functionalities until registration, you can effectively boost user conversions and expand your user base.
Quickly generate a login/ popup box using Claspo's flexible popup builder. This feature allows you to offer content or access to premium features enticing users to register and boosting user conversions. It's a way to expand your website's user base.
Lightbox Popup for Discount Offer
The discount lightbox popup is one of the most prevalent on e-commerce websites. In return for their email address, these popups provide Internet buyers a discount or voucher to use on their purchases.
Pro Tip:
To encourage customers on your e-commerce website, consider implementing a lightbox popup that offers a discount or voucher in exchange for their email address. This does not motivate immediate purchases but also helps you grow your email subscriber list, which can be valuable for future marketing endeavors.
With Claspo's user popup creator, you can effortlessly create a popup that appears when customers are about to leave your e-commerce site. This popup can offer discounts or vouchers to encourage them to share their email addresses. By doing you not only enhance immediate customer interaction but also create a valuable list of email subscribers for future marketing endeavors.
Lightbox Popup Best Practices
Lightbox popups have the potential to be an effective method for engaging with visitors on websites and accomplishing specific objectives. To maximize their impact, it is crucial to adhere to established practices when incorporating lightbox popups. Here are some important principles to consider:
Timing and Frequency: Show popup windows at the right moments and avoid bombarding visitors with too many or repetitive popups. Utilize triggers such as when a visitor's about to leave, after a certain time delay, or when they have scrolled a certain depth to ensure a smooth and unobtrusive experience.
Clear and Concise Messaging: Craft your lightbox popup message to be clear and to the point. Emphasize the benefits or value proposition it offers. Use captivating headlines, persuasive language, and a compelling call to action to persuade visitors to take the desired action.
Mobile Responsiveness: Ensure that your lightbox popups are optimized for devices creating a smooth user experience on smartphones and tablets. It's important that the popups adapt to screen sizes without blocking any crucial content.
Aesthetics and Branding: When it comes to aesthetics and branding, make sure that your lightbox popup matches the look and feel of your website. Keep the design consistent with your brand by incorporating colors, fonts, and images that are visually appealing and grab attention, all while reflecting the unique identity of your brand.
Targeting and Segmentation: Enhance your marketing by utilizing advanced options to display customized popups to specific audience segments. Tailor the offers according to visitor behavior, location, or preferences to ensure the popups are relevant and effective.
Testing and Optimization: To ensure results, it is essential to experiment consistently with various versions of your lightbox popups. This includes exploring design elements, adjusting messaging, testing various triggers, and refining the timing. Analyze the performance metrics, such as conversion rates and engagement, to identify any areas that require improvement. Based on these insights, optimize the popups to enhance their effectiveness.
Prioritize User Experience and Privacy: Show respect for user privacy by adhering to data collection practices that comply with GDPR regulations. Clearly communicate how data will be used and give visitors the ability to control their preferences. Make it effortless for users to close the lightbox or navigate away from it, ensuring a user experience.
Analytics and Tracking: Add analytics and tracking capabilities to your lightbox popups so you can measure how well they're performing and track conversion rates. By analyzing the data, you'll be able to gain insights into user behavior conversion rates and understand how effective your popups are overall.
By implementing these recommended methods, you can develop user-oriented lightbox popups that encourage interaction, improve conversion rates, and provide a positive user journey on your website.
5 Reasons Why Lightbox Popups on Your Website are Useful
Lightbox popups provide an opportunity to engage with visitors and encourage them to take action. They can help simplify decision-making processes, reinforce your core message, grow your email subscriber base, and boost social media interaction.
But there are possible mistakes that you need to be cautious of. Read further about 8 popup mistakes and what to do with them. 
It's the second chance to convert
Re-engaging and abandoning visitors could take a positive toll on your conversion rates. This is where lightbox popups come into play. They give your audience one last chance to convert by focusing their attention on some valuable and relevant offers.
This approach works great with online stores where customers are frustrated by boatloads of options. Informational overload comes from buttons, links, and messages grabbing visitors' attention. Too much choice results in 'analysis paralysis'. Unable to make the final decisions, visitors flee.
A lightbox popup comes with only one option. Eliminating choice helps to reduce stress and anxiety. It is crucial for making sales. When visitors' attention is narrowed to a single luring offer, the decision-making process becomes simpler.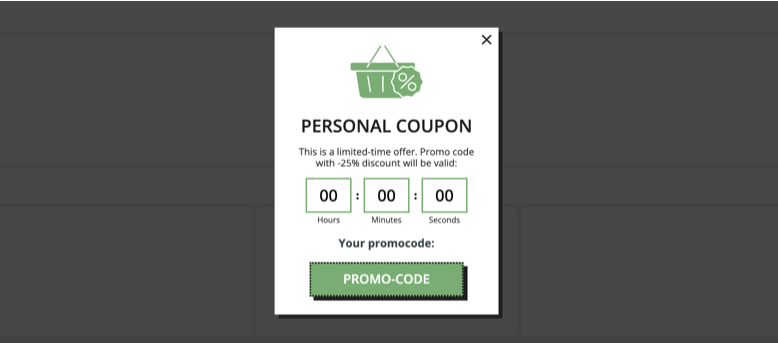 Use This Template
Lightbox popups reinforce your message
With a specific frequency, you can reinforce your message and convert leads. After seeing a message several times, a person unconsciously connects it to something familiar. In other scenarios, a user can simply be intrigued by the message. The power of repetition shouldn't be underestimated.
Hence, lightbox popups help achieve effective frequency; the number of times a prospect should see a particular message to perform the targeted action. Different theories of required frequency exist, but you should experiment carefully as users might be repelled by high-pressure advertising.

Use This Template
You can increase your email subscription list
Getting customers back is one of many reasons to integrate exit-entry popups. It's a perfect way to build an email subscriber list. Typically, the success rate of a popup depends on the incentive offered in return for data shared. Even the simplest lightbox popups with subscription forms can convert 3-5% of visitors.
Which popups would be appropriate for this task?
A polite scroll along a box that moves as a reader scrolls through the page. Alternatively, you can place a banner at the bottom of the page or use a data-driven sidebar.
Keep in mind that readers will decide if they want more of your content once they've read your post. If you lack email leads, you can trigger lightbox popups sooner than they reach the bottom of your content. Finally, remember that users hate seeing subscription popups when they are already subscribers. Set the cookie length to a year or more to show them a relevant popup or disable the current one.

Use This Template
Upsell or cross-sell products and services
You can use lightbox popups on your website to offer customers products or services that may interest them. By displaying offers or related items based on their browsing behavior or cart contents, you can boost the average order value and maximize revenue. These targeted popups present customers with choices or upgrades that enhance their shopping experience, adding value and resulting in more conversions and satisfied customers.

Use This Template
Promote social media engagement
You can make use of lightbox popups to boost social media participation and enhance your visibility. By incorporating social media icons and urging visitors to follow your social media profiles or share your content, you can broaden your reach. Establish connections with a wider audience. This helps nurture brand loyalty, improves brand recognition, and enables engagement with your desired audience.

Use This Template