What is a Lightbox Popup and How to Create One?
30 November 2021
02 April
~ 15 min read
7331 views
What Is a Lightbox?
In web design, a lightbox popup is a window that is displayed on top of a webpage and obscures some of the page information. Usually, when a popup is shown the background becomes dimmed and disabled. Thus, popups draw attention and encourage visitors to perform some action.
Lightboxes are frequently utilized to collect the email addresses of prospective consumers, which is an excellent step for your email marketing. This can be accomplished in many ways, encouraging visitors to subscribe to your blog, receive updates and emails, or gain a discount on your items.
In addition, a lightbox pop up can be utilized to highlight any essential messaging, such as sales, promotions, or upcoming events. They can also ensure that site visitors get all the images or videos they wish to share.
Lightbox Website Examples
Email Website Lightbox
Even if the Subscribe button is animated, no one will subscribe just because a subscription form with that button has appeared in front of their eyes. The user can only be interested in some advantages. So offer something in your email lightbox and collect emails.
Cookies Consent Website Lightbox
You have to inform your visitors that you will use their cookies on your website. Since 2011, this European law has required the protection of individuals' data. When using cookies, you need to integrate them into your website. You can use a lightbox popup for this purpose.
Newsletter Signup Website Lightbox
For every subscription, you may always provide a discount. This is a tried-and-true functional utility that has been around for a long time. Of course, you should give unique content and offer your consumers helpful information. They will, however, swiftly settle on a subscription.
Login/Signup Website Lightbox
This pop-up simplifies the living of an average user. The login/Signup lightbox is a great way to make users register when they need more information on your site. For example, Pinterest does not allow users to open pins using a lightbox popup until they register.
Discount Website Lightbox
The discount lightbox popup is one of the most prevalent on e-commerce websites. In return for their email address, these popups provide Internet buyers a discount or voucher to use on their purchases.
Upsell Website Lightbox
Whether you operate a nonprofit or an e-commerce site, the upsell website lightbox is another excellent technique to boost your earnings. You could be attempting to complete the checkout process when a popup offering similar items for your basket appears. Or you can notice a popup asking whether you'd want to make it a monthly gift while making a one-time donation on a nonprofit website.
Downsell Website Lightbox
A downsell lightbox pop up will offer a lower price than the previously displayed one. A good indication that the product is too pricey for the customer's trip is also provided by this circumstance.
Your potential consumer will immediately buy a comparable product at a reduced price if you demonstrate it, raising their average purchase.
3 Reasons Why Lightbox Popups on Your Website are Useful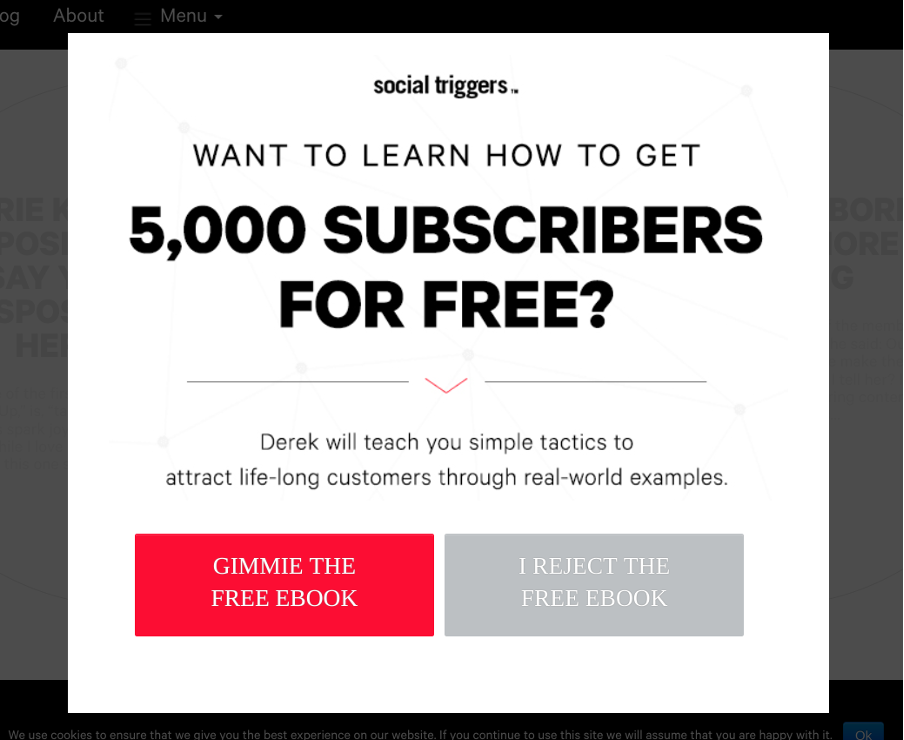 Lightbox Popup Example #1
It's the second chance to convert
Re-engaging and abandoning visitors could take a positive toll on your conversion rates. This is where lightbox popups come into play. They give your audience one last chance to convert by focusing their attention on some valuable and relevant offers.
This approach works great with online stores where customers are frustrated by boatloads of options. Informational overload comes from buttons, links, and messages grabbing visitors' attention. Too much choice results in 'analysis paralysis'. Unable to make the final decisions, visitors flee. 
A lightbox popup comes with only one option. Eliminating choice helps to reduce stress and anxiety. It is crucial for making sales. When visitors' attention is narrowed to a single luring offer, the decision-making process becomes simpler. 
Lightbox popups reinforce your message
With a specific frequency, you can reinforce your message and convert leads. After seeing a message several times, a person unconsciously connects it to something familiar. In other scenarios, a user can simply be intrigued by the message. The power of repetition shouldn't be underestimated.
Hence, lightbox popups help achieve effective frequency; the number of times a prospect should see a particular message to perform the targeted action. Different theories of required frequency exist, but you should experiment carefully as users might be repelled by high-pressure advertising.
You can increase your email subscription list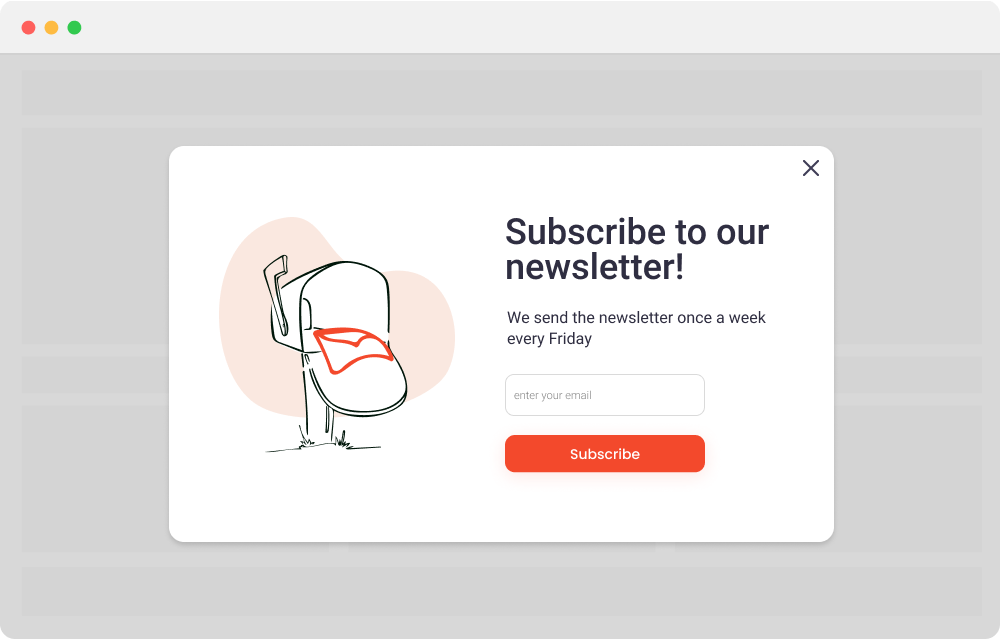 Lightbox Popup Example #2
Getting customers back is one of many reasons to integrate exit-entry popups. It's a perfect way to build an email subscriber list. Typically, the success rate of a popup depends on the incentive offered in return for data shared. Even the simplest lightbox popups with subscription forms can convert 3-5% of visitors.
Which popups would be appropriate for this task?
A polite scroll along a box that moves as a reader scrolls through the page. Alternatively, you can place a banner at the bottom of the page or use a data-driven sidebar.
Keep in mind that readers will decide if they want more of your content once they've read your post. If you lack email leads, you can trigger lightbox popups sooner than they reach the bottom of your content. Finally, remember that users hate seeing subscription popups when they are already subscribers. Set the cookie length to a year or more to show them a relevant popup or disable the current one.
What to Consider When Using Lightbox Popups on a Website?
1. Users hate landing pages overloaded with forms
It would be better to hide a pop-up form on your landing page. According to statistics, the more fields you have on your landing page, the lower it converts. On the contrary, landing pages without visible fields have higher conversion rates. Click pop-ups convert 12 times better than other email popups. Why? Because the visitor triggers its appearance.
Here's one of the best lightbox website examples — the Download button hides the form:
Lightbox Popup Example #3
2. Website lightboxes with discounts convert excellently
This is a kind of lightbox popup that anyone would be pleased to see. Many online stores offer new customers a 10–25% welcome bonus, which proves super-efficient. Bonus funnels in promo campaigns can boost up to 200% conversion rates. The primary reason for the efficiency of such popups is that their value delivered is relevant for website visitors. 
3. Extra content? Why not
Try to guess: what is a website lightbox that can compete with popup discounts in terms of efficiency? Yes, it's an ad that offers eBooks, content upgrades, and exclusive materials.  
This lightbox pop up is usually triggered in the middle of an article, and here's the catch. Viewers get easily embarrassed by such popups, and your page might be abandoned if you give them nothing relevant as a reward.
A good example of such an approach is to offer materials and encourage viewers to click Unlock. It works well for both direct sales and email subscriptions. Progress bars are also pretty efficient.
Why do visitors love these lightbox popups?
Exclusive content has a higher subjective value. If readers love your website, they would like more helpful information, especially when it's not publicly available.
Free content in exchange for an email address is a pretty fair deal from the viewers' standpoint. It's an excellent tool for developing your subscriber list, as well.
4. Using website lightbox popups for abandoned carts is a must
Lightbox Popup Example #4
A shopping cart abandonment popup should always be triggered on your website because your customer has had a half-baked experience. A person intended to buy from you but failed. What is the reason? Most likely, it's about your store.
The most widespread reasons for cart abandonment:
unexpected extra costs (delivery, package);
obligation to create a personal account;
too time-consuming or too complicated checkout procedure;
inability to calculate total order cost up-front;
users don't trust the site with their information;
the website crashed or had technical problems;
delivery takes too long;
return policy seemed to be tricky;
not enough payment methods;
a credit card was not accepted.
With the help of a lightbox popup, you can find out what happened and address the user's problem by sending them to customer support or coming up with a solution. 
How to Create a Lightbox for Your Website?
Above, we have tackled the issue of content. What about the visual and verbal parts of the lightbox on a website?
Here are some top lightbox design tips:
Use eye-catching contracts and bright color combos.
Explain to visitors the benefits they get. No walls of text. Keep it simple.
Position your popups as personal offers, not ads.
Build a conversation. Communicate with customers in a caring, positive tone.
Encourage customers to perform a targeted action without hurting their experience by the interruption.
Make sure your popup lightbox appears at the right moment.
Require fewer form fields.
Pick powerful call-to-action phrases that will grab your visitor's attention.
Now as you know the secrets of successful lightbox popups, here's a short description of the creation process. If you have access to popup builders, crafting a lightbox takes a few minutes.
How to Create a Lightbox Popup Using Claspo?
1. Login or Register
Start by signing up for Claspo or logging in to your existing account. 
2. Create a Widget
Click the "New Widget" button to create one. 
Name your widget and select the goal. To create a lightbox popup select a Popup Layout Type.
Press the Next button.
3. Customize Your Lightbox Popup
To create a widget based on your website style, select colors of the following website elements.
Press the Next button.
4. Select a Widget Template
Choose the most appropriate widget appearance. You'll be able to edit it as needed.
5. Edit Your Popup
Once you select the widget template, you are redirected to the popup builder dashboard. Here you can see various blocks that can be deactivated or included as you experiment with your popup. Those can be blocks with texts, images, buttons, and form fields.
After all the editings are done, save your widget.
6. Set Up Triggers, and Other Parameters
Define the list of actions that make the popup appear and apply other properties for targeting certain users.
Press the Save button.
7. Save and Use Your Popup
Your lightbox popup is ready to be used! Add it to a website and enjoy.
How to Measure the Success of Website Lightbox Popups?
The most reliable way to evaluate the efficiency of popups is through metrics. When analyzing the results of the popup campaign, consider such factors as:
Conversion rate (number of completed activities);
CPC (cost-per-conversion);
CPA (cost-per-action);
Number of email subscriptions;
Sales metrics;
Page bounce rate.
The analytics can be automated with ad management desktops and CRM software. They will give you a complete insight into the success of your campaign. 
How Lightbox Can Benefit Your Business
A lightbox popup is a surefire way to grab your visitors' attention. But since you've decided to interrupt their reading experience, don't forget to offer something worthy. Discounts, free PDFs and recipes, and individual offers can make retention rates skyrocket.
Advantages of Lightbox:
Unique URL;
A full-fledged page with the preservation of functionality;
Save context;
Intuitiveness;
Freedom of implementation and design;
70–90% of the workspace with the ability to display the interface in full;
Possibility of block construction and integration of embedded scroll.