Pop-Up Surveys: The Complete Guide For Newbies
When you have many customers, it is important to know their insights and everything they think about. A simple pop up survey can help with that. The survey pop up is a small window that you can place in any part of the page; it might have fields, checkboxes, multi-choice, etc. to find out something about the user or the product. These answers will take your business to another level for sure. 
Besides, it is easy to implement a simple survey popup with the help of JavaScript.
Get feedback and ask particular questions if you are checking the specific information. You can check your ideas about the growth of the business – how much do people like it, are they ready to pay the set price, will they recommend the product to their friends, etc. 
What is a Pop-Up Survey?
Pop up surveys are a type of survey widget that you can use to get feedback from your customers. It helps to get different insights, ideas, and unsatisfactory cases. And when offering to leave such feedback, many will miss it, but later, as they see this survey pop-up more often, they will fill it in with their thoughts. 
Note that such surveys always have one or two questions and never more. This is important since they are much easier and faster to fill in, so most users won't feel discomfort or waste time when answering questions. 
And here is a nice example of a survey pop-up. You can see now how many questions it has – not so many to bug your user or a potential client.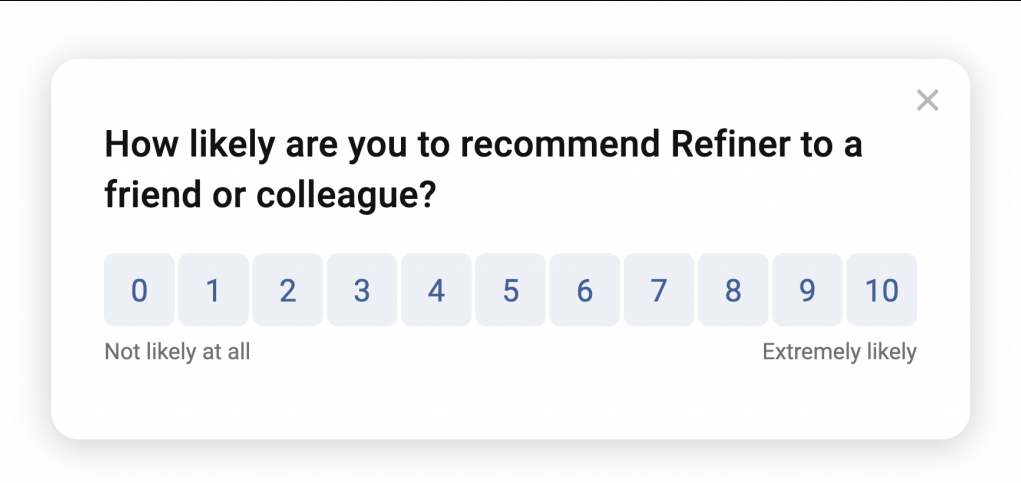 Survey Popup Example #1
This example is a straight-away question that is easy to answer. But there are other options available. For example, check this one:

Survey Popup Example #2
These survey pop-ups ask for users' consent whether they are ready to go through the survey or not. 
Why Use Pop-Up Surveys?
The data that you receive as a result of such a survey will help you identify weak spots in the interface of your product that hinder its development. Or, on the contrary, data will identify potential product growth areas that will provide new opportunities, attract new users and/or increase the loyalty of existing ones.
Many people don't study their users and that's a big miss. So why study them? Without knowing everything about your user, you act randomly, spending huge budgets on advertising for EVERYONE. Even those who don't need your products at all – let's say you promote locksmith services in New York and half of the people that see your ad are from Los Angeles – not good. Users' insights help to correctly and clearly formulate the message to those who should buy your services or products and meet their expectations and needs. The better and more accurately you do this, the more likely your users will remain yours and bring many more of their friends to you.
Website Pop-Up Survey Best Practices
It is always easier to create something great when you have examples before your eyes. Let's check some of the best examples. 
Ask Why Customers Haven't Bought Your Items
You have a unique opportunity to ask people why they never buy from you or abandon their carts. You can ask only one question about that but give several answers.

Survey Popup Example #3
Make sure such pop-ups are eye-catching and engaging, so the user sees them right away. 
Ask About Users' Day Routine
Such questions can help you dive deeper into the users' lives and see where your product can be helpful. For example, if you create some sort of snacks and after a popup survey, you see that a lot of customers like to go to the movies, then you can promote your product as a product for snacking in the movies.

Survey Popup Example #4
This is a nice example since the user has to perform only two actions: pick an answer and press Send button. It takes roughly up to half a minute, and it won't cost you and your user a thing, and you get valuable information. 
Ask How Your Clients Have Found You
You can ask your clients how they know about you in different forms. The first option is to let them write down the answer themself, the other option is that you know the distribution channels and can write them all down, so the user only has to pick.
The best option is the second one for sure. People tend to skip open questions. So be aware of that and just offer a list of answers that matter to you. This will help get the statistics that can be useful rather than simply getting opinions.
It is helpful when you set budgets for promotion and need to check which channels work better than others. 
Ask Exit-Intent Users
Aren't you curious about why people leave your website? You can ask them directly about that! Don't be ashamed of it. This information will help you form the list of the most popular issues you've missed but not the users.
This might be one of the most helpful solutions to find the issue.
Ask to Leave the Feedback on the Shopping Experience
Here you can give control of the situation but still gain feedback. Ask carefully if the user feels like leaving feedback. Describe why you find it necessary for your store and make sure to state why you are collecting such information – to create better service and bring better products.
It is crucial to create a text that is short as possible. Longer text motivates people to leave the website for good. 

Survey Popup Example #5
Ask For the Subscription Format
You can ask your customers for the particular format they would like to receive the news, discounts, promo codes, etc. Make sure to list all popular subscription channels in this popup window, i.e., email, SMS, web or mobile notifications, etc. This is how the users can pick particular channels to receive the information. It is also possible that customers pick the information they want to receive. And the most important thing is that you won't be considered annoying as the customers have chosen the channel themselves.
The next step is to find the personal information that will tell you where to send all your news and promotions. Ask to fill in users' email and phone numbers (optionally if you want to work with an SMS subscription). That's how you save the contact information and preferences of a user. 
You can save money on retention and get loyal customers. 

Survey Popup Example #6
Profile Enrichment Pop-up/Form
Learn more about your clients as soon as they log in to your service. You can ask for personal data like email, phone number, social media links, etc. 
Such a popup is very helpful as it helps you learn about your customers more and adjust your products and services. You can also ask for additional information that might help you pick specific goods for the person, like cat/dog food, children's toys, or holiday gifts.

Survey Popup Example #7
NPS/Feedback
Get feedback on your goods and services with the help of a simple survey popup. You don't ask much from your customer but get valuable information. The customer will also profit from it: as soon as you implement the changes, your service will be better.
Place a simple popup survey with some options that will mean something to you and be clear to the customer. This helps get unified answers to see what has to be adjusted. 

Survey Popup Example #8
How to Analyze Website Pop-Up Survey Data
So, the best thing you can do with all the information you have is to analyze it, write down all the issues you've run into, and then decide how to fix them. This is the biggest benefit for your business. No one knows your business better than your customers.
When you get at least 100 answers, start analyzing them. At some point, you'll see consistencies that can turn into hypotheses and conclusions. And those should turn into solutions and decisions. 
Remember that those conclusions can or can not work. There is no 100% guarantee that everything will work, but the chances rise compared to businesses that never ask their clients. 
Try to change your business a bit according to the conclusions that you've made after analyzing the answers. Give it a try: change your website where it seems hard for the user, add some goods, and upgrade your service. In any case, you can go back at any second as soon as you see that nothing works.
Besides, you can integrate all the data into your chosen CRM or analytical tool. For example, Google Analytics might help you with building segments based on those collected answers.
Alternatives to Pop-Up Surveys
Of course, you can talk to your customer without pop-up, but there might be some kind of hardships or lack of time from both sides. However, they can be even more insightful and helpful in some cases. So feel free to try out as many alternatives, in addition to pop-ups, as possible.
Longer Registration Forms
Such a solution will surely lower your conversion rates. There's just too much information that a regular store won't need to process products. 
And even if you get any data, we highly doubt you will get accurate information. You can't blame people for that. If you want to order a Lord of the Rings book, you wouldn't state the actual work. There's simply no reason to state such information in a book store. 
To ask unrelatable questions, you have to build friendship and communication. This is when people will trust you with their personal information.
Chatbots
Chatbots are always near users and can ask them questions all the time. And that might be the problem. A bit nosy, aren't they? Of course, you can adjust the number of notifications and questions, but the conversions won't be high.
But there is a trick – there are way too many messengers that people use worldwide. And you have to think about creating a chatbot for every messenger to get your target audience. This might cost you much more than you expect. 
Comparison of Long Registration Forms, Enrichment APIs, Chatbots, and Survey Pop-Ups
To make it more clear, here's a table with important criteria. It will surely help you pick the best option for your marketing strategy.
| | | | | |
| --- | --- | --- | --- | --- |
|   | Long Registration Forms      | APIs            | Chatbots      | Survey Pop-Ups |
| Ask questions | Yes | No | Yes | Yes |
| Engagement  | Medium | Medium | Low | High |
| Response truthfulness    | Medium | Medium | Medium | High |
| Offhand design | No | Yes | Yes | Yes |
If you check this table, you'll see that the
are the best to find accurate answers from particular users. 
Advantages of Using Pop-Up Surveys
In the first place, pop up surveys are used to collect feedback from the users and see what adjustments the business needs. It helps to check the overall satisfaction, see if there are any new possibilities, discover weak spots and find a solution. Due to this, there are specific advantages of a pop-up survey, let's check them. 
Pop-Ups Cost Nothing
Well, almost nothing. It still costs some money and needs some time for creation, but the investment is rather small. But the outcome can be big in an unexpected way. 
Pop-Ups Are Easy To Set Up
Many business owners create these pop-ups on different websites. But it is better if you have a team of developers who can add it to your website. 
Pop-Ups Don't Require Much Maintenance
After the launch of a survey pop-up, you don't need to check them or perform any maintenance. Besides, the survey popups themselves are autonomous, meaning that the users don't need additional help to answer the questions, fill the form, or send the answers. 
Pop-Ups Can Be Customized in Any Way
You can ask a developer to show a particular pop-up at a particular time and in a particular place based on the users' data. Let's say you have a client from Japan where you have an additional store nearby. You can adjust your pop-up so only users from Japan can see it and answer your questions. You can ask about the shop like: "is it clean/friendly/interesting/etc."
Or, you can show survey pop-ups to those who've already been on your website. 
Pop-Ups Can Help You to Get Rid Of Your Jumble
A whole bunch of things you have on your website can turn off each of your visitors. And if you do a static survey on such a page, it won't do better. That's why we highly recommend using pop-ups, especially survey pop-ups to declutter your website appearance. 
Pop-Ups Allow to Stay On the Same Page
Usually, pop up questions may take the visitor to another page. And let's say, for example, that the previous page was a purchase or product page. This can be very disappointing for the client. That's why we hope you use pop-ups for these goals. Let the users decide whether they want to go through a survey popup or not. 
Pop-Ups are Hard to Ignore
Pop-ups were created to bring more attention to particular messages. If you have a full-screen pop-up, you basically hijack the person's browser with your message asking him/her to perform specific actions to close the window. It brings higher engagement rates since users can't really ignore such messages. 
Pop-Ups Have More Focus
In most cases, pop-ups have only one message that the user needs to get. In the case of pop-up surveys on a website, a user has to answer one or two very specific questions. The user doesn't even need to think twice about the questions since they should be very easy as well as the answers. And so is Call To Action button. 
Pop-Ups Can Reach Every Possible Person
This ability is crucial and ready to make magic for your business. Imagine having an offline store – you have to talk to each of the people to get an answer for only one question. But there are way too many customers to ask them all. That's why the survey pop-up is the best – they make it possible to ask as many people as possible with different backgrounds. 
Pop-Ups Provide With Better Engagement Rates
This is due to the fact that the user has to do one or two actions on the visible field. In the case of emails, the user has an option not to open a letter at all. That's why there are fewer chances to get answers. 
Response Rate from Website Pop-Up Surveys
Response rate highly depends on the visual and the copy of the pop-up. When you use pop-ups in apps, PWA, or simple web versions, you can get around 90% of the answers. 
The numbers highly depend on the people you try to reach when starting this pop-up campaign, so make sure to target those who might feel connected to your brand. 
Final Thoughts
The best rule to succeed in marketing and pop-ups is to try different things, analyze your work, adjust your strategy, and find your own perfect solution. 
There is no on-pill-for-all solution and no one working strategy for all.