Surprise and Delight Marketing: Stairway to Customers' Hearts
04 June
01 August
~ 7 min read
1203 views
If you want to attract a loyal audience, your product's promotion should include surprise and delight marketing components. The presence of such an approach in your lifecycle marketing can help you attract new clients to your business and increase your ability to retain old ones. In our article, we are going to find out useful information that will help you implement surprise and delight marketing strategies in your business successfully.
Surprise and Delight Marketing Definition
Surprise and delight is a unique marketing strategy directed at improving the client's overall impression during his experience with your product. As a result of these unique tactics, users will receive a great personal approach with some pleasant spontaneous offers of all kinds.
What is more important, unlike other strategies, is that when the seller expects something in return, surprise & delight puts the focus on gratuitousness. That means your client will receive something just like that without expecting to receive anything in return. You may start thinking that it will not be suitable for your business. But do not rush to cross it off your list of strategies, as this method has many advantages, which we will explain in this article.
The Value of Surprise and Delight Marketing
Before implementing surprise and delight marketing into your business model, you may want to ask about the value of this strategy. The truth is that applying this type of marketing to your business will provide you with many positive results.
Indeed, this strategy may involve providing goods to clients for free. It may look strange, but by providing your customer with free goods or a discount, you're gaining something more valuable than money. You're gaining the trust and attachment of your client. So what are the other benefits of trying surprise and delight ideas in your business?
1. Attracting New Clients
The first valuable result you might notice after trying some surprise and delight ideas in your business is a significant increase in your audience. All your pleased clients, whom you will surprise with some gifts, will tell their friends about your service, and so on.
The number of possible customers may be unlimited. The more you try to impress your clients, the bigger your audience will be. Be sure that not a single person will ever refuse a free present. As you incorporate the element of surprise and delight in your business, brace yourself for an amplification effect. The reason lies in the prowess of word-of-mouth marketing, a prominent influence on consumer behavior. If your customers are truly impressed by your offerings, they are bound to spread the word, leading to higher visibility for your business.
2. Increasing Average Order Value
A high index of average order value is one of the key indicators of a successful business strategy. If you want to calculate the rate of AOV, you have to take the total number of sales and divide it by the number of buyers. To simplify it, the higher rate of AOV means that your client has spent more money on your service and bought three or four instead of two items. Surprise and delight, in this case, will be the catalyst that makes your clients buy more from you.
By providing unexpected incentives like exclusive offers, discounts, or benefits for premium products (upselling) or supportive items (cross-selling), you can inspire customers to expand their spending. As an illustration, a fashion boutique may surprise a shopper buying a dress with an incentive for a complimentary accessory.
3. Creating a Long-Term Strategy
If you do not want to sell your products at overpriced rates with the prospect of losing current clients, then you definitely have to start using surprise and delight. This marketing strategy is the perfect choice for creating a long-term business strategy. It will help you get more clients, receive a higher repeat rate regularly, and increase the number of sold items. As a result, the future of your business will be secured from bankruptcy, and the profit will be ensured for years. 
4. Increasing the Loyalty of Your Audience
The essential part of a successful business is not your budget, business model, or even the funnel you use to sell the product. It is a happy and loyal customer that makes a successful entrepreneur. You should ensure your client receives the best treatment on the whole market. That's why rewarding your clients just because they chose your service is the best way to create an emotional connection and attachment to your business.
Surprise and Delight Marketing Ideas
Choosing the perfect idea for your first business project may be frustrating. However, this choice is extremely important for a successful start of your project. No matter if you plan to create an online e-commerce site or open a regular coffee shop. The tips you will read in this section are aimed at newcomers in this particular sphere. That's why you will undoubtedly find something useful below.
Add a surprise to every order. Imagine a situation when you order some item, you receive your package, open it at home, and to your surprise, receive a little chocolate or note along with your order. After this deed, the chances that you will make an order in that shop again are pretty high. And such little things will make your customer happier and increase the chances of a repeat purchase.
Congratulations on the holidays. The best way to gain the trust of your customers is to show how important they are to your business. That's why you should never forget to congratulate your client on Christmas, New Year, Easter, and especially Birthday. The only fact that you remember about your client's birthday will ensure your clients are of immense value to your business.
Provide free goods. Provide pleasant free offers if you already have an active and existing audience. For example, if you deliver some kind of service, make a free offer for some of your audience. Or, if you are selling some goods, you can also make an offer to allow your customers to receive something for free or a purely symbolic price. It will not significantly impact your budget, but your clients will remember this for a long time.
Create a giveaway. This surprise and delight marketing method is a perfect way to encourage your current audience and attract even more clients to your business. Another great advantage of the giveaway is that this option suits entrepreneurs of all budgets. The only thing that you will need to have is an active page on any social network and even a little active audience.
Surprise and Delight Marketing Examples
We have already discussed some marketing ideas you can implement in your business, despite your budget or size. But you can ask us: "What about some big companies? Do they also use this kind of marketing to promote their business?"
The fact is that even such prominent companies as Lego, Disney, or even MasterCard make use of that strategy. Even though all of these companies have big capital, and still they do not forget to add elements of surprise and delight to their marketing strategies. So here are some of the surprise and delight examples of popular companies that might inspire you. 
Mercedes-Benz
The main reason why the cars of this company became one of the most desirable and famous in the world is that the attitude of Mercedes towards their clients has always been on the highest level. As a confirmation, we may provide you with an event in the US named #MBSecretSanta. During this event, Mercedes raffled off around 1,000 gifts, including clothes and watches. As a result of such actions, Mercedes only confirmed its highest respect for its customers.
Lego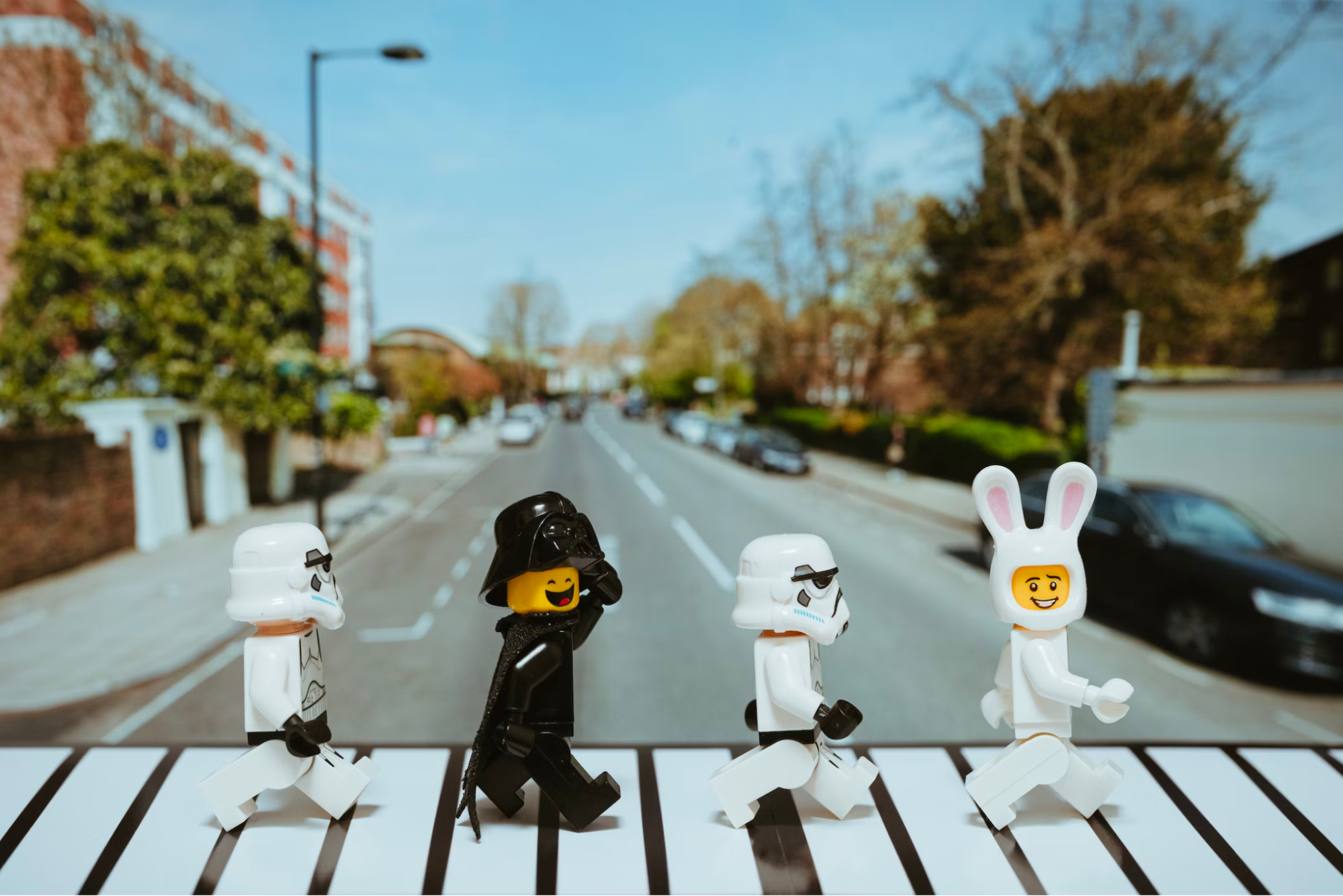 Lego is a world-famous toy company whose audience consists mainly of kids. That's why we would like to share with you this story, where Lego showed an exceptional attitude towards one little client. The story begins with a seven year old boy named Luca, who has lost his little Lego figure. He decided to write a letter to the company. To everyone's surprise, the boy received a detailed answer and a new toy. As a result, we received thousands of melted hearts touched by such a sweet deed.
Disney
Disney has given us our favourite movies and cartoons. The list of The Lion King, Cinderella, Star Wars, and Pirates of the Caribbean may go on. One of the most popular marketing campaigns of Disney was connected with the release of "Alice in Wonderland". During that time, the studio decided to promote the movie with Johnny Depp, who played one of the key roles. During the promotion, he was placed on the billboard, where he surprised fans with his appearance and pleasant talk. You can see the video of this promotion below: 
MasterCard
MasterCard is not only one of the most famous banking service providers but also a company that highly values its clients. One of MasterCard's greatest surprise and delight promotions of MasterCard took place in Toronto. Everything was pretty simple. You just had to come to one of Toronto's barbershops, pay with your MasterCard for your cut, and receive a Raptors T-shirt as a gift. But as it turned out, the main surprise was the appearance of NBA top player Kyle Lowry, who gave unforgettable emotions and memories to his fans.
Skimm
Skimm is a popular media company established in 2012 that releases news on a subscription basis. This service became popular in the United States, even though the company is now going through hard times. In any case, it regained popularity due to one of its marketing campaigns. They have successfully targeted millennial and Gen Z demographics by launching the brand ambassador program. So every loyal reader received a referral link to promote the company to their friends. This way, new readers subscribed to the newsletter and the person got the title of a brand ambassador.
Conclusion
To sum up, it's worth saying that surprise and delight marketing is a great strategy for companies of all kinds and shapes. No matter what kind of business you're trying to build, this marketing approach will be necessary for you during your attempts to create a strong and loyal relationship between you and your clients.
It may be really challenging to find the tactics that will suit the style of your company as well as will bring the attention of new clients to your business. Nevertheless, surprise and delight is definitely a worthy strategy that, when properly used, will lead to the successful development of your business.
Surprise and Delight Marketing FAQs
What does surprise and delight marketing mean?
This marketing strategy implies different approaches that are aimed at developing a positive attitude among your clients toward your company. It was designed to create loyalty from your audience by providing them with different kinds of presents and encouragement offers.
Can surprise and delight any business owner use marketing?
Another great advantage of surprise and delight marketing is that it can be used in every business. It doesn't matter what type of business you're providing your customers, because surprise and delight will work in every business without exception. 
Does the budget matter during the surprise and delight marketing?
The great news is that you can successfully implement surprise and delight marketing with absolutely any budget. Understandably, you will not be able to spend thousands of dollars on expensive promotions. Nevertheless, we assure you that you can find a way to please your clients that will suit your budget.
What are the good ideas for surprise and delight Marketing?
You will be able to use many good ideas at the beginning of your business. For example, you can provide a personal approach to every client with some little gifts, you can also congratulate your customers on holidays and especially birthdays, and do not forget about giveaways as soon as your budget allows you to.