Intro
Grade is the largest educational center in Ukraine. In partnership with the Cambridge University Examination Department, it offers English language curriculums for children and adults, professional development programs for teachers, Cambridge exams, and online courses for self-guided exam preparation - IELTS Academic, KET/A2 Key.
Our task
Grade.ua held an event and collected registrations. Claspo's task was to quickly redirect users from the site to the event page.
Looking ahead, let's say that together with the client, we coped with the challenge in one day without involving the site developers.

Solution
Based on our experience and the growth statistics of our various clients, during the period of redirecting traffic to the event page, we offered Grade.ua to test different widgets. Our client chose pop-ups from the library of templates in Claspo's personal account and tested 3 of them on the website.
Thanks to this decision, the specialists of Grade.ua managed to increase the number of registrations for the course CELTA – one of the most popular qualifications among teachers of English, which allows teaching adults. More than 10,000 candidates from all over the world take this course every year.
Business results
In the first case, they only had a title and a button, in the second, they added a countdown timer. Finally, they tried a limited-time special offer. All this hypothesis testing allowed us to find out the most effective type of popups in this case and, as a result, doubled the client's conversion.
Advice from Claspo
Always test different types of widgets and use cases, as this is the only way to figure out which widget is best for your audience. Testing widgets will help increase CR by 2-3 times!
1. Brief pop-up with title and a button
Results:
20 300 views
216 actions
CR 1.0%
Work period: 8 days
2. Pop-up with countdown timer
Results:
11 700 views
142 actions
CR 1.2%
Work period: 6 days
3. Pop-up with a limited-time special offer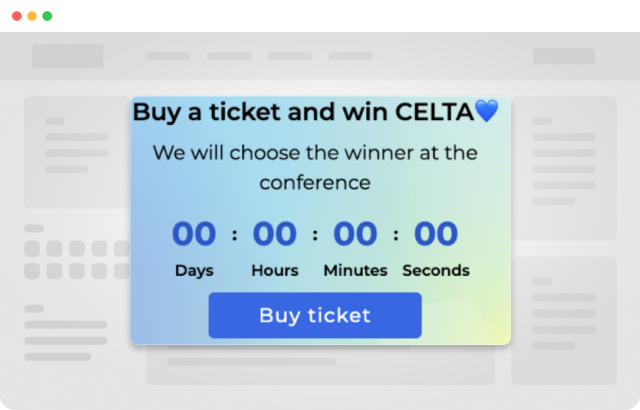 Results:
4 200 views
09 actions
CR 2.1%
Work period: 3 days

Important statistics
Popups with a built-in countdown timer can increase CR by an average of 112%!
Having coped with the first challenge, we continued our cooperation. Grade.ua was waiting for integration with Zoho, and we added support for it.
Now Grade.ua is successfully integrating additional forms for collecting customer contacts to the website.
We, as a service from marketers for marketers, would love to hear about your insights and experience. Please, write what you think about it! Join the discussion in the comments and share your thoughts.