12 Popup Message Examples & Useful Tips
18 January 2022
01 August
~ 7 min read
5286 views
Popup messages have emerged as an effective method to engage visitors and promote brands in the ever-evolving realm of digital marketing. By crafting these messages with impactful text, we can capture users' attention and motivate them to take action. In this selection, we delve into the art of communication through popup examples from renowned brands such as Adidas, Disney, H&M, and more. These examples vividly demonstrate the potential of concise and persuasive messages that leave an impact on users. With Claspo at your disposal, creating popups becomes a breeze while also providing valuable insights on optimal timing, placement, and customized content tailored specifically for your business needs.

Use this template
What is a Popup Message?
A popup message is an eye-catching text that appears on a user's screen, usually while they are browsing a website or using an app. Its main goal is to communicate information, showcase promotions or captivate users in a concise and powerful way.
12 Best Popup Message Examples For Inspiration
In the changing world of digital marketing, popup messages have emerged as a highly effective way to engage visitors and effectively promote brands. As online audiences become more discerning, it has come to be crucial to craft popup messages. The strategic use of text within these popups plays a role in capturing users' attention and inspiring them to take action. A crafted message can be concise, impactful, and irresistibly persuasive, making it an incredible tool for marketers to convey their brand's essence and unique value proposition.
Our popups collection showcases how the power of words in popups can effortlessly transform casual visitors into loyal customers. From enticing offers to captivating calls to action, we explore the art of communication at its finest, leaving an impression on every digital doorstep it graces.
1. Adidas's Exit-Intent Popup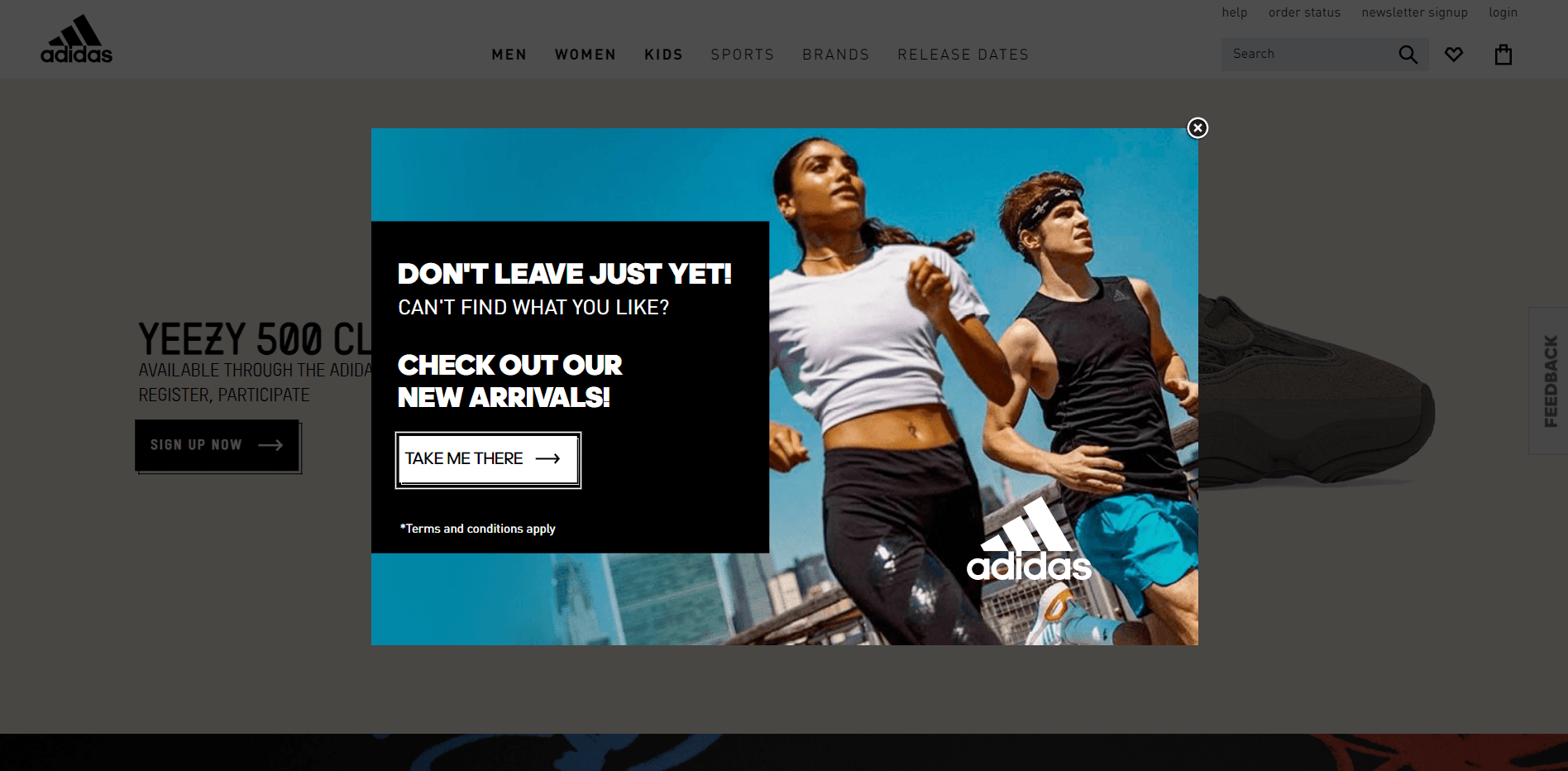 Notice how Adidas makes its point in the first sentence, meaning that users might get something special if they stay on the website for a while. Adidas gives this hope for finding some trendy treasures if you check the new arrivals. Who would resist? 
2. Disney's Alert Popup
Not the nicest of popups but surely important. The best thing is that Disney gives the main reason of why the website doesn't work for the user in the left popup — "Error code 73" and then proceeds to the explanation in the middle part of the window.
This is a great example of stating the main idea of your message in bold and describing the details in smaller letters. Thus users can decide whether they want to read the text or not. 
3. H&M Marketing Popup
Similar to the idea we've described in the previous example but there's more. Notice how H&M works with CTA texts — they offer users "take me to activation" rather than simple "activate". Such an approach evokes the feeling of personalization and allows users to be more involved in the H&M website.
4. ZARA Location Popup
Most important things first. No one wants to waste their time finding the best items on the website and get mad during the checkout process after finding out that the store doesn't ship in their location. It is rather out of the box story as stores usually are able to send goods to any part of the world, but it's better to make sure with a simple and timely popup. 
5. Ikea Consent Popup
Cookies notification message is the must, but still, when everyone creates similar messages, you can incorporate some tweaks into yours based on your company tone of voice. Ikea, for instance, adds their Scandinavian inspired "Hej!" in the beginning of the message. Cool, right? And you can tell in seconds that it's something Ikea-like. True power of the branding!
6. Target Feedback Popup
A simple, polite, and concise message. Target doesn't start with "Give us your feedback", they actually are interested in whether you have time to give them feedback. Such politeness does its job and many people would actually fill-in the form as they feel that the brand cares for them a bit.
7. Airbnb Notification Popup
Popups are not only about sales and promo codes, they are also about user-friendliness, care, and information. You can always inform your customers and visitors about untraditional features of your business or website. Airbnb does it well with their automatic translation of the content, allowing users to switch back, if they need to.
8. McDonald's Signup Popup
Don't be afraid to ask people for their personal information but make sure to write down why you ask for it. McDonald's, for example, states that anyone who writes down their email, will get news, promotions, and something else.
To do better than McDonald's you can add some brand's vibes with your tone of voice and be more specific about what exactly you will send and how much of those letters users will receive.
9. L'Oreal Sustainability Popup
A small addition to the brand that they take pride in. A little popup about L'Oreal's sustainability achievement with their product. Numbers work great that you don't need to write much — just place an impressive number, if you have one, and it'll do the job.
Moreover, the number doesn't have to be about anything specific, you can incorporate it in pretty much everything, i.e., when you ask about email, write how many people are already reading your news via letters.
10. Dell Help Popup
Offer help. Popups are a great tool for that as they can be placed on any page and don't require additional context to place them here or there. Just make it user-friendly and useful. 
11. Bath&Body Works Promo code Popup
Add visual elements to your text, like Bath&Body Works adds hearts between the words. It seems fun, and states that the brand is friendly and easy to communicate with.
Of course, place the main words that draw the most attention in bold and on the top of your popup, so the user couldn't help but read without thinking twice.
12. COS Location Popup
If you have different products for different countries, or shipping options, etc, ask users about their location right when they enter the website. This will allow them to pick relevant goods and see things they need to see.
Also, the tone of voice is everything. COS is famous for its minimalistic fashion and elegant picks, so the popup text represents it with a simple "Hello". Compare it to the previous example and try to see the brands' vibes difference just with the help of their texts.
7 Popup Messages Ideas
In this selected compilation, we bring you seven imaginative popup message concepts that are bound to engage your audience and generate positive outcomes. From tailored promotions to encounters, these popup suggestions will motivate you to fully explore the capabilities of these captivating tools.
Personalized Welcome Greeting
Popup Title: "Welcome back, [Visitor's Name]!"
Message: "Hey [Visitor's Name], it's great to see you again! We're thrilled you're back for more. Enjoy a special 15% discount on your next purchase as a token of our appreciation. Happy shopping!"
Limited-Time Offer Countdown
Popup Title: "Hurry! Time's Running Out!"
Message: "Only 24 hours left to grab our exclusive summer sale. Use code 'SUMMER30' at checkout and enjoy a refreshing 30% off on all products. Don't let this amazing offer slip away!"
Exit Intent Popup
Popup Title: "Wait! Don't Leave Just Yet!"
Message: "We noticed you're about to leave. How about a 10% discount on your first order? Simply stay a little longer, and the discount will be automatically applied to your cart. Happy shopping!"
Gamified Engagement
Popup Title: "Spin the Wheel of Fortune!"
Message: "Get ready for some fun! Spin the wheel and win exciting discounts up to 50% off. Everyone's a winner! Give it a whirl and see what amazing deal fate has in store for you."
Social Proof and Testimonials
Popup Title: "Hear What Our Customers Say!"
Message: "Our customers love us, and we're sure you will too! Check out what some of them have to say about their experience with us. Join our happy community and experience the same exceptional service."
Abandoned Cart Recovery
Popup Title: "Don't Forget Your Favorites!"
Message: "You left something behind! Your selected items are waiting for you in your cart. Complete your purchase now, and enjoy free shipping on orders above $50."
Personalized Product Recommendations
Popup Title: "You Might Like These!"
Message: "Based on your previous browsing, we've handpicked some products we think you'll love. Check out these personalized recommendations and find your perfect match today."
Keep in mind that the success of these popup messages relies on getting the timing, making them relevant, and ensuring they align with your overall marketing strategy. It's important to test and optimize each popup to get the most out of customer engagement and conversions.
How to Create Efficient Popup with Claspo
Now you can create a personalized popup with Claspo under 10 steps! 
As soon as you sign up, you'll get to your profile where you can store all your popups and information. Note the amount of buttons — not much. We decided to go with only the most important interface elements so everyone can create converting popups in several minutes without stress.
Now you can either create your own unique popup or select from the templates we've created for you. Let's go with the templates.
At our template library you can pick the popup and then customize it. We broke the library down by categories so you can easily navigate and find what you need.
Then customize the desired popup to your needs. Change color, text, and different messages that will pop up under different circumstances — Success, Already Subscribed, Error — and adapt to mobile view. 
Customize even more with our next step. We provide you with plenty of tools to create the popup of your dreams.
Now it's time to finish off with the triggers features and make sure that your popup will appear at the desired time and place of your website.
That's pretty much it! Just specify where to transfer all the things that you've done earlier. 
The next step is to install the script into your development code to app the pop-up to your website.
If you don't feel confident, don't hesitate to contact us so we can help you out with script integration for free.
Congrats! You have your popup window and the code that you can add to your website's code to make it work!
Tips on Creating an Effective Popup Message
Popup windows have different functions, such as providing valuable information about discounts, offers, and limited-time deals. Additionally, they are used creatively to achieve marketing goals such as customer retention and engagement. However, it is important to be cautious, as an implemented popup can potentially drive visitors away.
Set the Goal
Utilize popups with intention; establish objectives to determine the appropriate strategy and tool. Typical objectives include reducing cart abandonment, increasing email sign-ups, improving customer retention, enhancing engagement, and raising sales awareness. It's important to avoid combining goals within a single popup. Ensure that your messages are concise, easy to understand, and visually captivating for comprehension.
Work on Your Layout and Design
Make sure you pay attention to the details in your popup. It's important that the buttons, fields, and elements all match your design and effectively communicate with your users. A brand book can be a resource in achieving this. Also, ensure that your layout is user-friendly and includes a visible Close button. Take the time to check that both the visuals and text are flawless, effectively conveying your offer. If needed, consider using templates to organize the content within the popup.
Show the Personalized Content
Personalization plays a role in the realm of digital marketing. It's essential to customize messages for each customer, ensuring that they truly stand out from their competitors. Using CTAs that address individuals by their names can make a significant impact. Additionally, inviting readers to explore your blog with an approach and encouraging them to sign up for emails or download your app can foster further engagement.
Focus on Placement
Make sure that the popup is easily noticeable without being overly large. You can choose to have it stay visible at all times or only appear when needed and hide when scrolling. To prevent losing clients, consider delaying the appearance of the popup, ensuring that it doesn't cover the entire screen, avoiding any interruptions while people are reading or selecting products, and providing a simple way for users to close it.
Pick the Right Time
Timing matters. Avoid showing the popup immediately upon arrival, as users may leave without exploring your products. Don't follow competitors who do this. Instead, set a goal and choose the optimal time for the popup. Analyze user statistics to determine when users typically spend a few minutes on your site, then offer the popup accordingly.
Here are some time-related options you can consider:
Measure the amount of time visitors spend on each page.
Track the duration of their website visit.
Count the number of pages they have checked.
Utilize action-driven popup triggers to engage users.
Monitor the frequency. The extent of scrolling behavior.
Analyze user behavior to create a campaign that connects with a majority of your visitors.
By studying these factors, you can implement a strategy that resonates with your audience and enhances their experience on your website.
Popup With Right Message Benefits for your Business
Popups are designed to grab the attention of potential clients and encourage them to take the desired action. It is believed that this method is one of the most effective, and therefore it is used quite often.
Popup windows can be configured so that they appear immediately as soon as the visitor lands on the site page when visiting a specific section or after some time after visiting. There are many types of pop-ups, among which floating or non-blocking pop-ups are the most popular ones. They are considered to be the most effective and provide the best results. In addition, they are always in the user's viewport and cannot be blocked.
In addition to high performance, pop-ups have other benefits like:
wide coverage of the target audience, so you can work with all website pop up message viewers;
attracting the user's attention to the promoted product or service;
the use of pop-ups increases the number of subscriptions and responses to the offer;
the resource becomes recognizable;
you can set the time and conditions when the pop-up window should appear.
It should be said right away that pop ups are annoying for some users, so there are many ways to block them.
Therefore, you should be very careful with the contents of pop up windows so users won't feel the desire to block your campaigns. Show the benefits of your offer and be clear, so users understand what's going on right away. You can also add a small chat if you feel that users might need your help.