Top 35 Ecommerce Marketing Tools Review for 2023
03 July
8 days ago
~ 12 min read
2002 views
In today's fast-changing world of e-commerce, businesses need effective marketing tools in order to keep up with competition and achieve growth. The year 2023 is expected to introduce new advancements and trends in ecommerce marketing and ecommerce marketing tools, offering businesses opportunities to improve their online presence, attract customers, and increase sales. 
This article aims to provide a comprehensive review of the top 35 ecommerce marketing tools for 2023. We will examine various tools according to their specific functions and discuss the benefits they can bring to your e-commerce venture.
Discover the Ideal Ecommerce Tool for Your Business
Social Media Marketing Tools
Hootsuite
Hootsuite is an incredibly powerful yet comprehensive ecommerce marketing tool for managing one's online presence across various social media channels. It is empowering businesses like never before in this digital age we find ourselves living in today. With its sleek interface design coupled with robust tools at hand (such as scheduling posts), Hootsuite enables entrepreneurs to save precious time by automating content delivery so as not to miss out on any valuable opportunity. This means putting more energy back into meaningful interactions with potential followers and customers while also keeping a close eye on the pulse of what they have to say in real time. 
On top of all this, Hootsuite also boasts features designed specifically for analyzing marketing campaign performances, consequently enabling savvy marketers the power to make precise data-driven decisions geared towards elevating their brand presence. Fostering higher engagement rates as well as achieving remarkable growth. All in all, it seems clear-cut that leveraging Hootsuite's cutting-edge capabilities will only lead your business down a path primed for continued success!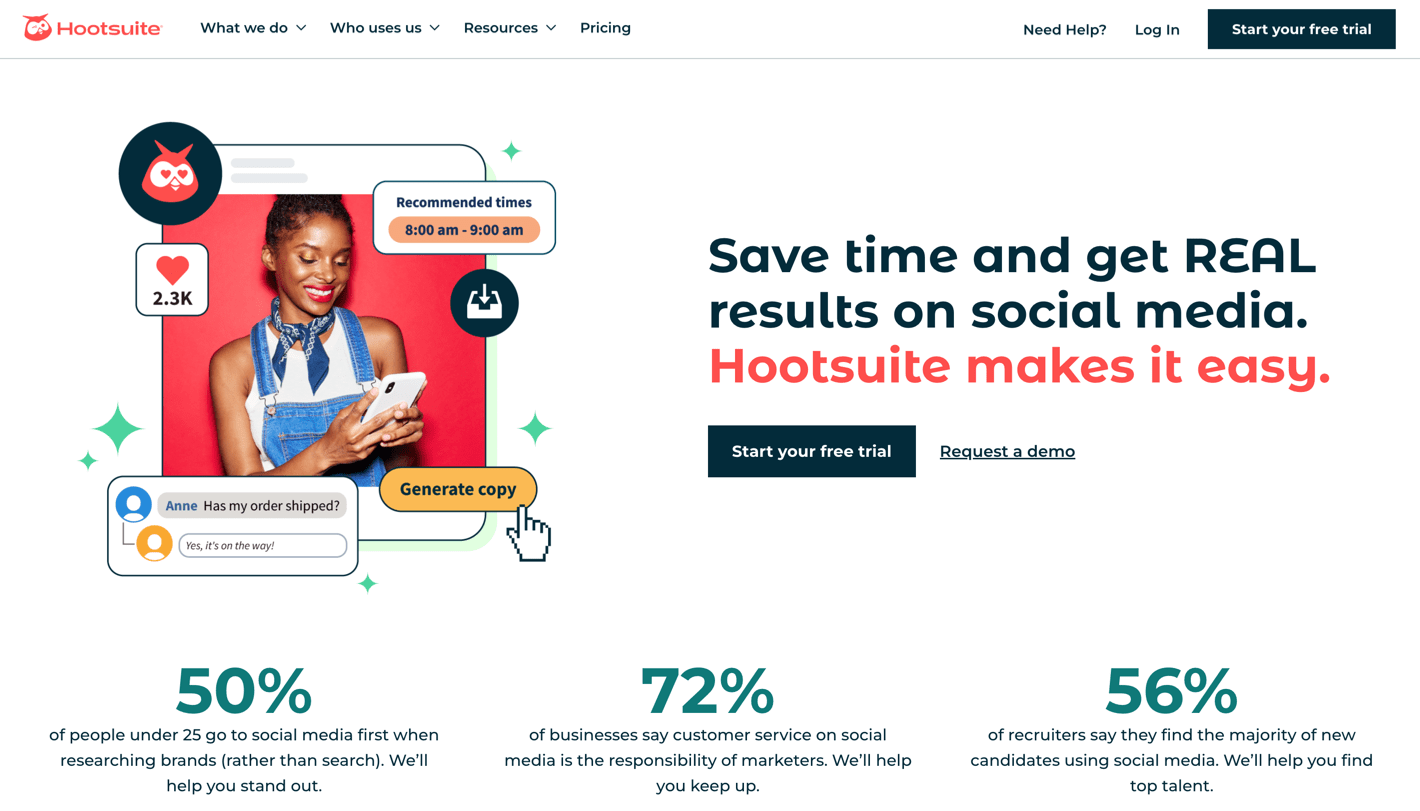 Buffer
Buffer is a remarkably user-friendly ecommerce marketing tool that enhances the management and scheduling of social media content across multiple platforms. With Buffer, businesses can streamline their social media marketing efforts by conveniently creating and organizing content in a centralized dashboard. The tool ensures a seamless experience allowing users to schedule posts in advance and effortlessly publish them at optimal times for maximum engagement.
Moreover, Buffer offers analytics and insights that assist businesses in tracking the performance of their social media campaigns. Empowering them to refine their strategies and achieve superior results. With its intuitive interface and time-saving features. Buffer is an indispensable tool for effectively managing social media presence and expanding one's audience reach.
Sprout Social
Sprout Social provides businesses with a comprehensive platform that enables them to effectively streamline their social media engagement, publishing, and analytics. By utilizing this ecommerce marketing tool, businesses can efficiently manage their social media presence by consolidating all their accounts in one convenient location. This makes it simple for businesses to monitor and respond to messages, comments, and mentions. Furthermore, the platform simplifies the process of publishing content by allowing users to schedule and publish posts across a variety of social media platforms.
In addition to these functions, Sprout Social offers in-depth analytics and reporting capabilities. This feature provides valuable insights into audience demographics, engagement metrics, and campaign performance by leveraging these features from Sprout Social. To provide the best user experience, place your mobile popups at the bottom of your screen or subtly slide them in from a side.
Email Marketing Tools
Mailchimp
Recognized ecommerce marketing tool throughout numerous industries for its exceptional reputation and widespread use in the field of digital marketing is none other than Mailchimp. It is an influential force made available specifically towards establishing seamless connections between brands/companies worldwide with their respective customer base with the end goal of establishing email marketing success. 
Recognized ecommerce marketing tool throughout numerous industries for its exceptional reputation and widespread use amongst professionals in the field of digital marketing is none other than Mailchimp — an influential force within the realm of advanced email platforms made available specifically towards establishing seamless connections between brands/companies worldwide with their respective customer base with the end goal of establishing email marketing success. Businesses can enhance their procedures using Mailchimp's popular automated features, allowing them to design and manage automated email sequences that are keenly focused on customer behavior. These sequences can also incorporate triggers that are likely to stimulate engagement, as well as specific predetermined events that are valuable for potential client interactions.
Moreover, stand-out visual aesthetics are within grasp for even the most novice designers thanks to Mailchimp's extensive catalog of personally tailored templates. They are readily available for modification by individuals possessing no prior experience in design whatsoever. Furthermore, business owners also have access to robust analysis and reporting functions within Mailchimp for measuring such metrics as open rates, click-through rates, and other crucial benchmarks. These are designed around substantive evaluation related to critiquing performance successfully executed within their marketing campaigns via electronic mail correspondence. Fuelled by its comprehensive automation features and its intuitive user interface design paradigm — confronting opportunities head-on becomes second nature when businesses decide to employ the prowess held exclusively within Mailchimp.
Klaviyo
Klaviyo is an email marketing platform specifically designed for e-commerce businesses. It offers advanced features that empower businesses to create personalized email campaigns. One of its standout features is robust segmentation capabilities, allowing businesses to divide their audience based on criteria like purchase history, browsing behavior or demographics. This enables businesses to send relevant and personalized emails leading to higher engagement and conversions. 
Klaviyo also provides powerful analytics and reporting tools that help companies track key metrics, measure campaign effectiveness, and gain valuable insights into customer behavior. With its focus to i​ncrease e-commerce sales, Klaviyo is a great choice for businesses looking to optimize their email marketing strategies and succeed in the online retail space.
ConvertKit 
To address the unique demands of content creators, ConvertKit is widely regarded as an excellent ecommerce marketing tool for email marketing needs. This platform boasts a user-friendly interface coupled with its robust automation capabilities, which ultimately allows for smoother execution of various marketing campaigns. Consequently, this enables creators to redirect focus on generating compelling content without any hindrances caused by technicalities associated with email marketing processes. By leveraging ConvertKit's customizable forms and landing pages, creators can seamlessly acquire leads while concurrently expanding their email lists with ease. 
In addition to these key features, the platform's automation capabilities enable personalized email sequences based on individual subscriber behaviors, thereby ensuring relevant correspondence at all times. Furthermore, deserving recognition is ConvertKit's provision of insightful analytics, which supply invaluable data allowing users to monitor campaign performance accurately while optimizing engagement rates successfully. Thus making it an ideal choice for content creators seeking intuitive yet efficient solutions tailored around managing email marketing through comprehensive toolkits specifically designed towards fostering enhanced audience growth whilst maximizing overall impact.
Search Engine Optimization (SEO) Tools
SEMrush
SEMrush is a powerful SEO suite that offers a wide array of marketing tools for ecommerce to assist businesses in enhancing their online presence. Its comprehensive keyword research feature enables users to identify pertinent keywords with high search volume and low competition enabling them to effectively target the appropriate audience and enhance organic rankings. 
Moreover, SEMrush provides extensive competitor analysis enabling businesses to gain valuable insights into their competitors' strategies, keywords, and backlinks. This invaluable information assists businesses in refining their own SEO tactics and maintaining a competitive edge. Additionally, SEMrush's site auditing feature scans websites for SEO issues. Offers recommendations for improvement. And ensures optimal website performance.
Moz
Moz is a well-regarded SEO platform that provides a range of ecommerce marketing tools to enhance visibility on the Internet. One of its notable features is its keyword research tool, which helps businesses discover relevant keywords, analyze their search volume, and monitor rankings as time goes on. Furthermore, Moz also offers link analysis features that allow businesses to assess both the quality and quantity of backlinks to their website. As well as gain useful insights into competitor link profiles. 
This information is incredibly valuable for improving search engine rankings and establishing a strong online presence. Moreover, Moz provides rank-tracking features that enable users to keep tabs on keyword positions and track progress over time.
Ahrefs
Ahrefs is an impressive and invaluable SEO ecommerce marketing tool set designed to assist businesses in maximizing their online content. It also provides SEO tips for ecommerce. With its comprehensive keyword research feature, users can:
uncover fresh keyword prospects;
evaluate keyword difficulty;
track search trends. 
Ahrefs also offers a powerful backlink analysis tool that allows businesses to assess their backlink portfolio, identify valuable link opportunities, and monitor competitors' link-building tactics.
Moreover, Ahrefs provides a range of content optimization features such as site auditing, keyword density analysis, and content gap analysis, empowering businesses to enhance the visibility and relevance of their content within search engine results.
Top Marketing Tools for Various Tasks in 2023
Content Creation and Management Tools
WordPress
For businesses seeking a versatile platform for website building and management purposes, nothing beats WordPress leading content management system (CMS). The extensive collection of themes and plugins offered by WordPress enables businesses to tailor visually appealing websites that precisely fulfill their requirements. What sets the CMS apart is its user-friendly interface which streamlines content creation as well as publishing efforts. With just a few clicks on its intuitive dashboard features, adding or updating content becomes incredibly convenient, even for those without technical expertise. 
Further complementing its excellence are additional features available in the form of various plugins, ensuring enhanced website performance, such as e-commerce integration, SEO optimization, and social media sharing capabilities. Considering all these functions that cater to businesses of all proportions, WordPress remains an irresistible choice.
Canva
Canva is a design tool that empowers businesses to create visually appealing graphics, social media posts, presentations, and more, even without extensive design experience. It offers a drag-and-drop interface and a vast library of templates, images, icons, and fonts with these features. Businesses can create professional-looking designs quickly and easily, whether it's eye-catching social media posts, informative infographics, or engaging presentations. 
Canva provides the tools and resources to bring creative visions to life. Its customizable templates and pre-set dimensions for various platforms also help businesses maintain consistent branding across all marketing materials.
Grammarly
Utilizing cutting-edge artificial intelligence technology, Grammarly emerges as a highly effective tool that empowers businesses to attain top-notch written content quality. By going above traditional grammar checks, Grammarly suggests improvements related not only to correctness but also:
the clarity of expression; 
conciseness of messaging;
overall stylistic choices made within texts under scrutiny. 
Grammarly harmoniously integrates itself with diverse platforms such as web browsers, Microsoft Office suite, content management systems enhancing accessibility across various scenarios that call for productive writing. With Grammarly's support via highlighting possible errors and providing alternative suggestions, businesses can significantly elevate the overall readability and proficiency of their written communication efforts. As a result, both seasoned content creators, marketers, as well as businesses striving to maintain impressive text quality find Grammarly to be an invaluable ally in their quest for excellence.
Influencer Marketing Tools
Upfluence
Upfluence is a powerful platform that enables businesses to enhance their influencer marketing endeavors with Upfluence. Businesses can effortlessly identify relevant influencers in their industry and obtain detailed insights regarding their audience, engagement rates, and past collaborations. The platform simplifies the process of establishing connections and collaborating with influencers by providing features for managing outreach, negotiation, and campaign execution. 
Furthermore, Upfluence presents tools for tracking and analyzing influencer performance. Enabling businesses to assess the impact of their influencer marketing campaigns and optimize their return on investment. With its extensive capabilities and user-friendly interface. Upfluence proves to be a valuable asset for businesses aiming to harness the influence of influencers in order to expand their reach and engage with their intended audience.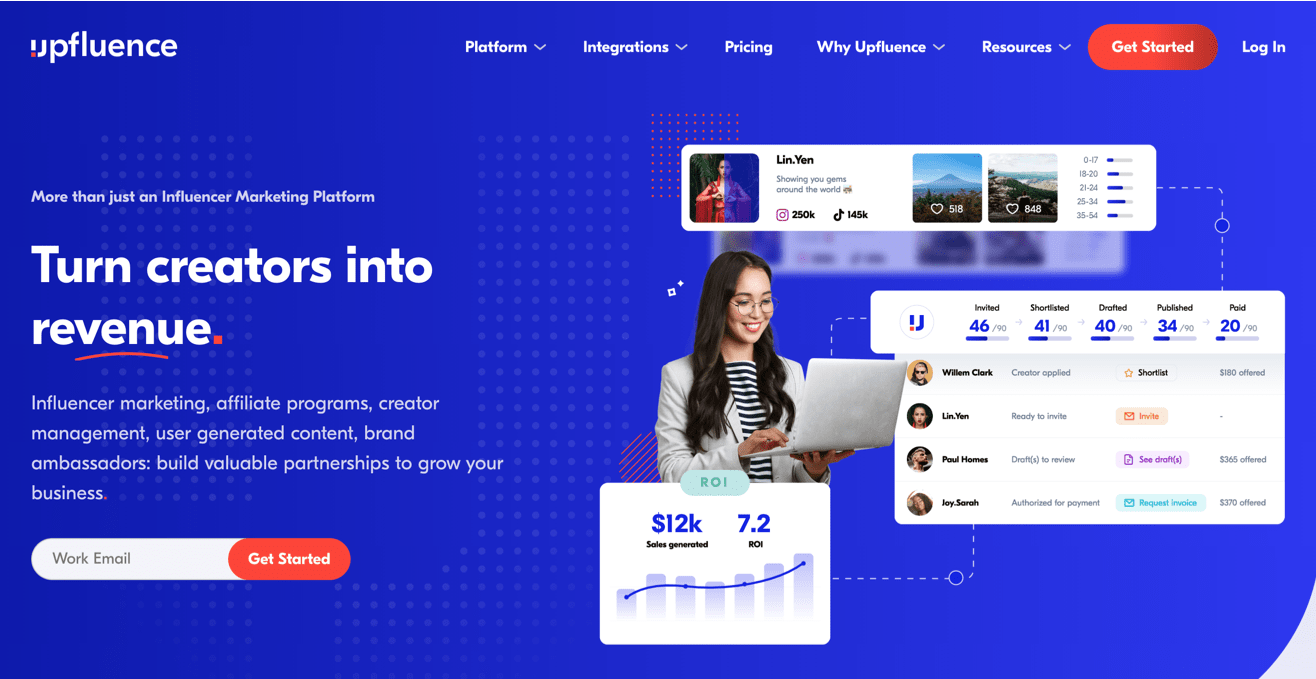 AspireIQ
AspireIQ was specifically developed as a platform geared towards streamlining influencer marketing campaigns from commencement till completion. It provides an array of ecommerce marketing tools that aim to aid businesses in discovering pertinent influencers who align with their goals and objectives. Furthermore, this platform also assists with managing relationships between these businesses and influencers while simultaneously keeping track of campaign success in real time. AspireIQ has simplified the process of identifying appropriate influencers based on factors such as audience demographics, engagement rates, and content style preferences. 
Additionally, this platform has included various features such as streamlined collaboration options, contract management functionalities as well as progress monitoring capabilities specifically tailored for influencer campaigns. One aspect where AspireIQ truly excels is its provision of powerful data analytics functionality coupled with comprehensive reporting capabilities, which offer valuable insights regarding the effectiveness of these partnerships while ensuring an accurate evaluation can be made regarding return on investment (ROI). 
With its wide-ranging set of tools built within its ecosystem framework, AspireIQ effectively empowers organizations to achieve both seamless executions as well as an optimization when it comes to implementing impactful influencer marketing strategies.
Grin
Grin is an influential platform designed to enhance marketing through influencers while maintaining respectful relationships. It offers user-friendly ecommerce marketing tools focused on three main areas: managing influencer connections effectively through relationship management, accessing a diverse market base through its influential marketplace, and monitoring campaign progress accurately via comprehensive tracking capabilities. 
The platform empowers businesses by enabling them to discover prominent industry leaders easily to forge valuable connections with these individuals who influence target audiences. Encompassing a broad network covering multiple niches within its influential marketplace ensures that companies find the perfect match for their campaigns without any difficulties. Another benefit of this platform is facilitating smooth communication and cooperative efforts between both enterprises and influencers for successful collaborations.
Moreover, tracking campaigns meticulously using Grin's functions empowers companies by allowing them to monitor key metrics diligently and assess levels of achievement effectively alongside such partnerships. Given its unwavering dedication to fostering strong influencer relationships and thorough campaign tracking, Grin proves indispensable for companies seeking to harness the potential of influencer marketing.
Conversion Rate Optimization (CRO) Tools
Optimizely
Optimizely enables businesses to effortlessly develop and conduct A/B tests, which allow for the comparison of various webpage variations to identify the most impactful design, layout, or content. The platform boasts an interface that is both user-friendly and accessible to individuals with different technical backgrounds by testing different components like headlines and call-to-action buttons. They can also be forms that businesses can make data-based choices that enhance conversion rates and improve user experience. 
Additionally, Optimizely delivers comprehensive analytics and reporting capabilities. Empowering businesses to monitor crucial metrics. Gain valuable insights into user behavior. And make well-informed optimization decisions.
Hotjar 
Hotjar is a comprehensive tool that analyzes user experience. It offers valuable insights for improving website usability and conversion rates. Businesses can use its features, like heatmaps and user recordings, to see where users are engaging with their web pages and identify areas for improvement. Additionally, Hotjar provides feedback ecommerce marketing tools such as surveys and polls to gather qualitative feedback from users. These insights help businesses optimize their website design, user interface, and overall user experience.
Crazy Egg
Crazy Egg is a highly effective analytics tool that uses visual representations to show how users behave on web pages. It offers useful features such as heatmaps, which clearly display where users click, scroll, or hover on a webpage. This allows businesses to easily identify areas of interest and areas that may be overlooked. On top of that, Crazy Egg provides session recordings that capture individual user sessions giving businesses a detailed view of user interactions and behaviors. 
These recordings are incredibly valuable in helping businesses pinpoint usability issues, areas of confusion, or bottlenecks in the user journey. By carefully analyzing the data provided by Crazy Egg, businesses are empowered to make informed decisions to optimize their website design and improve both user engagement and conversion rates.
Select Scalable Marketing Tools for Your Ecommerce Venture
Customer Relationship Management (CRM) Tools
Salesforce
Salesforce is a reputable and highly regarded CRM platform that offers an extensive range of ecommerce marketing tools to assist businesses in effectively managing their customer data, sales pipelines, and marketing campaigns by utilizing Salesforce. Businesses have the ability to consolidate and organize customer information, track interactions, and obtain a complete understanding of their customers. The platform presents valuable features like lead management, opportunity tracking, and sales forecasting, which empower businesses to streamline their sales processes and drive revenue growth. 
Additionally, Salesforce is equipped with robust marketing automation capabilities that enable businesses to create customized marketing campaigns, keep track of campaign performance, and effectively nurture leads. Furthermore, the platform encompasses powerful analytics and reporting features that provide businesses with valuable insights into their sales and marketing efforts. These insights allow for the identification of trends and facilitate data-driven decision-making in order to optimize strategies.
HubSpot
HubSpot CRM is widely preferred by businesses in need of a free CRM solution. It offers an array of contact management features, making it easy for businesses to sort and monitor customer data efficiently. Moreover, HubSpot CRM includes lead tracking capabilities, which enable businesses to capture and effectively handle leads during the sales process. HubSpot CRM seamlessly integrates with email systems, ensuring smooth tracking of email communication with leads and customers. While the free version of HubSpot CRM offers extensive features, businesses also have the option to upgrade for access to advanced functionalities like sales automation, marketing automation, and customer service tools within the HubSpot ecosystem.
Zoho
Zoho CRM provides a range of CRM features designed to enhance customer relationship management for businesses. It offers lead management capabilities allowing businesses to effectively capture, nurture, and convert leads. Zoho CRM also provides sales automation features empowering businesses to streamline their sales processes, track customer interactions, and efficiently close deals. 
Additionally, Zoho CRM offers analytics and reporting tools that enable businesses to gain insights into their sales performance,  measure key metrics, and make informed decisions to improve their sales strategies. With its user-friendly interface and extensive customization options, Zoho CRM caters to the needs of businesses of all sizes by offering scalable solutions to manage customer relationships and drive sales growth.
Marketing Automation Tools
ActiveCampaign
ActiveCampaign is a comprehensive marketing automation platform designed to empower businesses in automating their marketing efforts, nurturing leads, and increasing conversions. By utilizing ActiveCampaign, businesses have the ability to create personalized email marketing campaigns, segment their audience based on behavior and preferences, and automate follow-up sequences. 
Additionally, this platform offers robust CRM features that enable businesses to effectively manage and track customer interactions, automate sales tasks, and gain valuable insights into customer behavior. Furthermore, ActiveCampaign provides powerful analytics and reporting capabilities that allow businesses to accurately measure the success of their marketing campaigns, track important metrics, and make data-driven decisions to optimize their strategies.
Marketo
Marketo serves as a comprehensive marketing automation platform specifically built for enterprise-level businesses. The platform delivers advanced features, including lead management, campaign automation, and personalization capabilities. By using Marketo, businesses can effectively create highly targeted and personalized marketing campaigns while also monitoring the customer journey and automating lead nurturing processes. 
Furthermore, Marketo offers a range of robust analytics and reporting features that enable businesses to assess marketing performance, identify trends and optimize their overall marketing strategies due to its scalability and extensive integrations. Marketo stands as an ideal solution for large organizations seeking to streamline their marketing processes and drive revenue growth.
Pardot
Pardot, a B2B marketing automation tool, is designed to function within the Salesforce platform. It encompasses a range of useful features, including email marketing services, leads nurturing, lead scoring, and ROI reporting by utilizing Pardot. Businesses are able to create tailored email campaigns and automate lead nurturing processes. And evaluate leads based on their level of engagement and behavior. 
Furthermore, this platform seamlessly integrates with Salesforce CRM providing businesses with a comprehensive overview of their marketing and sales endeavors. Pardots analytics and reporting capabilities allow businesses to accurately measure the impact of their marketing campaigns, monitor conversions and make informed decisions that optimize their B2B marketing strategies.
Analytics and Reporting Tools
Google Analytics
Businesses worldwide highly regard Google Analytics due to its prevalence in serving as an invaluable web analytics tool that profoundly assists them in assessing their respective websites' performance levels more effectively than ever before. 
The extensive feature set offered by this impressive web analytical masterpiece includes comprehensive mechanisms deployed towards assaying different crucial aspects encompassing monitoring and tracking both website traffic, user conduct analysis as well as conversion rates — all of which are undoubtedly critical components to have resilient control over. 
Google Analytics presents diverse metrics spanning page views, bounce rates, and average session duration that enable businesses not just to assess but also to tangibly relish a better comprehension of how exactly users interact with their respective websites altogether during all stages of the browsing cycle, constituting overall experience.
Kissmetrics
Kissmetrics is a valuable customer analytics tool that aims to provide businesses with detailed insights into their customers' behavior and preferences by tracking and analyzing customer interactions across different touchpoints. Kissmetrics offers businesses valuable information about customer journeys and user engagement. 
One of its notable features is cohort analysis, which allows businesses to identify patterns and trends among specific groups of customers. Additionally, Kissmetrics provides the capability for customer segmentation. enabling businesses to create targeted marketing campaigns and enhance customer retention. Ultimately Kissmetrics helps businesses gain a deeper understanding of their customers, improve their marketing strategies and foster greater customer loyalty.
Mixpanel 
Mixpanel is an innovative analytics platform that offers valuable insights into user interactions, events, and funnel conversions. It empowers businesses with real-time tracking of user behavior, allowing them to gain a comprehensive understanding of how users engage with their product or service and uncover potential areas for enhancement. One of Mixpanels standout features is event tracking, which enables businesses to monitor specific user actions or behaviors within their application or website.
Additionally, the platform provides comprehensive funnel analysis capabilities that assist businesses in analyzing user flow and identifying any bottlenecks or drop-off points in the conversion process with its robust analytics tools. Mixpanel equips businesses with the necessary resources to make data-driven decisions, optimize user experiences and foster growth.
Conclusion
In today's fast-changing landscape of online commerce, it is vital to make well-informed choices about which ecommerce marketing tools are right for your business. The successful outcome hinges on these selections. This article attempts a thorough appraisal of thirty-five major players forecasted as leading ecommerce marketing tools specifically calibrated for use in meeting needs arising from various elements employed within digital advertising efforts. Specifics covered include social media applications and administrative email processes.
Additionally, the nod extends to search engine optimization (SEO), tactics associated with content generation, support from trusted influencers, conversion rate optimization (CRO) strategies, customer relations management (CRM) systems, marketing automation applications, and reliable analytics tools. To ensure lasting growth in this astonishingly competitive online marketplace, targeted traffic must be prioritized alongside meaningful customer engagement. This may be accomplished by the careful consideration of scalable tool selection consistent with your business goals. It is incumbent upon your marketing team to remain knowledgeable about advances in technology and patronize trends pertinent to your line of business. Conscientiously attending these guidelines will keep your enterprise leading the way within e-commerce marketing techniques compatible both during 2023 and beyond.