4 Best Popup Examples for Blogs to Get More Followers and Subscribers
According to Statista, there are more than 4,6 billion people using the internet to read, get content, communicate, and learn in 2021. That's 59,5% of the population! And soon it will be 100%. But, as you know, the more people, the more topics they like to read about. So the unique content for the particular topic should be very engaging, useful, and entertaining. That's why there are so many formats in blogs and social media that you see every day. And pop up in blogs might help to engage new readers.
More than just writing down your thoughts on a particular topic or sharing your life flow, blogs are some kind of advertising space these days. In other words, it is a medium for your reader. And brands are ready to pay those who share their values and have a specific target audience. This is one of the main reasons why people and brands start blogs today.
For people, blogs are more like a space to exercise in writing, photography, visualization, and other formats. Blogs help to build a personal brand, find jobs, and friends, make money, share a story, etc. Basically, the more people blog, the more reasons appear. 
For the companies, blogs are important to create a space where the customer can read about the company, their services, success stories, etc. It is also possible to generate traffic and subscriptions, which will result in revenue. And there is an option to build an employer brand as well, so when you need an employee, you chose one from the best ones available. 
What one can do in both cases is to be more visible and get more people to see you. And that's the question: how to be visible and that good that people read you and share your story? 
Guess what! Blog popup can help you with that. 
Collect Contacts to Message Later
The first thing you need on your blog is visitors. The more loyal visitors, the more they will recommend you to their friends. But no one becomes loyal just after visiting the page. People tend to connect with the author after a while and you need to keep that in mind.
To make regular visitors loyal you can use a pop-up to get their e-mails and send them a letter once in a while with the most important information. The best thing is that even though we ask for e-mail, which seems a bit outdated, people still use this type of correspondence. 
You can also ask whether you can send your materials via social media or messenger but start with a simple e-mail subscription. 
Make sure to create a clear offer that will engage people like this:
More than that, you can collect with your readers on another level. You can give them something special for free. You can present some materials, discounts, memberships, or anything really that your audience might like. 
Do you have sponsorship from related stores? If so, you can share your discount code to get products after sending you the email. 
It's important to know your audience as if you are walking in their shoes. Get the stats on the audience's behavior on your website. How long do they usually scroll through the content? When will it be suitable to show them your pop-up offer? Don't be too annoying but still show your offer.  
There are also plenty of pop-up options that you can use according to the users' behavior, like, show the pop-up that offers a coupon when the user tries to exit the page. 
The user can pick any category that he or she would like to read about. In most cases, people can't know everything, but they upgrade their knowledge regarding one topic. And you can provide that topic. And if you sell products, you can notify users about specific item groups.
Redirect Readers to the Online Store
If you have your own store besides running a blog or you have a referral campaign, you can always suggest your readers visit another website. If you have a sponsor or someone who wants you to promote specific items, you can ask the client to promote the campaign on your website.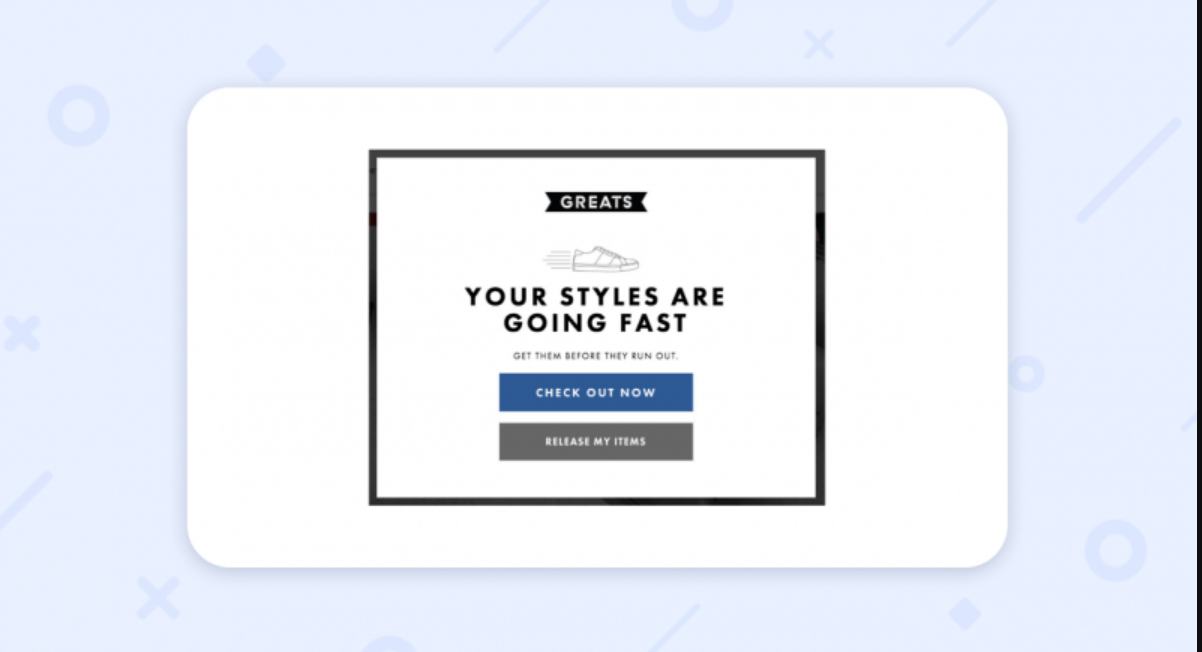 You can combine different mechanics and pop-up placements to make your promotion look different or to add some kind of a twist to it. For example, you can try adding a countdown element if you have a special date or to create a sense of urgency. In any case, the countdown mechanic says that this information is not forever. 
You can also add a fixed bar so the user sees your message all the time. You can add any information that you want the reader to see all the time. It is great for promotions, codes, special events, sponsored content, etc. 
Talk About Your Social Media
As people go from one service to another, you can offer them to follow you for different content on the other platform. It can be any that you feel comfortable with Facebook, Instagram, Pinterest, or even LinkedIn if you run a professional blog. 
Social media tools are one of the most important ones when it comes to marketing and building a personal brand. It is also great to exchange audiences as there is a high chance that they are similar and will find your content very interesting and engaging. 
Share Interesting Blogs So They Share Yours
The user can't find out about your content just because. There is always someone or something that has your content. And you can make yourself even more visible with the help of others. And when you'll have lots of followers, you won't have to do such extra promotions as people will promote you themselves. 
Let's break down how you can show others so others can show your content. 
Offer the person who covers similar issues and topics to share each other's blog. Then create an engaging offer that describes what is happening in the promoted blog. You can also create the text for your promotion on another blog to describe your niche the best. 
This will help you to reach more people and cover more users that haven't heard of you but vibe with your content. This is a great option to build a strong community of people with the same interests. 
Don't put the ad right above important information though. It doesn't have to disturb your audience as they dive into the topic. 
Survey Your Readers to Get Content Ideas
If you want to create content that is 100% relevant to your users' expectations, you can run a survey that can help you get the answers to the question. Try to find out the most important for your users: is it learning content, fun content, or the content where you offer a freebie?
Final Thoughts
Basically, you have to follow ecological promotion ways to get respect and followers at the same time. Don't be afraid to gain followers for a prolonged amount of time. Even if it takes lots of time, your readers will be loyal, engaged, and positive. Isn't it the thing that every blogger dreams of? 
Create cross-promotions and collaborations, add a blog popup, and highlight the most interesting information. To succeed in promoting your or your company's blog you have to put yourself in the shoes of your reader. Make sure to understand what your readers like and what is important to them. If you provide them with helpful information, they will stay and bring more friends.