6 Psychographic Segmentation Examples in Marketing
29 June
21 July
~ 8 min read
2812 views
One of the effective ways for businesses to stay competitive is to use targeted, precision marketing. Apparently, demographic segmentation is not enough to identify your target audience. 
In order to attract clients' attention, it is necessary to define their way of thinking, i.e. to use psychographic segmentation. This will be the subject of this article — we will talk about its importance, give examples of psychographic segmentation, explain how to use this technique, and select the appropriate tools for the marketer.
What is psychographic segmentation in marketing
Psychographic segmentation in marketing is a tool that allows to group customers into segments based on personal characteristics that determine their specific consumer preferences. It operates with the following concepts:
social status;
lifestyles;
belonging to subcultures;
religious beliefs;
origins and cultural heritage;
life values;
interests and hobbies;
career aspirations;
activities, interests and opinions (AIO).
Segmenting customers by personal traits works more accurately than segmenting by age, income, monthly buying activities , or geographic location. It allows a marketer to explore consumer's mindset and build clear cause-and-effect relationships instead of vague hypotheses.
The importance of psychographic segmentation
The key advantage of this type of marketing psychographic segmentation for business is its accuracy. By focusing on personal traits, you can deliver your marketing messages to a narrow target audience, getting a higher return on investment. This has a positive effect on conversion rates and allows you to optimize your marketing budget. Using this method, a company can operate in a narrow market segment of target consumers, withstanding the pressure of strong and more financially powerful competitors and famous brands.
Psychographic segmentation provides businesses with other benefits as well:
Better comprehending of consumers. Focusing on internal preferences rather than external characteristics, you can get a deeper understanding why a customer chooses a particular product, which arguments a customer values in the first place and what makes a customer refuse from purchase.
Improvement of product policy. By understanding consumer motivation, you can understand exactly how your products and services can improve customers' lives. This allows you to emphasize your product's values without many trials and failures.
Improvement of marketing strategy. Getting to know consumers' motivation helps you understand what they expect from you. All you have to do is to create the right message and choose the appropriate way to deliver the message to your customers.
Improved communication. When you understand your customers better, you can speak the same language with them. Psychographic segmentation allows you to add emotional triggers to your advertising messages that will attract and hold attention without causing a negative reaction.
Rejection of templates. Working in a different way will make your offer more appealing. Consumers quickly get tired of typical advertising messages, no matter how creative they may seem at first sight. If you're different, you're ahead. The success stories of Apple, Balenciaga, Tesla and other innovators are a great proof.
Psychographic segmentation is often confused with behavioral segmentation, although the difference between the two is substantial. It is important to understand that customer's actions do not always fit into sustainable schemes — patterns or stereotypes, as psychologists call them, that cannot be extrapolated into the future patterns. Once a customer has made a purchase, he may never do it again, especially when it refers to expensive products like real estate, cars, premium tours and investment programs.
Marketing psychographic segmentation has a serious advantage as it makes it possible to foresee actions of a client before a client makes a transaction. At the same time, behavioral segmentation only evaluates previous events, trying to find patterns and stereotypes that can be extrapolated into the future. Or they may never happen again — and this is its main disadvantage.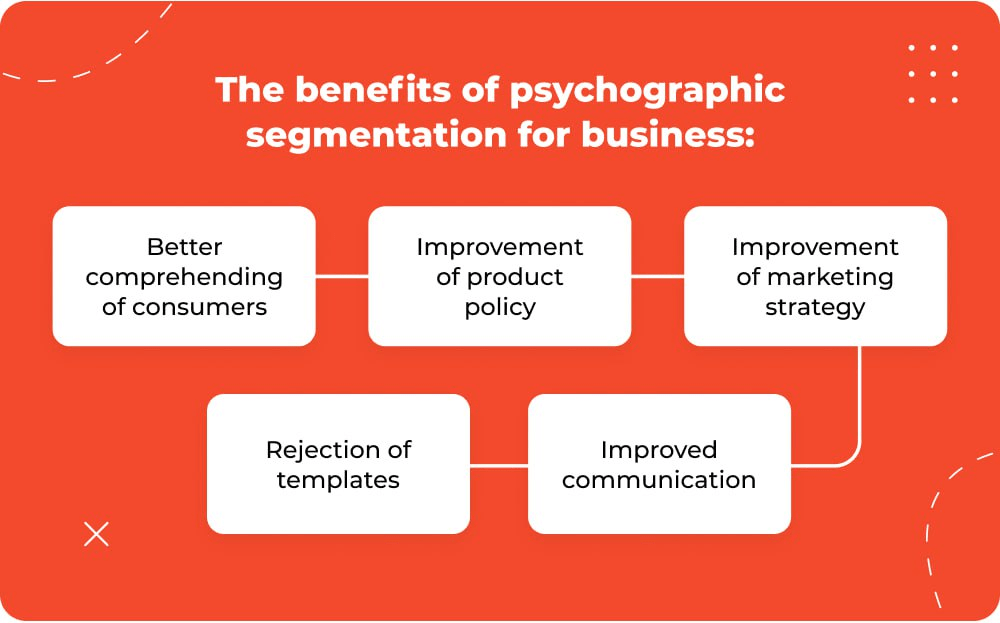 6 examples of psychographic segmentation
Businesses most often use the easily measured characteristic of social status to get to know their customers. However, modern Big Data technologies also allow to accurately classify consumers by lifestyle, beliefs, interests, personality psychotypes and opinions. Here are psychographic segmentation examples in marketing to demonstrate how it works and why this approach is more beneficial.
Example 1. Segmentation by social status
The electronics manufacturer produces affordable smartwatches with a shock-resistant case, targeting working people. But market research shows that, thanks to its brutal design, it also attracts the attention of well-off customers, who buy such a product solely for the sake of style, ignoring its functionality.
The result of such segmentation can be an expansion of the model range. The manufacturer can release a premium version of the smartwatch based on the top-end electronic fillings, keeping the recognizable design. This allows it to significantly expand its customer base, enter the high-margin market segment and increase profits.
In addition, the product positioning will also change, which will give an opportunity to develop new, more targeted advertising messages. The focus will shift from reliable to stylish design and the possibility to use an accessory in fashionable looks.
Example 2. Segmentation by lifestyle
The car manufacturer launches an estate car. Its marketing campaign is focused on men over 40 years old who have measured lifestyles, use their cars for daily trips to work and rare trips to their country houses. The car is positioned as a utilitarian vehicle of increased comfort, where everything is focused on usability.
However, the integrated market analysis shows that in recent years there has been a surge of interest among young people in estate cars. They use such cars for tourism, transportation of sports equipment and long trips spanning several countries.
The marketers of the company propose to launch a special "youth" configuration estate car and the product lines such as Sport Line, Black Line or Active Line. They will feature a stylish, but relatively budget and practical interior upholstery, a powerful engine, an advanced multimedia system, but a simplified system of the rear seats transformation. This solution allows the business to get a new loyal audience – many young customers will become brand advocates, promoting the company's products for free and ready to neutralize negative reactions.
Example 3. Segmentation by beliefs
The beer company produces several beverage varieties, including some with exotic names. But consumer surveys show that most customers have conservative views and are dedicated to the protection of traditional values.
The manager decides to abandon exotic names by choosing local brands named after local landmarks, famous personalities or historical events. In addition, the manager supplements promotion by stating that the company is a local manufacturer.
In this example, the business is not expanding its customers segment, but it is strengthening ties with the existing audience. It emphasizes that it shares the beliefs and values of its customers by speaking the same language with them. This increases customers' loyalty and sales with little or no increase in marketing budgets.
Example 4. Segmentation by interest
A snack manufacturer offers energy bars for professional athletes participating in endurance competitions. Reading the statistics, the company's marketer sees a surge of interest in hiking and walking. He suggests changing the wrapper design and advertising message to expand the sales market by attracting healthy lifestyle enthusiasts without sports training.
Businesses are fundamentally changing their approach – instead of a narrow, loyal audience, they get a wide range of potential customers with a vague idea of their needs. On the one hand, the possible amount of income and profit increases significantly. On the other hand, the company's marketing policy needs to be changed: now advertising will have another marketing message- to tell about the need of energy bars and their advantages over other snacks.
Example 5. Segmentation by personality psychotype
A French cuisine restaurant offers delivery of ready-made meals, positioning it as the ideal solution for parties. However, research shows that most people who prefer such food consider themselves introverts.
The company changes its approach to targeted messaging campaigns completely. Instead of serving parties, it offers discounts on meals for romantic outdoor dates. In addition, its advertising shows people ordering ready-to-eat meals to spend the evening watching their favorite movie or TV series.
Thus, the business finds its way to the heart of a potential consumer. The emotional degree of its advertising becomes much closer to customer preferences, which increases conversion rates and creates a loyal audience. For a local business that does not plan any further expansion in the near future, this will be the main goal of marketing policy.
Example 6. Segmentation by opinion
The startup launches a new cryptocurrency that aims to make electronic transactions even faster, safer and more convenient. It is entering the market based on young consumers with diverse opinions and value judgments.
However, the company does not aim to compete with the "monsters" that attract wealthy professional investors. On the contrary, it will work in the segment dominated by people with relatively low incomes.
After conducting research, the marketer discovers that the startup's audience is not satisfied with climate change and protests against the monopoly of big business. As a result, the company launches advertising campaigns that emphasize the "green" nature of cryptocurrency and its contribution to the development of a decentralized economy. This makes it possible to adapt toreal interests of consumers without abandoning the original values of the project.
Data collection tools and programs
Consider the tools that help automate data collection, systematization, and analysis. 
Claspo.io
Claspo is a simple but very effective tool for adding popups.
If you are just getting familiar with customer psychographic segmentation, you should start with Claspo.io. This tool is very simple and easy to use – you can plug it in and create dozens of interactive elements without programming knowledge at all. It is built on the constructor principle — you just need to select the elements you want and drag them to the active part of the screen. You can use it to add forms to your site to collect user data or to make simple surveys. This allows you to collect information for Big Data, including studying people's behavior and social media preferences.
Claspo also gives you the ability to convert what you learn into profit. The plugin has many templates for making personalized product selections, reminders for pending purchases, limited offers, and calls to action. In addition, the app easily integrates into most popular CRMs and CMSs, allowing you to plug it in with minimal time, effort, and resources.
Claspo functions in two ways – it does not only help collect data for psychographic segmentation, but also allows you to use it in advertising campaigns, creating targeted messages. Do you want to see how effective this tool will be for your business? Check it out for free – all you have to do is fill in a simple form or sign up using your social media account.
Userpilot
A professional tool for customer base segmentation allows you to create your own rules and scenarios of site visitors distribution. It can track at what stage a user encounters difficulties and gives up accomplishing the action. The plugin offers a huge set of functions, but its interface will not be clear to everyone – you will have to spend a lot of time to learn all the features.
One of the key benefits of Userpilot is the ability to test hypotheses to assess the consequences of decisions. You can conduct A/B tests, comparing the effectiveness of marketing campaigns, evaluating the ratio of positive and negative reactions, and calculating the impact on business financial results.
Kissmetrics
The plugin, designed specifically for small and medium businesses, provides detail to a single consumer accuracy – his psychographic and behavioral characteristics. It allows you to compare the results of marketing research with product analytics, evaluating the impact of each detail of the advertising campaign on business operations.
Kissmetrics also demonstrates the customer path at different stages of the sales pipeline. The application makes it possible to identify weaknesses in marketing policies that deter a significant number of potential customers. The downside of such a plugin is a very expensive subscription – from $299 per month. At the same time, you cannot test the capabilities of the platform yourself – you will have to order a specially prepared presentation.
Amplitude
The app helps you assess every nuance of a consumer relationship with your product. It allows you to incorporate various interactive elements such as buttons, data collection forms and pop-ups. It has ready-to-use rule sets for customer segmentation and personalized scripts to customize your marketing campaigns.
One of the pros of this platform is the ability to identify unexpected obstacles that can stay in the way of a client's target action. And the disadvantages are the complicated interface and non-transparent pricing policy – tariff plans are formed individually and are provided only upon request.
Psychographic segmentation: conclusion
Psychographic segmentation in marketing of the customer base is a modern marketing tool that allows businesses to operate effectively in a highly competitive marketplace. It can be used to target ads more accurately than when grouping your audience by demographic traits, income level, or behavioral factors. The main advantage of this tool is the ability to make forecasts based on assumptions rather than fait accompli. 
Despite its apparent complexity, psychographic segmentation is a fairly simple and convenient technique. The main problem in it is usually the data collection. However, there are special tools for this task.
One of the best options is Claspo.io. It allows you to create popups according to the constructor principle, without programming. With this tool, you will not only collect data for psychographic segmentation, but you can also use it to launch customized advertising campaigns.