8 Proven Email Copywriting Hacks for Content that Engages & Converts
01 June
10 July
~ 9 min read
1549 views
Email marketing copywriting is a great way to connect with potential customers, build relationships, and convert prospects into customers. Email can be a powerful e-commerce marketing channel if used correctly. A key element of your success as an email marketer will be your ability to write content that engages and converts your readers.
Unlike traditional mail, whose impact is difficult to track, its electronic version allows companies to see who opens their inboxes and which messages lead to sales. The client's email is a distraction-free zone. If you have been invited to it, your opportunities to attract attention with the help of targeted offers immediately become much greater than in any other digital environment.
In this article, we will talk about how to write an email newsletter and share examples for inspiration.
What Is Email Copywriting?
Competent and high-quality copywriting is an important part of any digital business. Good texts present the product and encourage conversion. Copywriting email is a way to interact with a brand's audience through email to increase sales. Today, it is one of the most effective channels for building relationships with the target audience.
Stages of email marketing:
Definition of the target audience. It is possible to divide into groups, for each of which it is necessary to create separate texts.
Client base creation. This stage includes collecting email addresses and consent from recipients of the newsletter.
Writing letters. The leading role of copywriting is creating a textual selling basis that will interest a potential client. The template and design of the email are also important.
Sending. Letters are sent automatically. You only have to wait for a reaction and continue communication.
There is a myth that email marketing is spam. In reality, the opposite is true: qualified email copywriters ensure subscribers receive only interesting and useful information. Without a plan, a knowledgeable approach, and ongoing testing of new mechanics and analytics, an email marketing campaign will go nowhere.
Email copywriting has a lot of advantages:
Versatility. The newsletter is suitable for promoting almost any goods and services, including industrial ones that cannot be advertised through social networks.
Affordable cost. The same text can be sent to a large number of potential customers.
The ability to track and adjust the effectiveness of the advertising channel. You can change the text to influence certain groups of consumers.
Most importantly, the selling text for the newsletter is personalized, i.e., directly affecting a specific user. This has a positive effect on sales because a potential client feels special.
Main Components of Email Copywriting
When you just sat down to a blank page and decided to release a new masterpiece of email copywriting into the world, ask yourself the question why you are writing to the client. Suppose you decide that with the help of this message you want to sell off the remaining goods in the warehouse or tell about the arrival of a new assortment, such a mailing will have the character of a promo. If you decide to inform them about company news or share useful life hacks, this is an informational newsletter.
Email copywriting is aimed at attracting new customers, building long-term relationships with them, and encouraging repeat purchases. You need to carefully consider and implement each step to achieve your goals.
The main components and tasks of email copywriting are:
Loyalty growth. The client has to be sure that in the event of a dispute or, if it is necessary to obtain an explanation, he will contact a company employee and receive an answer in the form of an understandable text. This kind of communication builds trust in the brand.
Сontact establishment. When compiling a sales letter, the return address is indicated. Seeing it, a potential buyer understands that there is a point, a place where their appeal will be considered and an answer will be given.
Increasing traffic to company resources. The message for emailing should contain links to the site and accounts in social networks. The recipient sees them, is interested, clicks, and performs a conversion action.
The result of mailing letters is getting customers ready to buy. During the correspondence, the manager, seller, and marketer understand how the interlocutor is led to the completion of the target action and use the prepared texts to update and strengthen the motive.
8 Email Copywriting Tips to Boost Your Emails
In commercial copywriting, the analytical part is no more important than the creative part. Usability, design, statistics, and research results need to be taken into account for impressive conversions. But a truly persuasive text can be created only after working well on its content. For email copywriting to become a successful strategy, it is necessary to use some methods. Below, we list the main conversion copywriting tips:
1. The importance of the client's identity
A great email is tailored to your audience, their concerns, and their needs. This is obvious. However, marketers need to think about who they're writing for. Creating a clear picture of your customer before writing your letter will help you avoid this problem. A customer persona is a profile of your ideal customer, and having one has the following benefits:
Helps you understand how to speak to your reader (you'd probably write differently for a C-suite executive versus a stay-at-home mom);
Gives an idea of what content or products/services are most likely to interest them;
Helps you align your ad slogan with your audience's goals.
This is just a quick glimpse into the perks.
2. Writing catchy text for the first banner
The title on the main banner is the first thing the reader will see. Your task is to reflect the essence of the proposal in it. 
Write succinctly and briefly, 6-8 words, just the essence;
Solve the reader's problem;
Focus on the benefits: explain the benefits, uniqueness, add numbers, and urgency;
Divide an important long thought into a heading and a subheading.
Move away from the commonplace language that is still found in thousands of emails from other companies. Stand out, but without too much creativity, so the idea remains clear to everyone. Imagine you are the recipient and ask yourself what benefit you will get from the letter and why you need to read it.
3. Defining your value proposition
One of the most important lessons in email marketing is to learn to respect a person's inbox. Someone took the time to subscribe to your email list because you promised something of value. Take into account the nature of the information that your recipients will be provided with. If you can define a clear value proposition for your email list subscribers, you will be able to grow your list faster and have a more engaged audience.
Think about what you can offer. Then try to fill in the blank. Pin down your value proposition, then ask your friends or customers if this is the content they want to receive in their inbox.
4. Remembering tone of voice
The tone of voice is the character of the brand expressed in words. This is what you say to your audience and how you say it. Persuasive copywriting always begins with a detailed tone-of-voice study.
What is unique about the tone of voice?
It helps establish an emotional connection with the buyer.
It emphasizes the character of the brand and broadcasts its values.
It stands out from the competition.
It increases brand recognition.
In two words, a well-chosen tone of voice hits the target and works for you, attracting the core of CA and scaring away irrelevant audiences.
5. Developing your copywriting style
Some marketers will say that you should write in an informal tone. Some will say that short letters are better than long ones, while others will swear the opposite. In reality, there is no universally applicable strategy that works for everyone. If you want to become a great copywriter, you have to find your voice. A great voice will help you build brand loyalty by creating a legion of superfans. Try to find your voice. It should match the way you write blog posts and other content.
6. Using a clear CTA
Ensure that your email includes a distinct call to action (CTA). Clearly communicate the desired action to your recipient, ensuring it is straightforward to execute and leaves no room for confusion. For instance, you could use phrases like "Explore our latest collection" or "Connect with us on social media" as examples. You can use multiple CTAs as long as they all point to the same desired action:
CTA in the first third of the email for those who don't need more convincing.
A second CTA is two-thirds of the way through for those who need an extra push.
A final CTA at the end for those who weren't convinced yet.
If you use this three-part strategy, be sure to consider the value the reader will receive if they act differently. Don't repeat the same message three times.
7. Coming up with a topic
There is a rule that 80% of the preparation time should be allocated to the topic and 20% to the letter itself. When choosing a topic, be original, hint at what the letter will be about, and why it should be opened. Use numbers, add some non-trivial emojis, and try to stick to 35–40 characters. This theme length is optimal for display on mobile and desktop. For your convenience, the system has tips and recommendations just in the topic editing field.
8. Visual appeal
Few people want to read canvases of text, but adding pictures, bulleted lists, headings, and other elements immediately makes it easier to live and breathe. Do not neglect the design; the eye should exclusively rejoice at the sight of the letter.
Copywriting techniques can teach you how to use text content to effectively populate business websites. Therefore, you should manipulate the text content (a couple of additional words, extra lines, font, and design). Thus, you will be able to influence the operation of business sites and the number of sales of goods or services.
Email Copywriting Examples for Inspiration
There is always a temptation for a company to write about itself. But you should write about how it can benefit the consumer. After reading the letter, the consumer should understand what he will receive. Text for email distribution, written simply and clearly, and, even better — lively and emotional, is always attractive. Stamps, professional slang, and complex terms should be avoided. No one wants to read a long letter.
The essence should be formulated in several sentences. And the structure is no less critical: dividing it into blocks, highlighting elements that could catch the eye. They usually use the inverted pyramid principle: the most important is at the top.
We have prepared several examples of email copywriting for inspiration.
1. Adidas
Take a look at the warm-up newsletter from a brand of sports shoes and clothing: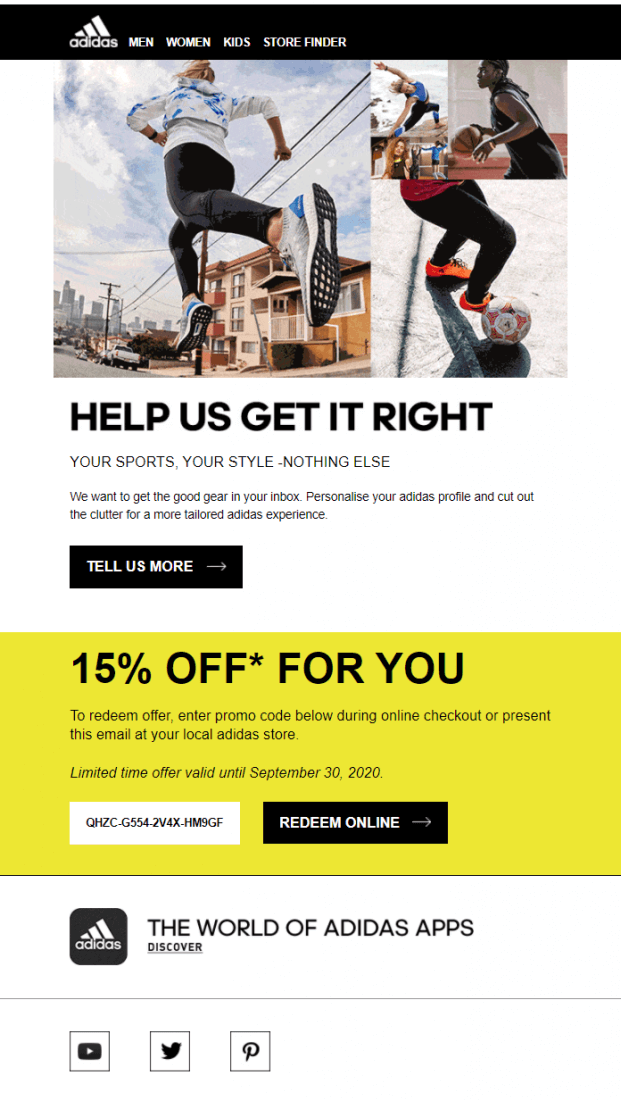 The email is sent to new subscribers, and its purpose is to push the user to interact and purchase. The subscriber is asked to follow the link and personalize their profile to only receive what they are interested in. So users feel the brand cares about them and does not want to spam them. Also, the subscriber is offered a 15% discount, valid for a limited time.
2. Twitter
This is an example of a trigger email from a social network:
Every year on a user's registration day, Twitter sends a letter of congratulations and wishes Happy Twitterversary. It's cool that the authors created a special name for this date. With the help of a creative mailing, the social network reminds of itself: the user can click on the button in the letter so that a post with a hashtag automatically appears in his profile.
3. Jet Blue
Here is a welcome message from an American airline:
The letter is well laid out; the text and pictures balance each other. The welcome message is written elegantly. The airline addresses readers as lovers and promises that everything will be only on their terms. The authors use a play on words related to flights and the company's name and tell what to expect from email newsletters. Reading this letter brings immense joy.
4. Netflix
This is a reactivation letter from the streaming platform:

Netflix sends trigger emails to subscribers after they've watched a series. The platform personalized emails and advises subscribers on what they are interested in. Netflix reminds users of what they wanted to watch before and what they haven't finished yet. Additionally, the email includes a button labeled "Discover something new". This is how Netflix keeps users interested in movies and emails.
5. Clothes from Levi's
Mail from Levi's, the iconic clothing company, is an example of international mail. The letter was made for World Earth Day, as a good reason to remind the reader about yourself. In this case, it is a branding campaign for a new product, namely clothing.
6. News service from the BBC
The BBC is a great source of inspiration for newsletter topics. This is high-quality and interesting content about the consequences of human influence on the planet. There are interactive videos right in the email. The main trump card is digests about the world and how to care for our planet.
The main purpose of such collections is to help the reader decide what inspires him and what does not. It is from this point of reference that all experiments begin. Sometimes it takes a little inspiration to do something interesting.
Boost Your CTR with Email Copywriting Best Practices 
One of the best ways to improve productivity is to track and improve your internet project's click-through rate (CTR). CTR serves as a measurement metric for showing the efficacy of copywriting for email marketing campaigns. This is the percentage of users who click on a link that leads to a search site or ad.
An increase in the number of clicks proves that the offer is relevant and interesting for the target audience. Data on the CTR of a web resource will help determine whether SEO optimization efforts are paying off and will provide information on which content is most attractive to your audience.
To increase the CTR in email copywriting, it is worth observing users' reactions and testing different creatives and calls to action.
You can influence the number of unsubscribes and increase the open rate of letters by testing and writing different content to users. The main thing is to change the content and use interesting headings. One of the methods is a personal approach. Good reception is the mention of the city where the addressee lives, his name, and other information familiar to the recipient.
The text should match the stated topic and title when writing a sales letter, so that previously declared was confirmed by the content. A simple and clear call to action is required: "Download", "Go", and "Order".
Creating a sense of urgency is one of the best ways to get recipients to click on your link. A limited-time offer or limited product supply creates fear of missing out, which is extremely effective at increasing CTR.
Experiment with your CTAs. If you have a large list, run split tests to see which approach generates the highest CTR.
Segment your email list. This means you can tailor your message to each part of your audience to make it as relevant as possible, thereby increasing clicks and conversions.
Free offers, promotions, and discounts work well. This gets people to click on your ad more, but this way of getting attention and increasing clickability needs to be combined with your overall copywriting email marketing strategy.