The 17 Best Data Enrichment Tools of 2023 + Tips on Staying Personal, Yet Polite
26 September 2022
10 January
~ 12 min read
2235 views
Data enrichment tools are irreplaceable. With them, detecting fraudulent 'customers', spotting & approaching potential clients, or segmenting leads for an almost supernatural level of personalization is at your fingertips. Naturally, there is no shortage of them on the market. Google can present you with a complete list of them in less than a second.
Yet, here is where the real work commences. So many options to choose from, and so many features to dissect. Plus, in the modern age of respecting personal boundaries and emphasizing operation security, you definitely need a helping hand to sort out the common practices, proper etiquette, and contemporary technologies to utilize these instruments effectively. So, let's start an immersive journey to find the treasure you seek. 
Data Enrichment: The Fine Art of Portraying the Perfect Customer
Data enrichment or augmentation can be described as the process of appending or otherwise enhancing the information that you already have in possession with the info collected from another source. The migration does not have to be external, but that is usually the case. Of course, this concept does not refer solely to the business area. For instance, you can use it to:
✓ Fill in your postal code to mail something or complete a form.
✓ Check if your new date is trustworthy. 
✓ Get in touch with your old friends.
Important
 

✗ You would not appreciate your personal info being abused, would you? Therefore, refrain from using the obtained data to stalk or harass people. Regardless of whether you know them or not, not only is it rude but it is also illegal.
Anyway, as a business professional, you are primarily interested in how this process can benefit your firm. Essentially, these programs can present you with a multitude of helpful information for:
Lead generation. It is incredibly easy to bring in new faces when you know their names, age, gender, contact info, and company positions.
Personalized targeted campaigns. Approaching your audience blindly is significantly riskier than addressing the demographic who can relate to your offer because it is based on their geographical location, company structure, business niche, or behavioral patterns.
Discovering talented potential employees. Additional information can substantially tip the scales in the recruitment process because it helps to separate the wheat from the chaff.  
Generally, an individual approach to existing or potential buyers benefits both companies and consumers. Hence, the more data you manage to collect and process, the higher are your chances to impress shoppers.
This type of software incorporates the most sophisticated technologies to assist you in gathering and organizing data, including:
Search engines. You just enter the info you have (e.g., company name, IP address, e-mail address, or phone number) to view the enhanced profile of the particular person/enterprise. 
API. It is the type of software interface that programs use to communicate with one another. In this case, the integrated system accesses information from your database, examines it, and then augments it with the additional data. You can utilize it for a variety of purposes, such as enriching/updating people's profiles or form autocompletion. 
Webhooks. The integrated system notifies your system when your leads, prospects, or existing clients perform certain actions (e.g., Alison Clawthorn searched for a knitted cardigan in Copenhagen on the 1st of September).       
Naturally, navigating the waters of data management with all their pitfalls can be a smooth sail only for those crews who know the drill. So, before casting off the lines and setting a course, make sure that you:
Get your repositories in order. If you force the program to deploy more effort into dealing with a chaotic data lake (consisting of disorganized data pools), it will make the process more time-consuming and less efficient. 
Identify the types of data that you seek (behavioral, demographic, geographic, professional, etc.) and how you want it to be delivered (in a form of a separate or an integrated database, with manual or automated updates, etc.).
Calculate your budget correctly. 
Check that the desired software matches your security standards (remember, they must be high these days), uses reliable sources (only public sources are acceptable), and does not contradict or violate any existing privacy guidelines, such as GDPR in Europe and CCPA in California.    
The All-Purpose List of Data Enrichment Tools
It is so easy to get lost in the endless sea of these instruments without a proper guide. Therefore, let's try to compartmentalize the unhinged bulk of available options according to their functions. 
Before you dive in

 

Keep in mind that all the information was collected in August 2023. Hence, if you're browsing this significantly later, be sure to visit the company's website and check the crucial details, such as pricing or available features. 
The All-Inclusive Ones
This group is composed of programs that resemble more of an ecosystem than a single tool. Besides providing you with augmented info, they make the lives of sales and marketing teams a lot better with automated updates, data administration, analytical instruments, artificial intelligence (AI) for chats or messages, and a variety of other helpful features. However, they deal with B2B solutions, which narrows their potential client base and means that you might want to skip this section if you specialize in B2C sales. Keep in mind that it is also hard to calculate your expenses beforehand because an extended number of functions implies that the final price for your ideal solution is a subject of negotiations.    
Specialization: 
Features:
SalesOS - sales solutions & prospecting tools
Contact & company search
Buyers that display intent (search for similar products/services)
List of companies that visited your site (with contacts)
Interaction analysis with machine-learning Conversation Intelligence (Chorus)
Automated emails & phone calls
Data-driven chatbot for personalized conversations and real-time promising lead alerts
Contact & company database (e.g., email addresses, phone numbers, social media profiles, organizational charts, job responsibilities, etc.) integrated into your CRM with automated updates (e.g., promotions)
Automated outreach (or other sales activities) to buyers who express intent
Data management (appends, completes, and standardizes the existing records).
Buyer intent + contact data
Recent activities + insights
Targeted advertising campaigns
A chatbot that is driven by visitors' behavior
Forms with auto-adjusted fields
Ability to create profiles of your visitors
Insights that trigger go-to-market activities. 
Automated data management/orchestration
Assigned data service manager to coordinate information flows.
TalentOS - recruiting database & management system
Explore a wide pool of potential candidates & receive their contact info
Analyze the profiles & get insights
Refresh the data
Keep the hiring process transparent & under control.
Pricing:
It depends on the complexity of your requirements and a multitude of other parameters. Hence, it has to be discussed with ZoomInfo's representative.
Each product has a free trial (or a demo) available.  
Retrieved from ZoomInfo
Specialization:
Features:
Data management & enrichment in a single interface (combines both existing information and a new one).
Data on engagement & intent for advanced segmentation of accounts and contacts.
Go-to-market actions activated by gathered data & insights.
Extensive B2B database to search for new leads & prospects.
Deanonymization of your site's visitors with the ability to track their actions.
Pricing:
Retrieved from Clearbit
Specialization:
Features:
Combines information from your repositories with their enhanced database to provide you with contact or other valuable info (e.g., email addresses, phone numbers, IP addresses, social profiles, company's industry, revenue, employee count, finances, etc.) to get insights and buyer intents. 
Filters out irrelevant, duplicate, or fictional businesses.   
Analyzes the augmented profiles and notifies when they transform into promising leads.
Automated workflow for sales & marketing teams.
Get a list of opportunities that are likely to turn into closed deals with the AI-powered account selection.
Use analytical tools to follow and observe the account journeys to assess your progress.
Spot opportunities (upsell, cross-sell, etc.) and threats in advance.
Demandbase Account Intelligence picks the companies that are worth approaching, writes a list of decision-makers with contacts, and displays the account movements down the pipeline.
Saves the efforts of the sales team by composing a database of safe brands.
Allows you to automate account management by writing down specific rules.
Stores, enriches, and cleans your account data.
Observes the visitors' activity to spot the intent.
Pricing:
It is tailored according to your demands, company characteristics, preferences, etc.
There is no free trial, but you can request to watch a demo.

Retrieved from Demandbase
Specialization:
Features:
A comprehensive dataset equips you with tools to collect, augment, and analyze account information to improve personalization or detect intent.
You can outsource your data administration to a team of dedicated professionals like a Data Scientist, Project Manager, and Customer Success Manager.
Robotic Process Automation eliminates a load of manual work by creating rules that trigger and regulate the performance of repetitive tasks or regular chores. 
Pricing:
You can use the product for free and get access to 15 contacts per month, email addresses, and direct phone numbers.
The premium package provides you with 200 contacts (email addresses & phone numbers) for $50 per month. 
The enterprise version includes data management & analytical capabilities, but many of them are additional and depend on the objectives you have or tasks you plan to resolve. Thus, you have to contact the company to discuss suitable options. 
Retrieved from LeadGenius
Specialization:
Features:
Brings together your first-party data with their third-party data pools.
Maps people to account, so you can make the first (as well as proceeding) encounter as personal and relevant as possible.
Visualizes incomplete data records.
Contains only validated data.
Segments your buyers according to the available information.
Incorporates advanced search & filter capabilities. 
Analyzes the history of your sales, leads, and opportunities (successful & failed alike) to identify the Total Addressable Market and Ideal Buyer Profile for you to target and approach. 
Pricing:
Because of the program's broad functionality, the final price can only be determined after you talk over which solution is the most fitting for your goals. 
Retrieved from Leadspace   
The Focused Ones
These instruments are sharpened to perform only one primary function. Here you can find lead enrichment tools, software for behavior analysis, or programs to detect people who are not worthy of your trust. They might be as sophisticated as the all-inclusive ones, yet they are free of excessive functions or complexities, and they are easy to fit into your budget.    
Specialization:
Main function:
Additional features:
Google Chrome browser extension to get contacts while you view profiles (e.g., on LinkedIn).
Suggestions on how to break the ice and start a meaningful conversation by using the information that is relevant to your contact (e.g., from the news or social media feed).
Segmented lists of contacts or companies that you can export.
The company profile shows all the employees with contact info. 
Pricing:
Nyze Lite. A 90-day free trial version. You get 10 credits per month (= 10 contact information reveal).
Nyze Pro 1. A $29 per month package that buys you 80 credits.
Nyze Pro 2. A solution that gets you 160 credits for $55 if billed monthly.
Retrieved from Datanyze 
Specialization:
Main function:
Data augmentation (enriches your existing data with contact and other essential information, such as the company's location, website, social media accounts, employee count, and industry).  
Additional features:
Email validation to assess the quality of interactions with various email addresses.
Phone validation to spot those who provided invalid phone numbers. 
Pricing:
Free. 50 records per month & essential support (no API, integrations, and continuous enrichment)
Medium. 3000 records/month + standard support ($79).
Large. 10 000 records/month + premium support ($149).
Retrieved from Marcom Robot 
Specialization:
Main function:
Behavioral Data Platform that assembles all the intel on the actions your visitors have performed (e.g., when they log into the accounts, view a page, or submit a search). It also allows you to manage your privacy setting & data requirements.
Additional features:
Analytical instruments to get insights or evaluate data quality.
AI/ML models to predict people's intentions.
Customer Data Platform (CDP) to administer all the data pools in one interface.
Pricing:
You can sign up for a trial version for free, request a demo, or ask what customizable options they can offer to satisfy your needs. 
Retrieved from Snowplow
Specialization:
Main function:
Provides users with information about technologies & companies that use them on their websites.
Additional features:
Pricing:
Retrieved from BuiltWith
Specialization:
Main function:
It finds you that lead. Plain and simple. Just give the search engine a name, a website domain, or a link to a social media profile, and it will deliver the email address to get in touch with the company. 
Additional features:
Email verifier checks if the email actually belongs to a certain person. 
Personalized & automated email campaigns.
Prospector spots prospects in the sea of leads.
Location-based lead listing.
Pricing:
You can start with a free Basic plan. If it does not satisfy your needs, you can give paid options a try.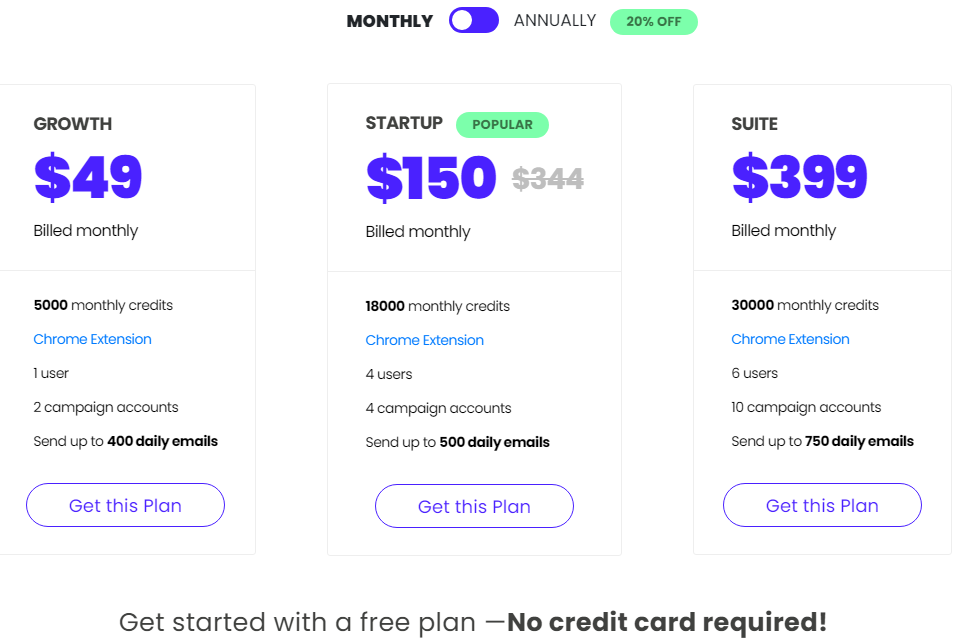 Retrieved from FindThatLead
Specialization:
Main function:
Fraud or other ill-intended action prevention
Additional features:
Risk score based on the information derived from an email address, phone number, IP address, social media profile, or website activity. 
Risk rules tailored to the specific patterns of your industry.
Pricing:
Use a fee calculator to see how much the features you like will cost. The initial price starts from $299. 
If you have doubts, a 14-day free trial or a demo is also available.
Retrieved from SEON
Specialization:
Main function:
Company URL Finder. It is right in the title. Insert company name, email address, or domain; you will get all the missing contact information you need, including phone numbers, social media profiles, and logos. You can utilize it as a separate database or integrate it through API.  
Additional features:
Pricing:
The difference between the plans (Bronze, Silver, and Gold) is not in the number of searches you get, but in the information you receive as a result.
You can decide if it is worth the money by signing up for a free trial that entitles you to 15 free searches. 

Retrieved from CUFinder 
Specialization:
Main function:
Search engine for company info or leads' contact data
Additional features:
Email verifier.
Google Chrome extension.
LinkedIn Integration.
Pricing:
You can sign up for free or use the enlarged capabilities of paid versions. 
Retrieved from Skrapp.io
Specialization:
Main function:
The engine builds profiles (geolocation, proxy, ISP, domain, connection speed, etc.) using submitted IP addresses to provide relevant content for the site's visitors or protect themselves from dishonest 'customers'. 
Additional features:
GeoIP Databases and Services are designed for IP geolocation & proxy detection. They can be downloaded manually or accessed through an API.
The minFraud Transaction Risk API program equips its users with instruments to detect IP addresses, email addresses, or payment card details that seem suspicious and might jeopardize your security.    
Pricing:
GeoIP products come in all shapes & forms (database, web service, anonymous IP, enterprise, etc.). Thus, you ought to reach out to the company's representatives to single out the set of functions that will suit your business's needs in the best possible way. In case you are hesitant to part with your money just now, you can try their demo or install GeoLite2 Free Geolocation Data. It will grant you 1000 IP address lookups per service per day at no charge. 
You can test minFraud for free, or you can purchase MaxMind Service Credits to trade for minFraud Score, minFraud Insights, or minFraud Factors right away ($25 = 5,000 minFraud Score/1,666 minFraud Insights/1,250 minFraud Factors).  
Retrieved from MaxMind  
Specialization:
Main function:
Lead generation & profile enrichment. You can lay your hands on email addresses, phone numbers, postal addresses, social media profiles, ages, photos, jobs, education, etc.
Fraud prevention. You can perform a background check on potential customers or verify 
Just a reminder:
Dealing with private information is always a delicate matter. Therefore, do not forget to have a look at the Dos & Don'ts section of the platform. 
Pricing:
BeenVerified offers you 1 month's membership (100 reports) for $26.89. If you seek a B2B solution, you can consider signing up for PeopleSmart services. The most affordable plan is Basic (1 month, 50 contacts, $39), but you can buy a 7-day trial for $1.  
Retrieved from BeenVerified
The Ones to Address Privacy Concerns
In a world where 84% of people admit that they are worried about the security & privacy of their data and 8 out of 10 Americans believe they have little to no control over the ways, companies use their personal information, rejection of cookies or other forms of third-party tracking was bound to happen. That is why the data privacy regulations keep getting tighter. 
It does not mean that the previous platforms are not compliant with the existing legislation. Yet, it limits their market share mainly to the B2B segment. Plus, approaching such a delicate subject with genuine care and concern helps businesses build trusting relations with their customers. A responsible attitude to consumers' info can also become a competitive advantage (at least 85% of companies believe so).
These programs are based on the concept of combining all the available first-party data into one account and then enriching it with information from other trusted sources. This strategy remains viable because every individual is assigned a unique ID and grants permission or consent. Naturally, due to the complexities of the solutions, the pricing options are only available upon request.     
Specialization:
Features:
Builds a single customer view using your first-party data.
Assists in augmenting profiles (names, phones, addresses, social media profiles, behavior patterns, etc.) and matches you with potential buyers.
Analyzes people's identities & activities to spot potential security threats.
Provides a safe space to encrypt, manage, and store sensitive data.

Retrieved from FullContact 
Specialization:
Features:
Finds and puts the information on your leads, prospects, or existing customers in single profiles.
Provides lead generation & data enrichment opportunities through the Panorama identity platform.
Hosts a data marketplace to connect buyers & sellers.  
Retrieved from Lotame   
Privacy, Consent, and Respect: Smart Ways to Fit into the Narrative
The future is never set in stone, but the chances are that major shifts in businesses' attitudes to the consumers' personal boundaries are on the way. That is why the advertising industry cannot stop buzzing about the words 'transparent' and 'cookieless/privacy-safe' or third-party cookie deprecation, privacy legislation, and programmatic transparency are named among the most daunting challenges marketers are about to face.
The majority of companies have already admitted that gathering first-party data should become a priority and personal information should be treated responsibly. Being reluctant to accept the current trends can result in detrimental consequences for your reputation and profits. So, what changes can be therapeutic to your strategy? Here are some helpful suggestions:
Examine the action plans of other companies and incorporate the tactics that coincide with your goals (like coherent & transparent privacy policy, consent gathering, investment in upgrading security, etc.).
Retrieved from Marketing Charts
Retrieved from Marketing Charts   
Retrieved from Marketing Charts
Inform consumers what their data is collected for and empower them to delete the info or change privacy settings.   
Final Thoughts
This type of software is a Swiss knife that you can utilize for a multitude of purposes. You can use it as a lead enrichment tool, data orchestration ecosystem, background checker, or fraud prevention instrument. Regardless of the design, you have in mind, contemporary technologies are ready to present you with plenty of options to consider. 
However, you should always have customers' best interests in mind. Otherwise, you risk transforming from a trustworthy, reputable business owner into a nosy neighbor.