21 Hello Bar Examples to Boost Conversions & Instigate Your Creativity
03 October 2022
03 November
~ 11 min read
3302 views
Hello bars are one of the greatest marketing tools ever invented. With their ability to stay in place without blocking the visitors' view of the page, they are incredible in drawing users' attention in the most noninvasive manner. You can add them to the top or bottom of any page to announce new products, tempt users to subscribe, offer incentives, alert them about important changes, ask for their preferences, and serve a multitude of other purposes. 
It is only the tip of the iceberg. If you seek to learn more about how to use this instrument effectively, grab a cup of a refreshing beverage, and let's proceed with a detailed review.   
What Is a Hello Bar & How Can It Benefit You?
So what is a hello bar? Also known as a floating bar or sticky bar, a hello bar is a type of pop-up that sticks to the top or bottom of a web page. Its main benefits: 
Usually appears immediately upon visiting a specific page = attracts the audience's attention to your message
Stays in place while scrolling and only closes when the opt-out button is clicked = keeps their attention while browsing the page
Does not overlap the rest of the website content = ensures an unobtrusive customer experience and loyalty to your business.
Hello Bar Definition
Essentially, all these names embody certain traits of this popup type. It is a bar that you attach to the top or bottom of a page, and it is:
Embedded in the page and appears right away = it greets your visitors.
Bound to remain in the same place = it sticks to the top or bottom of the page.
Hovering in the background while people continue browsing = it floats.  
The Functionality of Announcement Bars
A hello bar design differs from the design of content blocking and full-screen pop-ups. In particular, it is much smaller, so it does not interfere with visitors viewing your website content or interrupt their shopping process. But despite its compact size, it can still deliver your important messages to customers and prospects. Different hello bar examples may contain:
Personal offers and discounts for customers 
Limited-time deals or flash sales
Use this template
Offers dedicated to certain holidays
Use this template
Announcements of sales, new collections, or product updates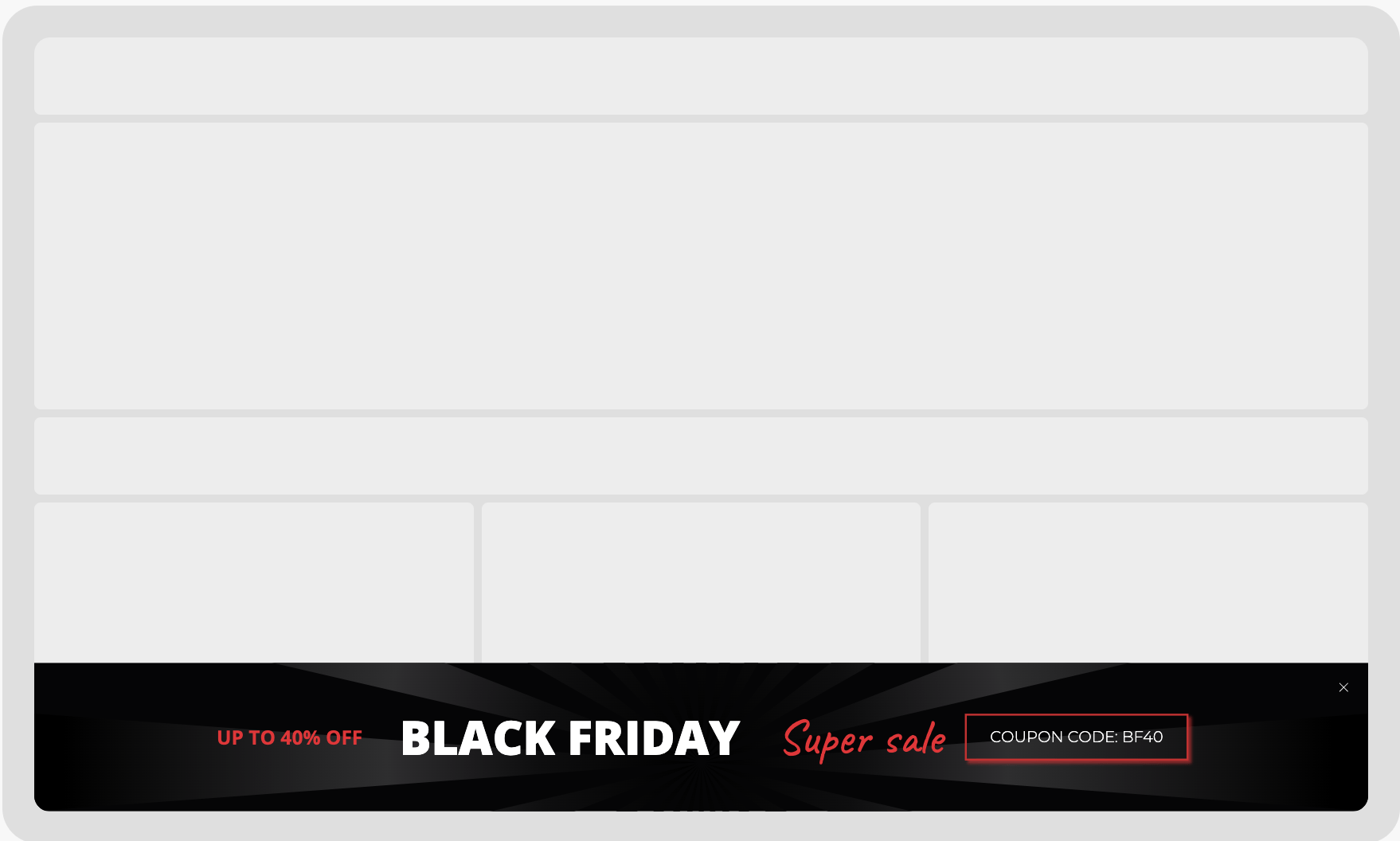 Use this template
Invitation to subscribe to your newsletter
Use this template
Warnings about temporary inconveniences
Use this template
Notifications about changed store opening hours
Use this template
Call for donations and participation in charity
Use this template
Whatever the purpose of your hello bar, you can implement it with Claspo's fully customized templates and the simple drag-and-drop editor.
Pro Tips for The Hello Bar Crafting Process
Creating a floating bar is relatively easy, especially when using intuitive pop-up builders. However, a few critical aspects must be considered before launching it on your website.
Be concise. Given the small size of hello bars, you need to use this limited space wisely. Therefore, avoid detailed descriptions of your bestsellers and promotions. Instead, keep your message to the point and focus only on the main attention hooks and customer benefits. Claspo's floating bar templates are concise yet effective. So you can just choose one of them and edit its text and design to suit your needs.
Focus on design. Half of customers consider design an essential factor in forming an opinion about a business. Hello bar, in turn, is a crucial element of your website. If the design is poor or inconsistent with your branding, it can ruin the experience. Therefore, you should adapt the colors, images, background, and other pop-up components to the overall website design. But with Claspo, this is not a problem. What's more, you can always preview how your hello bar looks on desktop and mobile screens before saving it.
Make the hello bar mobile-friendly. Today, 67% of shoppers make purchases only on mobile-friendly websites. Therefore, no matter what profitable offers your hello bars promote, they will only convert if adapted to the mobile version. Thus, after checking your pop-up's appearance on a mobile screen, edit its height and width to match the page layout if necessary. Alternatively, Claspo allows you to display the floating bar only on the selected device type.
Don't rush to say hello. Although the name suggests that the hello bar should welcome customers, we recommend delaying its display for a few seconds. It is believed that pop-ups that appear after the visitor spends 5-8 seconds on the page convert best. However, you can always rely on your website's average session duration to choose the appropriate timing and specify it with one click when setting up your hello bar in the Claspo builder.
Take care of your customers. Yes, floating bars do not block the website's content, but they still "haunt" visitors as they scroll, which can annoy some. Therefore, make sure that the opt-out button on your pop-up is visible and easy to click. It will allow you to provide a non-intrusive experience to visitors and increase conversions since pop-ups with an opt-out button convert approximately 14% better. This button is included in all Claspo floating bar templates by default. Moreover, you can improve the customer experience by stopping the pop-up display if the visitor does not interact for a particular time or closes it.
Word of advice
You can't be sure of your hello bar success if you don't test its different options. Essentially, copy, design, and even the name or color of a button can affect conversions. A/B testing helps you determine what works best for your audience. Besides, you can always compare the performance of a floating bar and, for example, a content-blocking pop-up. For this purpose, place the same message and design in two different layouts, run an A/B test, and track key metrics in real time with Claspo. This experiment lets you understand which pop-up type suits your goals.
21 Hello Bar Examples to Charm and Induce Your Visitors
Floating bars are unbelievably multidimensional. Explore a wide selection of them, and you will find out-of-the-box layout designs, inspiring promotion materials, creative announcement bar ideas, appealing CTA buttons, truly delicate display settings, and more. Of course, it is impossible to mention all the examples that deserve praise. Thus, let's look at the few that are practical and spark your creative flame.       
1. Apolis' Hello Bar
This customizable market bag store illustrates that your bar's layout does not have to be conventional. Naturally, you place your discounts and offers in the center. Yet, when you place them in the left upper corner right above the logo, you might even increase its visibility. In addition, you can use the other corner to add some site features, such as contact links & currency preferences, to save space and mask the popup as an inherent page element. 
2. Soon Skincare's Hello Bar
The shop stylishly promotes its new feature Buy Now, Pay Later and a tempting free shipping deal, complementing it with a clear call to action and animation that does not exacerbate visitors. 
3. Perfect Keto's Hello Bar
This platform turns to scarcity marketing and highlights that the deal is limited. It also makes the offer a bit more intimate and exclusive by including a shushing face emoji. Of course, animation jazzes up a CTA button and boosts its visibility.
4. Munk's Pack Hello Bar
A discount offer is always a good start to buyer-seller relations. Especially, when it is implemented in such a creative manner. The hello and navigation bars resemble the layers of a tasty snack so much that it makes you hungry for a bite.   
5. Liquor's Loot Hello Bar
Who said you can have only one floating bar? This online liquor store designed one popup for their regular perks like member's only pricing, Buy Now, Pay Later option, and free shipping. Then they accompanied it with a red alert for the urgent proposal that triggers the viewers' fear of missing out. 
6. Lunar's Beauty Hello Bar
A free shipping offer is always irresistible. Especially, when its design matches the brand's concept and looks truly 'out of this world'. 
7. Tropicfeel's Announcement Bar
The store does not simply combine a lucrative offer announcement with a call-to-action. It enables users to get rid of this bar if it interrupts their shopping process by adding a close button.
8. Birchbox's Announcement Bar
This cookie notification has every essential element to satisfy the site's visitors' privacy requirements. It informs that the platform uses cookies and explains that they do it to provide a better shopping experience. Moreover, they allow people to customize the settings should they express a desire to do so.  
9. Peel's Hello Bar
Just a very lucrative deal, nothing excessive or over the top. This represents minimalism and efficiency at their best. 
10. Homes' Alive Hello Bar
This pet products shop grants its shoppers plenty of freedom. They can use arrows to manually bypass the announcements or close the bar for good if they feel like it. 
11. Drop's Announcement Bar
Naturally, a free shipping offer is a classic, almost everyone has it. Whereas, capitalizing on a recent hype-generating Amazon Prime series 'The Rings of Power' by promoting limited-edition Drop + The Lord of the Rings Keyboards is a bold and relevant move. Worthy of the Tolkien fans or not, they still look stunning. Plus, using them won't be easy unless you are a devotee of the Professor's work or know Elvish and Dwarvish.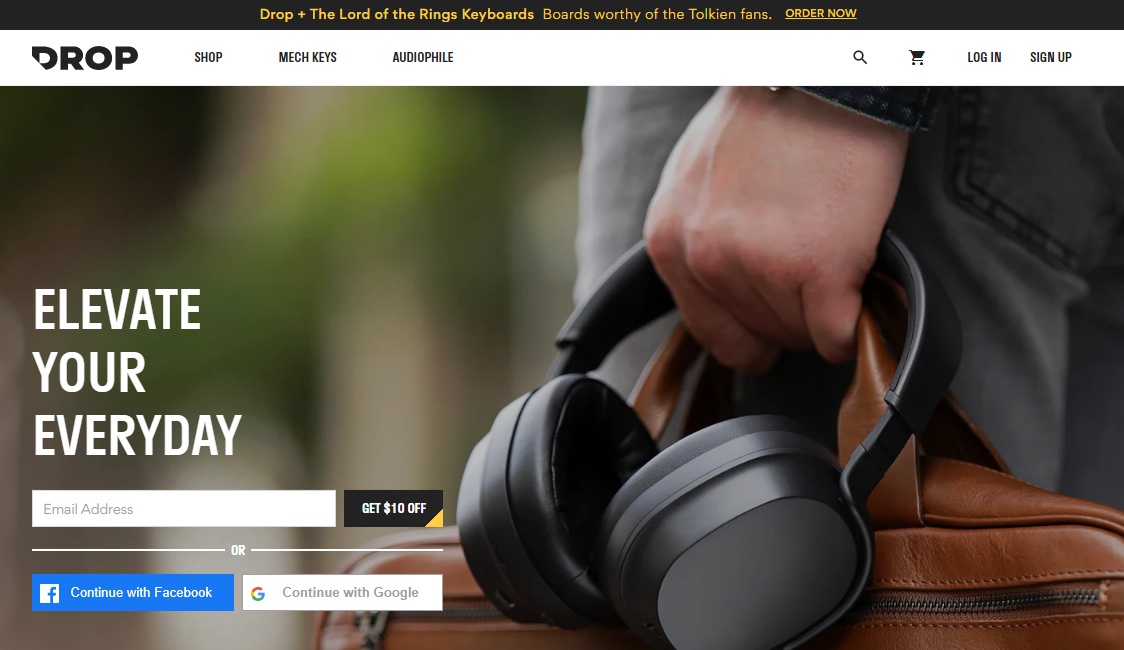 12. Italic's Hello Bar
This shop's hello bar contains a lot of info, yet it remains completely minimalistic and noninvasive to your personal space. Here you can find their tagline, mention the most exquisite product, and link to new arrivals, accompanied by an invitation to join their referral program or Italic Bold club membership (a little off-topic, but their slogan 'It Pays to Be Bold' is a real jewel).
13. Rothy's' Announcement Bar
Many businesses forget how attractive free returns can be, but not Rothy's. Furthermore, they use the 'early bird gets the worm' tactic to promote their new collaboration in advance. 
14. Apple's Hello Bar
This is an example of effective display rules and personalization. Are you from Germany? The site will identify it and change the message's language. Now you can confirm the location to get a more relevant experience. But if you still want the visitors not to miss out on your special deals, you can nest another popup below the navigation bar.
15. Airbnb's Hello Bar
The renowned accommodation provider applies a sticky bar to save the website's space and still guarantee instant access to the most critical features or categories, including language/currency preferences, support, company details, destinations, and sitemap. 
16. Dahlias Flower Truck's Hello Bar
Hello bars are unmatchable in their capacity to let your visitors know right away that some important shifts have taken place in your operating mode. For instance, you are on maternity leave, but still are open to administering selected types of orders. Plus, because the popup is always visible on the front page, there is no chance that the visitors will accidentally forget about the important information.
17. FullContact's Hello Bar
Getting acquainted with the new platform can be a bit disorientating. That is why offering your newcomers a link to the most popular product or service can turn into a real helping hand.
18. Global Privacy Control's Hello Bar
This popup is an illustration of how sophisticated modern technology can be. First, it indicates that you use the software. Then it presents you with the link to test if everything is working properly. It is a helpful, impressive, and delightful feature. 
19. CookiePro's Hello Bar
The opportunities to land media elements inside a sticky bar are quite limited. Still, this company managed to fit in an attention-grabbing megaphone to its free trial promotion gracefully. They even added a close button to be less intrusive.  
20. Spotify's Hello Bar
Who said floating bars must be attached only to the top of the page? If it does not suit your layout, do not hesitate and place it at the bottom.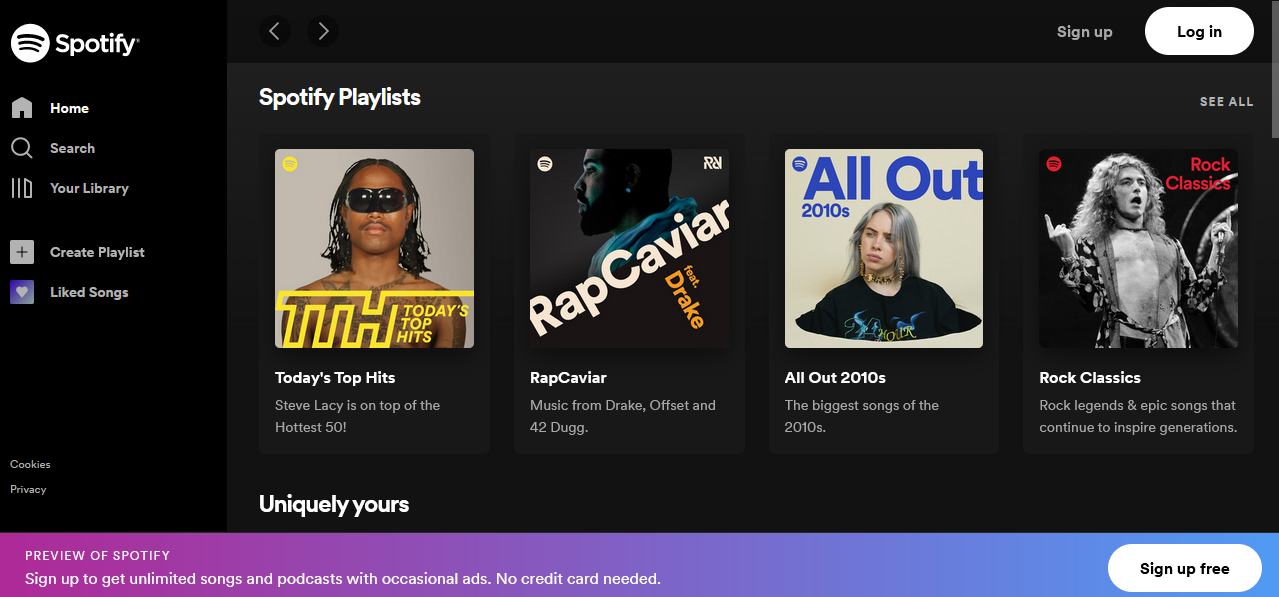 21. Casper's Announcement Bar
Would you like to place everything that tempts the customers in one bar? Follow this bed store's lead. It has free delivery, a risk-free trial, and Buy Now, Pay Later option all in one place. Plus, this popup nests with the navigation bar perfectly.  
Use Hello Bars for Your Website to Boost Engagement 
A hello bar is a great addition to your website, regardless of whether you seek different announcement bar examples, promotion ideas, information alerts, or cookie warnings. With the contemporary selection of display rules, integrations, and design capabilities, you can transform it into an inherent element of your layout that does not vex your visitors but, at the same time, always catches their eye.
How Claspo can Help you
Yes, Claspo offers catchy, ready-made hello bar templates and allows you to customize them in an intuitive editor fully. But in fact, this is only part of the features that make our pop-up builder the best solution for your online business. 
Annoyance safeguard and overlap protection. Your website strategy may include other pop-ups besides the floating bar. If that is the case, Claspo allows you to set a silence interval between their display to improve the user experience. If your settings require the simultaneous display of two or more pop-ups, Claspo is guaranteed to protect them from overlap.
URL targeting. Pop-ups delivered in the proper context have been proven to have higher conversion rates. With this in mind, Claspo allows you to set your hello bar to only stick to specific website pages. For example, if your pop-up advertises a discount on a women's collection, it would be more appropriate to place it on the page of the corresponding product category than on the homepage, and even more so on a page with goods for men.
UTM targeting. 65% of shoppers choose only those brands that offer them targeted promotions. With Claspo UTM targeting, you can meet this requirement and show personalized hello bars to visitors who came to your site after a specific marketing campaign or from a particular source. Simply put, customers who received your email newsletter announcing sales and customers who came from Instagram advertising can see completely different hello bars on your website!
Geotargeting. You can show floating bars depending on the country, region, or city where your customers are located. It works great if, for example, your store in a particular city is temporarily closed, and you need to notify local customers about it. In another scenario, you can announce different promotions for different countries on your website and ensure that only the right audience segment sees your message.
Dynamic language settings. Thanks to this Claspo feature, you can adapt the message language of your hello bar to a multilingual audience. For this purpose, you create one pop-up with a message in different languages in our builder. After this, visitors will see the text corresponding to the language they choose on the site or the one matching their browser.