21 Hello Bar Examples to Boost Conversions & Instigate Your Creativity
Hello bars are one of the greatest marketing tools ever invented. With their ability to stay in place without blocking the visitors' view of the page, they are incredible in drawing users' attention in the most noninvasive manner. You can add them to the top or bottom of any page to announce new products, tempt users to subscribe, offer incentives, alert them about important changes, ask for their preferences, and serve a multitude of other purposes. 
It is only the tip of the iceberg. If you seek to learn more about how to use this instrument effectively, grab a cup of a refreshing beverage, and let's proceed with a detailed review.   
What Is a Hello Bar & How Can It Benefit You?
This tool has a long list of names. You can encounter 'hello bar', 'sticky bar', or 'floating bar'. But it does not matter. You will recognize a cat when you see one, regardless of whether people around you call it 'a cat', 'le chat', or 'el gato'. 
Hello Bar Definition
Essentially, all these names embody certain traits of this popup type. It is a bar that you attach to the top or bottom of a page, and it is:
Embedded in the page and appears right away = it greets your visitors.
Bound to remain in the same place = it sticks to the top or bottom of the page.
Hovering in the background while people continue browsing = it floats.  

Grammarly Announcement Bar Example
The Functionality of Announcement Bars
Let's take a walk down history lane to better understand the awesomeness and functionality of sticky bars. The first types of popups actually popped up and distracted people. If implemented without due diligence (e.g., in poor taste or without sensible display rules), this strategy risks failing miserably. 
Excessive and insensitive application of traditional popups led to dreadful consequences. Regardless of the statistics you take, desktop or mobile, most respondents call popups the most displeasing form of advertisement. Naturally, this downgrade in popularity led to an outbreak of new features and technologies dedicated to invigorating the situation. Now, marketers and advertisers have an abundance of unobtrusive triggers, display rules, and formats, such as floating bars, at their disposal.
These popups are designed to be a practical multitool. Indeed, their size is not impressive, but it is intentional. It is not a bug, it is a feature that allows them to deliver any message to visitors without violating personal space or interrupting a shopping process. They guarantee that visitors will see your:
offers & lucrative deals (e.g., 'Free shipping on orders over $100' or 'Get 20% off your first order');
a new product, feature, or sale announcement (e.g., 'Added a new payment method. Care to learn more?' or 'Winter is coming. Join our sale and stay warm');
alerts about changing your operating practices or policies (e.g., 'Free returns are available now. Learn more' or 'We will stop accepting requests for holiday deliveries in 2 days. Hurry up');
invitation to subscribe or learn more about you on social media (e.g., 'Are you a fellow cooking enthusiast? Subscribe to our newsletter' or 'Do you want to see more tutorials? Check our Instagram');
link to test-drive your product (e.g., 'Test our search engine for free' or 'Find out how many companies are tracking you right now');
geolocation confirmation for personalization of services (e.g., 'Specify your location for better shopping experience');
cookie warnings (e.g., 'We use cookies. Hope, you don't mind. Anyway, you can click this button to define your preferences');
and even essential menu categories (e.g., language preferences, contact info & support, etc.).
Yet, how exactly does this affect your performance? Is the effect sufficient, or is it just a drop in the bucket? Essentially, these bars make customers go easy on you because you manage to delicately and respectfully communicate the information they appreciate. Plus, these messages do not vex the shoppers because:
Special offers & discounts remain the most powerful motivators when it comes to purchasing decisions, especially in the current economic turmoil.
Free shipping & effortless returns stimulate people to complete their purchases, reducing the number of abandoned shopping carts.
Timely announcements about sales or products and information alerts show potential and existing clients that you care about them. It helps you earn trust and adds some coins to the savings jar of customer loyalty. It has been scientifically proven that empathy and emotional intelligence are effective engagement boosters.
Individual approach is always a nice gesture. More than half of consumers will not mind sharing their data if it improves their online experience. Just do not forget to stay cautious and draw a clear line between 'creepy' & 'cool' personalization.
The majority of users prefer to adjust their cookie preferences. So, they will appreciate it if you give them a chance to do it.
The rule 'Show, don't tell' is applicable not only in cinematography. When you allow people to try your product or service, you demonstrate that it actually helps to solve their problems and change their lives for the better. 
Having access to important information at your fingertips can also be quite convenient.     
Pro Tips for The Hello Bar Crafting Process
It does not require much effort to construct this type of popup. However, its limited space and absence of media can pose a challenge that calls for a smart approach and careful consideration to be resolved. Here is some advice that you might find helpful while building sticky bars:
Do not go into too much detail, be concise. If you have more than one announcement to make, combine them in a carousel and show them one by one. 
Do not be afraid to experiment with the design. You can go with soothing and minimalistic or bright and bold, make sure that it fits your site's concept.
Write a catchy call to action to stimulate conversion.
If a bar does not require constant users' attention, you can add a close button or hide the message as people scroll down.    
In case you plan to tickle visitors' fear of missing out, insert a countdown timer. 
Define display rules for better personalization (e.g., 'new visitors', 'language', or 'device type').
Check that it looks correct on your website's mobile and desktop versions. Lack of optimization is detrimental to conversion rates.
Emojis facilitate the opening rates of emails. Hence, it might be a good idea to spice up your message with them as well. 
Conduct A/A (lift) or A/B (split) testings to determine the versions of your web pages and sticky bars that demonstrate the most impressive performance indicators.
Word of advice

 

Of course, there is a variety of software you can use to generate these popups. Still, only Claspo is user-friendly enough to empower even complete beginners with enough capabilities to implement the most sophisticated visions. Its easy-to-navigate interface combines a drag-and-drop editor, triggers, integrations, analytical tools, testings, and every other instrument you might need in the construction process.         
21 Hello Bar Examples to Charm and Induce Your Visitors
Floating bars are unbelievably multidimensional. Explore a wide selection of them, and you will find out-of-the-box layout designs, inspiring promotion materials, creative announcement bar ideas, appealing CTA buttons, truly delicate display settings, and more. Of course, it is impossible to mention all the examples that deserve praise. Thus, let's look at the few that are practical and spark your creative flame.       
1. Apolis' Hello Bar
This customizable market bag store illustrates that your bar's layout does not have to be conventional. Naturally, you place your discounts and offers in the center. Yet, when you place them in the left upper corner right above the logo, you might even increase its visibility. In addition, you can use the other corner to add some site features, such as contact links & currency preferences, to save space and mask the popup as an inherent page element. 
2. Soon Skincare's Hello Bar
The shop stylishly promotes its new feature Buy Now, Pay Later and a tempting free shipping deal, complementing it with a clear call to action and animation that does not exacerbate visitors. 
3. Perfect Keto's Hello Bar
This platform turns to scarcity marketing and highlights that the deal is limited. It also makes the offer a bit more intimate and exclusive by including a shushing face emoji. Of course, animation jazzes up a CTA button and boosts its visibility.
4. Munk's Pack Hello Bar
A discount offer is always a good start to buyer-seller relations. Especially, when it is implemented in such a creative manner. The hello and navigation bars resemble the layers of a tasty snack so much that it makes you hungry for a bite.   
5. Liquor's Loot Hello Bar
Who said you can have only one floating bar? This online liquor store designed one popup for their regular perks like member's only pricing, Buy Now, Pay Later option, and free shipping. Then they accompanied it with a red alert for the urgent proposal that triggers the viewers' fear of missing out. 
6. Lunar's Beauty Hello Bar
A free shipping offer is always irresistible. Especially, when its design matches the brand's concept and looks truly 'out of this world'. 
7. Tropicfeel's Announcement Bar
The store does not simply combine a lucrative offer announcement with a call-to-action. It enables users to get rid of this bar if it interrupts their shopping process by adding a close button.
8. Birchbox's Announcement Bar
This cookie notification has every essential element to satisfy the site's visitors' privacy requirements. It informs that the platform uses cookies and explains that they do it to provide a better shopping experience. Moreover, they allow people to customize the settings should they express a desire to do so.  
9. Peel's Hello Bar
Just a very lucrative deal, nothing excessive or over the top. This represents minimalism and efficiency at their best. 
10. Homes' Alive Hello Bar
This pet products shop grants its shoppers plenty of freedom. They can use arrows to manually bypass the announcements or close the bar for good if they feel like it. 
11. Drop's Announcement Bar
Naturally, a free shipping offer is a classic, almost everyone has it. Whereas, capitalizing on a recent hype-generating Amazon Prime series 'The Rings of Power' by promoting limited-edition Drop + The Lord of the Rings Keyboards is a bold and relevant move. Worthy of the Tolkien fans or not, they still look stunning. Plus, using them won't be easy unless you are a devotee of the Professor's work or know Elvish and Dwarvish.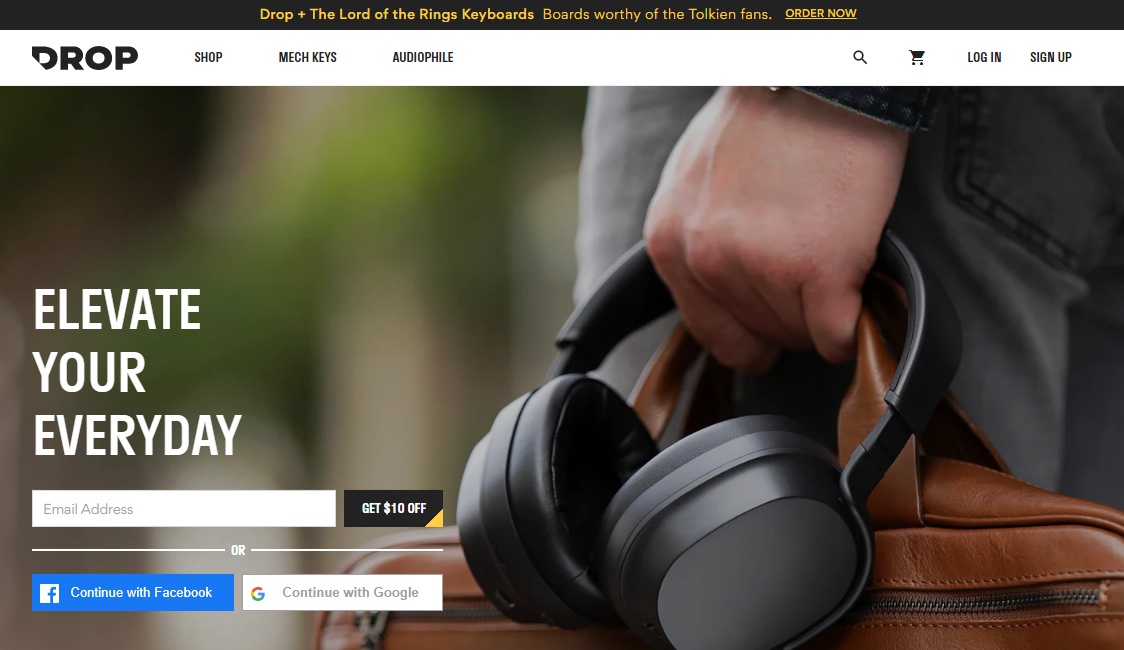 12. Italic's Hello Bar
This shop's hello bar contains a lot of info, yet it remains completely minimalistic and noninvasive to your personal space. Here you can find their tagline, mention the most exquisite product, and link to new arrivals, accompanied by an invitation to join their referral program or Italic Bold club membership (a little off-topic, but their slogan 'It Pays to Be Bold' is a real jewel).
13. Rothy's' Announcement Bar
Many businesses forget how attractive free returns can be, but not Rothy's. Furthermore, they use the 'early bird gets the worm' tactic to promote their new collaboration in advance. 
14. Apple's Hello Bar
This is an example of effective display rules and personalization. Are you from Germany? The site will identify it and change the message's language. Now you can confirm the location to get a more relevant experience. But if you still want the visitors not to miss out on your special deals, you can nest another popup below the navigation bar.
15. Airbnb's Hello Bar
The renowned accommodation provider applies a sticky bar to save the website's space and still guarantee instant access to the most critical features or categories, including language/currency preferences, support, company details, destinations, and sitemap. 
16. Dahlias Flower Truck's Hello Bar
Hello bars are unmatchable in their capacity to let your visitors know right away that some important shifts have taken place in your operating mode. For instance, you are on maternity leave, but still are open to administering selected types of orders. Plus, because the popup is always visible on the front page, there is no chance that the visitors will accidentally forget about the important information.
17. FullContact's Hello Bar
Getting acquainted with the new platform can be a bit disorientating. That is why offering your newcomers a link to the most popular product or service can turn into a real helping hand.
18. Global Privacy Control's Hello Bar
This popup is an illustration of how sophisticated modern technology can be. First, it indicates that you use the software. Then it presents you with the link to test if everything is working properly. It is a helpful, impressive, and delightful feature. 
19. CookiePro's Hello Bar
The opportunities to land media elements inside a sticky bar are quite limited. Still, this company managed to fit in an attention-grabbing megaphone to its free trial promotion gracefully. They even added a close button to be less intrusive.  
20. Spotify's Hello Bar
Who said floating bars must be attached only to the top of the page? If it does not suit your layout, do not hesitate and place it at the bottom.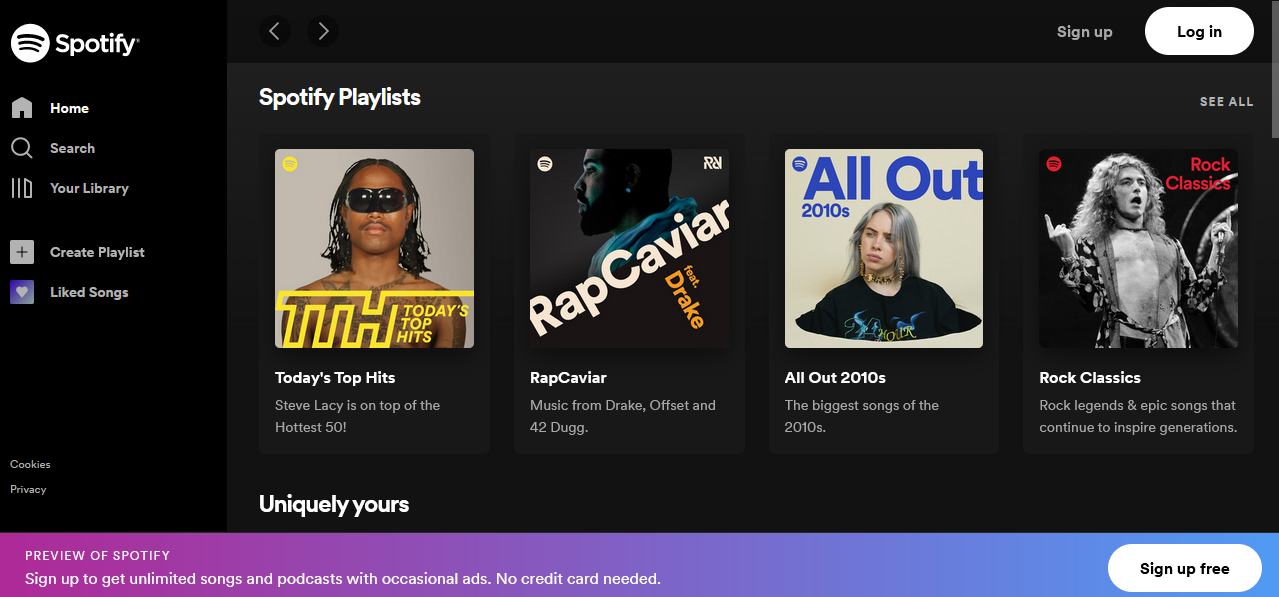 21. Casper's Announcement Bar
Would you like to place everything that tempts the customers in one bar? Follow this bed store's lead. It has free delivery, a risk-free trial, and Buy Now, Pay Later option all in one place. Plus, this popup nests with the navigation bar perfectly.  
Use Hello Bars for Your Website to Boost Engagement 
A hello bar is a great addition to your website, regardless of whether you seek different announcement bar examples, promotion ideas, information alerts, or cookie warnings. With the contemporary selection of display rules, integrations, and design capabilities, you can transform it into an inherent element of your layout that does not vex your visitors but, at the same time, always catches their eye.