How to Upsell: 5 Upselling Techniques + Examples to Drive Sales
Upselling is often perceived as an easy maneuver. You just offer an advanced or a more expensive version of a product, how can you err? Yet, this simplification frequently results in shoppers' resentment of this policy in particular and your company in general.
You need to meditate on your upselling strategies. When should you present your offer? Should it be a list of recommended items or add-on features? Let's review some of the most viable tactics you can deploy to deliver your upsells smartly.  
Everyone is busy these days, right? So, if you prefer to skip the theoretical discourse, move straight to the key points in the "Tips & Examples" section (you can also print them and use them as your upselling guidelines): 
Don't Rush
Don't Lose Sight of Customers' Interests
Know the Difference Between Coaxing and Intrusive
Be Generous with Discounts & Shipping
Diversify the Techniques
The Phenomenon of Upselling
As a practice, upselling's aim is to generate more revenue by inducing buyers' to opt for a more expensive version of the product. To make visitors more inclined to approve your suggestions, you can justify the increase in price by highlighting the advantages like materials of higher quality, additional features, extended warranty, etc. 
You might confuse upselling with its "twin" cross-selling. To avoid this misconception, you just have to take an attentive look at the words, and you will see the difference. Upselling means upgrading the same product, while cross-selling implies offering related items that cross paths with the main object. 
For instance, you are at a fast-food restaurant, and you are ordering a box of french fries. The employee can ask you if you want to take a sauce with it, and this would be cross-selling. But if he or she encourages you to take a big basket instead of a small one, it is an upsell. 
Upselling or cross-selling? Choose wisely.
Overall, there is upselling, there is cross-selling, and there is "in-between". For example, you can increase the value of the purchase with:
Add-ons. This is a broad upselling category. It can include enhanced functions, an extended warranty, and even extra cheese on your pizza. 
Bundle. This is a mixture of upselling and cross-selling because it implies replacing a product with a package that contains not only the desired object but also items that compliments it for a higher price (like wine and cheese in a gourmet basket).    
Subscription. Technically, it is not an upselling. Still, the combined value of the monthly payments will outweigh the worth of a single purchase.  
The Unexpected Bright Side of Upselling
Many shoppers tend to be wary regarding the upselling propositions. They regard it as a manipulative maneuver designed to trick them into acquiring something they can easily manage without. Truth be told, this reputation is not unreasonable. Yet, upselling deserves a refreshing breath of destigmatization.
With a proper approach, the concept of upselling can become appealing for both seller and buyer:
Indeed, price growth directly contributes to driving up your average order value (AOV) and consequently stimulating your overall profits.
Still, advanced functionality or supplemental perks like free shipping can actually improve people's shopping experience, turning them from passers-by into brand enthusiasts and increasing your customer lifetime value (CLV).     
How to Upsell in the Right Way. Tips & Examples
If you choose to execute your upselling strategies in an inconsiderate, amateur manner, chances are these measures will maim your sales, instead of invigorating them, as you initially planned. Like the French Revolution was guided by the motto "Liberté, Égalité, Fraternité", your upselling campaign should be inspired by:
Patience. Know when to start and when to stop.
Empathy. Do not be greedy, incentivize potential clients.
Diversity. Be flexible, do not rely on one method or instrument.
Don't Rush
Gandalf the Grey taught us, "A wizard is never late, nor is he early. He arrives precisely when he means to". Likewise, your task is to display your propositions in time when the shoppers are open to suggestions. Yet, you have to compose your arsenal of mundane upselling techniques.  
While Shopping
Rush is an implacable enemy of a successful upselling campaign. There is no use in instantly inquiring whether users would like an upsell because they probably do not know yet. Let them take a clear view and form an opinion of your store, reach a certain level of trust in you as a seller, and dwell on different options. Thus, the appropriate time for upselling varies, but can be limited to three main options:
Right before the checkout. This is a great time to focus on the things that are antecedent to comprising the product's or service's final version. For example, Deliveroo can make you a sandwich with gluten-free bread and extra turkey for a small increase in price. Meanwhile, Apple got you covered in case of any emergencies with the AppleCare+ device repair coverage for the Apple Watch.     
When visitors show signs of quitting your website. A lot of e-commerce companies had an epiphany when Baymard Institute revealed that almost 7 out of 10 carts get abandoned during online shopping. However, you can salvage this situation by making sure that users get to see all the available options, including the more expensive ones, before they close the tab. 
During the checkout. Allow buyers to reconsider until the purchase is complete. If they are still hesitant about their choice, you can indulge their hunger for more by displaying advanced alternatives.
Retrieved from Deliveroo
Retrieved from Apple
Luckily, modern technologies equip you with a variety of instruments to make your upselling proposals as well-timed as possible. You can:
Apply time or scroll triggers to your popup messages with Claspo.
Use Claspo to build compelling exit-intent popups.
Insert snippets in the checkout procedure. 
After the Interaction
Marketing Charts reassures entrepreneurs that despite the high cart abandonment rate, approximately half of respondents are likely to have a change of heart if you approach them again. Besides, the "out of sight, out of mind" attitude is healthy only towards an upsetting experience. Whereas shopping with your store should bring people joy, they might reminisce while seeing:
Follow-up emails. Drop fires all cannons by displaying the item from the abandoned cart alongside upselling and cross-selling options, while raising the stakes with the "ends in 19 days" warning to instigate the fear of missing out.  
Retargeting and popup messages. Circumstances change, so, it would be wise not only to remind shoppers about the products they viewed but also to demonstrate goods from your new collections.  
Retrieved from Really Good Emails
To avoid confusing your audience, combine the segmentation function with CRM properties to single out the intended recipients from your email or lead lists. With Claspo, you can effortlessly define the target demographic for your popups.
Trust Leo Tolstoy and cats' hunting instinct, "The two most powerful warriors are patience and time."
Don't Lose Sight of Customers' Interests
Develop and polish your upselling skills, such as emotional intelligence and its inherent part - consumer empathy. They are your pivotal allies in conquering shoppers' hearts. If your approach is uncaring, blunt, and aimed solely at gaining more money, you risk disappointing potential clients. Whereas, the ability to feel or deduce the effect of your actions on people, can empower you to come up with a mutually beneficial strategy. 
Be Personal
Wired states that with an individual approach, you can mesmerize customers to the extent that they will eagerly accept your offer. It is not surprising, considering how much we all love to feel appreciated and special. Even addressing users by name can make a difference. Still, the contemporary set of marketing personalization tactics includes plenty of tools to change your game, including:
Recommendations inspired by search history. Audible knows how tempting it is for a true bookworm to stop at buying just one book. That is why offering a challenging "The Silmarillion" is a fitting option to convince a fantasy books nerd to spend some credits.  
Tags under the search bar. Let's take a look at Pinterest. Now, with Artificial Intelligence, whether you want a "birthday" or a "pretty birthday" cake is up to you to decide. 
Peer pressure. Just design a separate section for promoting trending & popular items, or a new collection, like L.A. Girl did.
Retrieved from Really Good Emails
Retrieved from Pinterest
Retrieved from L.A. Girl
Naturally, if you strive to achieve substantial results in this aspect, you have to make the most of your CRM, CDP, and other software. For instance, to make your popups relevant to the needs and preferences of your clientele, Claspo offers broad capabilities in terms of integration, segmentation, and profile enrichment with publicly accessible information.
Display Alternative Options
Generally, an attentive attitude can really save the day. Show visitors that you do not insist on acquiring the more expensive products; you just present all the existing variants. Knowing that you are happy with whatever customers decide will make them more relaxed and inclined to trust you. You can present the alternatives in two ways:
Gather all in a row. In this scenario, companies usually prefer to apply the rule of three. This approach is based on the assumption that out of three options, people tend to opt for the second one because the middle presumably has the most balanced pros and cons ratio. Yet, you can choose the Whisky Loot method that exerts a fair amount of peer pressure by labeling its advanced subscription as "most popular" in contrast to the "best value" option for explorers.  
Suggest the helpful ones. For instance, ProFlowers morning delivery means a guarantee that you receive a fresh bouquet, so it is worth paying extra for.
Retrieved from Whisky Loot
Retrieved from ProFlowers
Don't Get Carried Away with the Price
Price is always a delicate matter. The problem is that in online stores, it is impossible to ask or guess the clients' budgets. Therefore, a drastic increase in total cost is likely to scare people away. The safe way to go is to start with a small difference in price and then raise it gradually until you can determine which percentage demonstrates the best results. 
Know the Difference Between Coaxing and Intrusive
Of course, business and marketing are not for those who give up easily. However, even though determination often means success, sometimes you have to take no for an answer. 
End your interaction with buyers on a high note instead of leaving customers repulsed by your excessive persistence. After all, your visitors are real human beings. So, treat them with the respect they deserve and remember that no means no. 
Let's say, you have asked a shopper once on the website and then repeated your offer in a follow-up email, yet, your efforts were barren. Let it go for now, but add yourself a reminder to try again later. For instance, you can time your next proposition to coincide with an important event or a meaningful milestone, such as: 
End of the year. It is a great time to indulge your wishes and celebrate your success with some premium goods and services. There is no wonder that Evernote picked those dates for its promo campaign.  
New mark in your buyer-seller relations. Use your upselling campaign to cherish customers' loyalty. Domino's understands that everyone loves a free pizza. Thus, they encourage members of their rewards program to get more points when they get closer to laying their hands on this prize.  
Retrieved from Really Good Emails
Retrieved from Really Good Emails
Be Generous with Discounts & Shipping
Naturally, the majority of your audience will have a visceral feeling that you are simply trying to entice more money from them. So, how can you charm your shoppers and melt their skeptical hearts? Of course, with the good old discounts, special offers, and free shipping. 
With this technique, it is crucial to keep in mind that after all the math is done, you should still end up with more money than the initial deal promised you. Reward customers for spending more, but do not lose sight of your profits. Marketing Charts reveal that the desirable sum to qualify for free shipping should be $50. Furthermore, when it comes to discounts & coupons, Marketing Charts respondents suggest a $10 discount on purchases over $100.
Popups are a practical and elegant solution if you want to catch users' attention without disturbing the shopping process. Free shipping calls for something unobtrusive yet permanent, like the Peel's floating bar. Meanwhile, slide-ins and sidebars are perfect for discounts. Just open Claspo, choose the right template, make necessary adjustments, and you are good to go.
Retrieved from Really Good Emails
Diversify the Techniques
They say, "Do not bring a knife to a gunfight", for a reason. Sometimes your tool of choice simply does not fit the surrounding. Luckily, you can change, meld, or modify it to achieve your goals.    
Cross-selling
Cross-selling technique implies offering to combine things that go well together, like coffee and donuts. It is aimed at making your life easier and more comfortable. For example, you would cover your phone's screen with a glass protector before you break it and learn the necessity of proactive measures the hard way. 
The tourism industry is no stranger to exhibiting additional services like car rental or transfers. Airbnb decided to keep up with the trend and introduced Experiences. Now, when you book accommodation in London, you can also see what it has to offer in terms of recreational activities and exploring the local culture. 
Retrieved from Airbnb  
Bundle
Bundle deals are a really effective way to save time and money. Are you exploring ways to improve your sleep or make it more comfortable? Casper has already thought about what you might need and is ready to provide while saving your money with a 20% discount.  
Retrieved from Casper
Add-ons
Add-ons are designed to solve a particular customer's problem or fulfill a certain need. It can be anything, including adding jalapeños to your breakfast burrito, an envelope to your postcard, or a "remove background" function to your editing software. 
In Trello, anyone can add an integration (Power-Up) for free. Yet, if you need both Skyscanner and Butler, you have to upgrade to Premium. Now, this is a smart application of upselling strategy.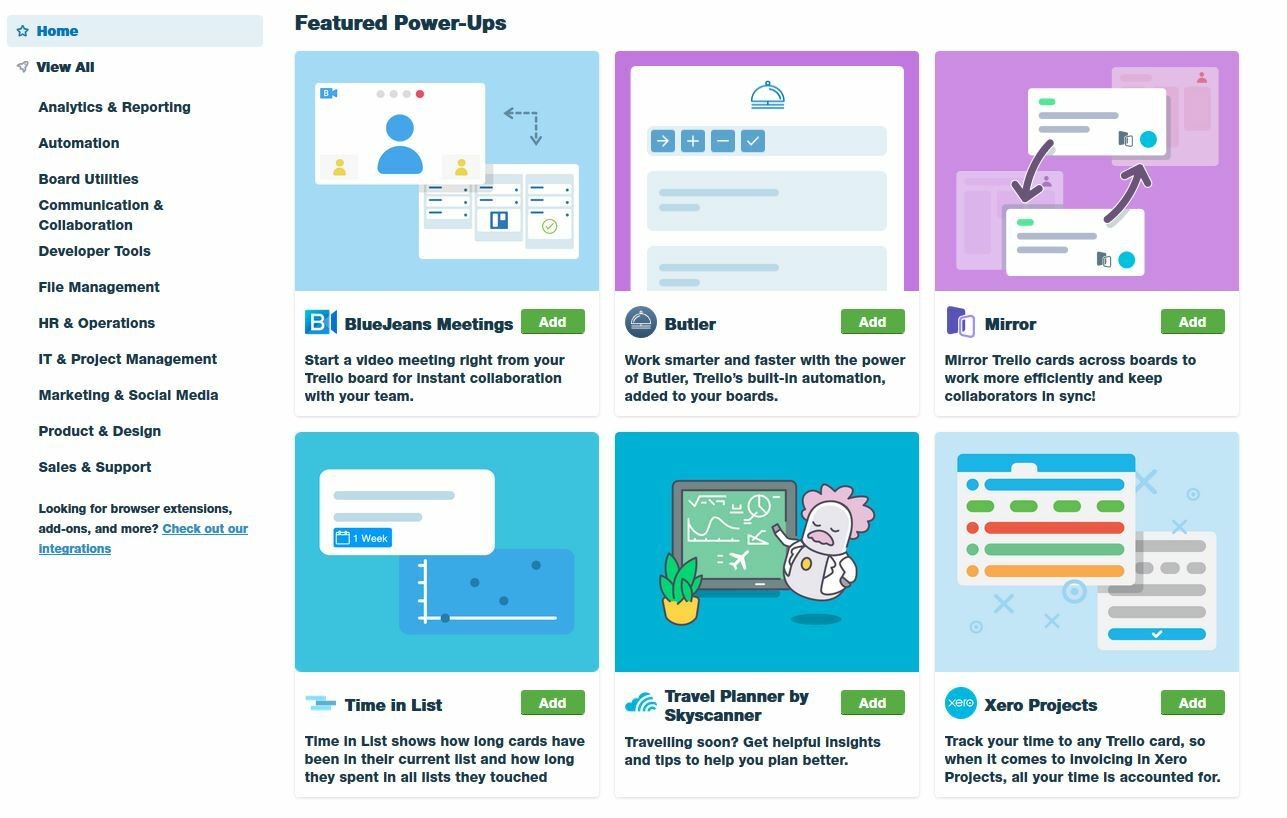 Retrieved from Trello
Downselling
If going up did not help, you can always move in the opposite direction. Even when shoppers spend less than they intended, it will still be better than the zero you get if they decide not to buy at all. 
One way to go is to start with the upselling option, like Dahlia's Flower Truck. It offers a bouquet in a glass vase for $40, and you have to pick another option to reduce the total cost to $35. You can also be more straightforward and offer products with the prices higher as well as lower than the ones of the item the user is currently viewing. This tactic is especially effective when shoppers specify the budget limits in the search filters.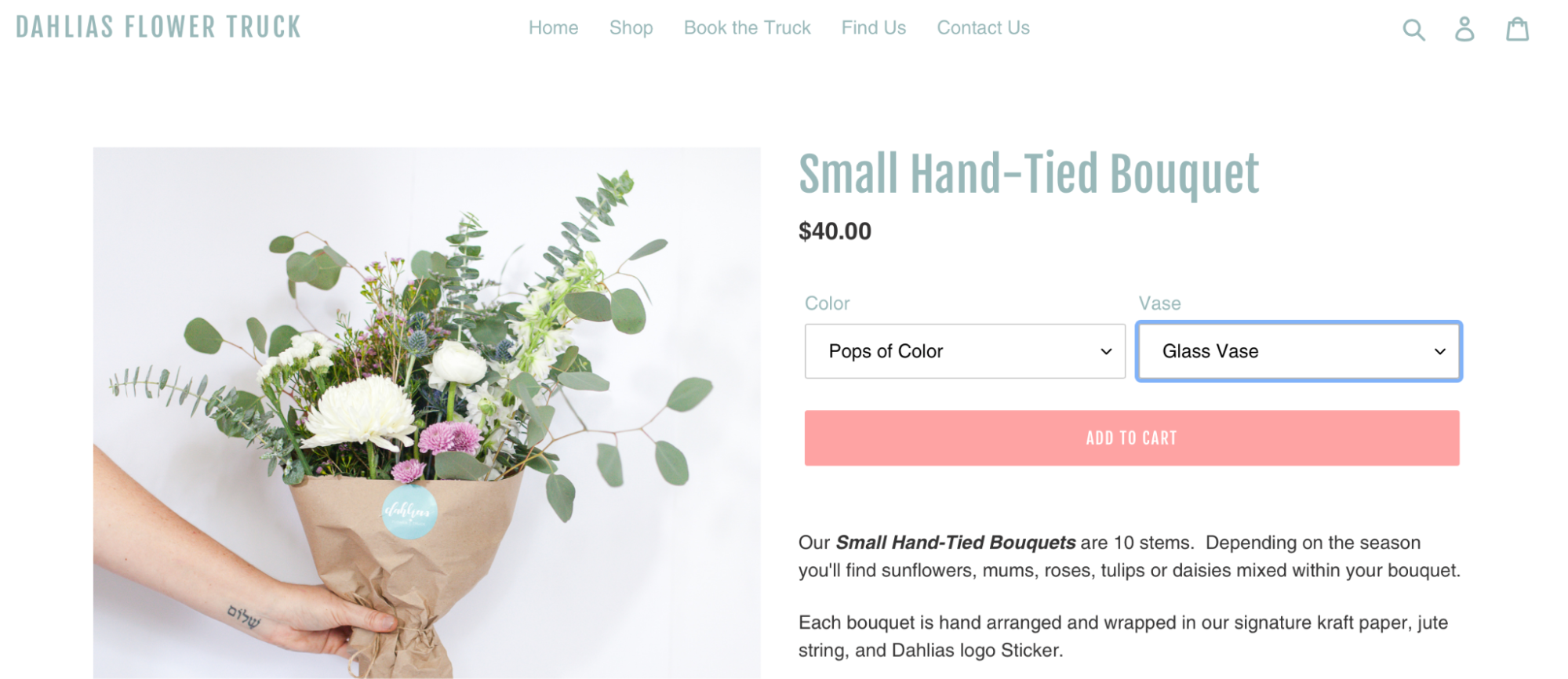 Retrieved from Dahlia's Flower Truck
Subscription
Subscription provides you with a consistent and regular revenue stream, which is what every business longs for. Still, to secure it, you need to emphasize the inherent shortcomings of a one-time fling compared to the benefits of a long-term commitment. You can do it in a traditional, stimulating, or riveting manner:
Spotify lists the features of both Free and Premium accounts and allows you to choose.
Gin Loot uses material incentives: new customers discount accompanied by a tonic pairing upselling option.
Whisky Loot complements the obvious reasons, such as "Try new whiskies every month" with the unconventional, yet relatable and kind of cool motives like "make a whisky bath".
Retrieved from Spotify
Retrieved from Gin Loot
Retrieved from Whisky Loot
Trade-in
Naturally, this technique is not suitable for every industry. However, it has countless advantages and appeals to buyers because:
It frees them from the burden of utilizing or reselling their gadgets.
It allows people to get rid of their devices in sustainable and eco-friendly ways, such as recycling or reusing. 
Let's illustrate this concept with the Apple trade-in program for iPhones. Is it daunting to even look at the prices of new models? Then it should be a relief to learn that you can get up to 80% discount in exchange for your old device. 
Retrieved from Apple
Conclusion 
Although many entrepreneurs view upselling as a cheap stunt, when it is executed with caution, consideration, and respect for customers' needs, it can significantly boost your tangible and intangible assets (e.g., revenue and clientele's loyalty) alike. The provided upselling examples and techniques illustrate that there is an abundance of answers to the question, "How to improve upselling?". However, do not just be a copycat. Join team creativity and combine various tactics by applying suitable tools on time to develop your unique strategy.