17 Best Ethical Marketing Examples That Melt Consumers' Hearts
27 October 2022
16 June
~ 12 min read
3563 views
In the contemporary world, curating campaigns through ethical marketing can be exhausting and insurmountably frustrating. One wrong step can cause irreparable damage to your reputation. The cancel culture became such a widespread phenomenon that its definition can be found not only on Wikipedia but also in Cambridge and Merriam-Webster dictionaries. 
Even though social pressure can sometimes be unbearable, businesses still have to stay honest, transparent, and responsible through ethical marketing. Plus, contributing to solving the world's problems not only helps you endear people but also makes the world around you better every day.
It is hard to deny the wisdom of Albus Dumbledore, who said, "We must all face the choice between what is right and what is easy". Therefore, an ethical approach to your marketing strategy through ethical marketing is something you should not renounce. You just have to learn how to do it without accidentally shooting yourself in the foot.
Go to content sections:
17 Ethical Marketing Examples That Actually Inspire
CFIO Athletics - haritable partnership of FIO Athletics with i=Change.
United By Blue - Prioritizing environmental protection and sustainable practices.
Cotopaxi - Gear for Good program.
Virgin Atlantic - commitment to sustainability, diversity, and social responsibility.
iNNBEAUTY Project - focus on non-toxic products, plastic reduction, and donations towards plastic collection.
BetterBrand - guilt-free and healthier bagel formula.
Danner - commitment to sustainability and reducing waste.
Apolis - promoting the Global Citizenship concept.
Soon Skincare - offering an Ingredient Glossary for customers.
Perfect Keto & Munk Pack - save your time and boost your strength with a quick energy bite.
Lunar Beauty - inspiring people regardless of their ethnicity, sexual orientation, or gender identity.
Tropicfeel - promoting sustainable practices and transparency.
Homes Alive - hires pet lovers as employees and supports local shelters.
Italic - providing premium quality goods at less cost by eliminating brand or retail markups.
Rothy's - producing products from twice-recycled materials.
Vox - offering free access to a special section of their platform containing materials for people with mental health issues.
Aerie - promoting body positivity and inclusivity.
Now it is time to focus on practical implications.
At the dawn of ethical marketing, social responsiveness and corporate philanthropy were committed voluntarily. In the modern world, they become a part of cause-related marketing, and often businesses utilize this strategy not because they sincerely strive to contribute to social well-being but because they want to align with the trends in demand right now. 
But profit-motivated giving is still giving, right? Unfortunately, attempts to capitalize on popular issues often result in devastating consequences. When someone does not check the privileges or forgets to switch on consumer empathy, marketing campaigns often turn out to be cringe-worthy and bluntly manipulative. 
The list of failures in this area is unbearably long. However, the odds are you still remember the most infamous ones, like:
Pepsi commercial, in which Kendall Jenner confused a can of Pepsi Cola with a pipe of peace and trivialized everything that BLM protesters stood for.
H&M decided that a 5-year-old descendant of Kenyan immigrants is an appropriate model to promote their coolest monkey in the jungle hoodie. Intentionally or accidentally done, it was immediately perceived as racist. 
Starbucks' #racetogether campaign encouraged baristas to start race-related conversations with clients while preparing their orders, ignoring the fact that the topic is too nuanced and multidimensional to be discussed in these circumstances.
Protein World implies that being ready to have fun or relax on the beach is not enough, women should also be 'beach body ready'. Of course, this attempt to impose beauty standards instigated a major backlash.      
Psychologists & political scientists discovered that negative information attracts more attention and stays in memory longer. That is why even though you might think that all the disturbance related to the scandals is water under the bridge, the popular Amazon Prime series The Boys reenacted the Kendall Jenner ad, and people were quick to spot the inspiration behind the parody. Thus, if you do not want to maim your reputation for good, you should learn from the failed approaches and examine the cases that resonate with the audience. 
There is a multitude of paths you can take. For instance, you can support the following: 
eco-friendly, animal-friendly, and sustainable practices;
inclusivity & body-positivity;
social justice;
privacy protection;
and even a combination of the above.
Whichever problems you address, you can turn to philanthropy, donation mechanisms, advanced modern technologies, incorporation of corresponding principles into your operating model, or simply use your online platform to raise awareness. To help you visualize these ways better, let's look at the examples of ethical marketing that strike a chord with consumers.
Ethical Marketing Example #1. FIO Athletics
Did you know that $5 can provide a whole wardrobe for a person in need, $1 removes 1.2 kg of plastic and debris from the sea, and $48 can save a person's life? FIO & i=Change knew, so they decided to collaborate and allow shoppers to spend their money with a purpose in mind. This is why $1 from every purchase made on FIO's website goes to charity.
Of course, the choice of the donation destination is yours. You can send the funds to:
Thread Together. They collect stock clothes, sort them, and re-distribute them to people in need, like refugees, women escaping domestic violence, or homeless adults and children. 
The Seabin Foundation. This organization invests in developing feasible solutions to the ocean's pollution problem. 
Beyond Blue. People there work to destigmatize mental health issues and help those who seek it in times of depression and anxiety.
Ethical Marketing Example #2. United By Blue
This clothing brand is tough to beat regarding environmental protection and ecological practices. For them, it is a lifestyle that they chose and remain committed to, regardless of the trends. They conducted their first community cleanup in the same week they sold their first T-shirt. 
Now they have removed more than 4 million pounds of trash from the ocean. But they crave more. If there is a new eco-friendly practice, be sure that they are already doing it. Besides cleaning the waters, they:
Make their products in GOTS-certified factories from sustainable materials.
Check their partners' backgrounds and third-party certificates to confirm that they adhere to the same ethical manufacturing principles as they do.
Design products with reduced amounts of harm to the planet, like take-it-with-you meal kits and reusable coffee cups.
Became a B-certified corporation in 2011 and has proudly held on to this status ever since. 
Created The Quit Single Use Task Force to audit their use of plastic and come up with ways to find a substitute for it.
Build LEED-certified stores.
Reward employees with paid time off for community services.
Use office supplies that were made from recycled content.
By the way
Suppose you like this floating bar that constantly, but not obtrusively, reminds visitors about the company's positive impact on the environment (look at the pointing red arrow). In that case, you can use Claspo to craft the same one for your platform. 
Ethical Marketing Example #3. Cotopaxi
It is a nice touch when your charity program slogan matches your firm's specialization. For instance, Cotopaxi's Gear for good program is an intentional word pun because they sell packs and gear. 
Still, what matters most is the essence of the program, and it has many initiatives people might like to join:
Their Cotopaxi Foundation distributes a part of their profits as grants to non-profit organizations dedicated to the struggle against extreme poverty. In addition, they are a member of 1% for the Planet. Therefore, at least 1% of their annual revenue goes to support the ecological cause.
They launched a collaboration with Bombas to increase awareness and raise donations to help homeless people. 
They worked hard to decrease carbon emissions and achieve a Climate Neutral Certified status.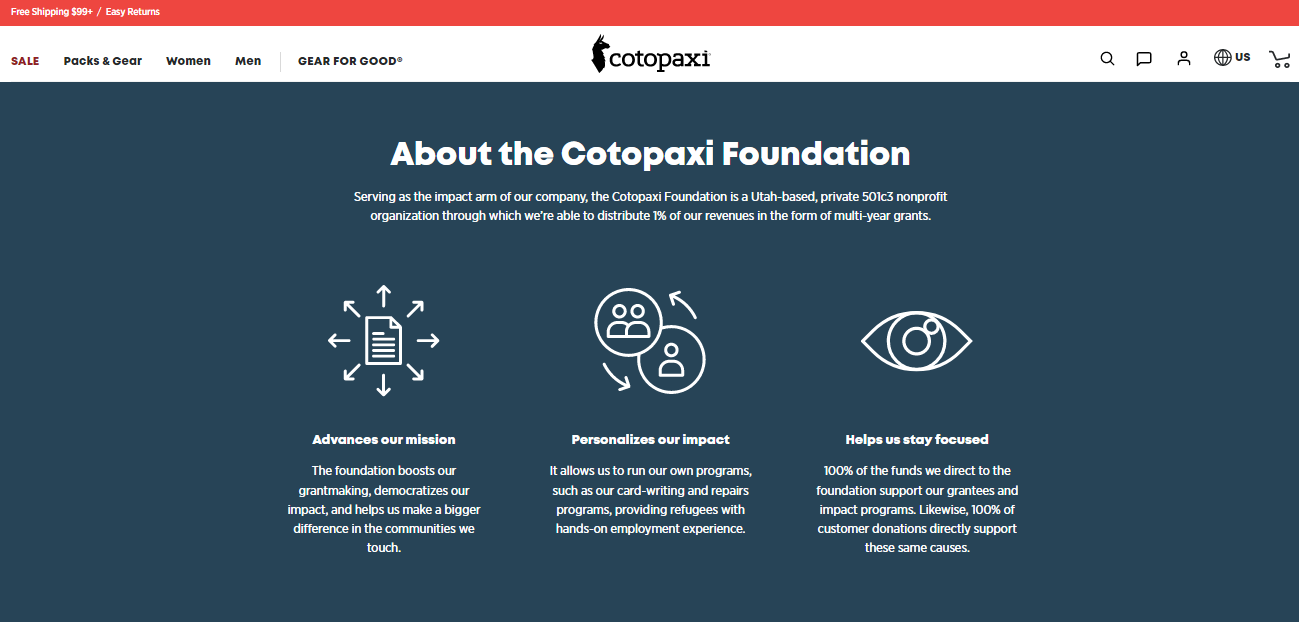 Renowned and rich companies like this are scrutinized and criticized for their business practices. Hence, it is in their best interests to deploy more effort into building a steady, bullet-proof reputation. The Virgin Atlantic attempts to do just that with its diverse selection of ethical initiatives by using ethical marketing:
They launched measures to reach net-zero carbon emission by 2050, recycle plastic, provide sustainable onboard catering, use green electricity, exclude beef from the menu, and more.   
They are determined to have a 50:50 gender balance in leadership roles and 12% Black Asian and Minority Ethnic (BAME) representation. Moreover, their PRIDE and VALUED networks exist to create a better, welcoming environment for LGBTQ+ people and representatives of diverse ethnic backgrounds. 
Their Passport to Change program presents grants, sponsorships, and investments to support STEM (Science, Technology, Engineering & Mathematics) initiatives that empower young people to receive proper education and acquire career skills.
These skincare products are designed not to harm both the planet and your budget. The company scientifically tests its goods and removes shady ingredients. That is why they are cruelty-free, vegan, sustainable, and non-toxic. 
Naturally, they would not be genuinely sustainable without major steps to compensate for the damage their production process is causing the planet. Thus, they decided to:
Donate a percentage of their revenue to fund plastic collection.
Reuse & recycle plastic objects.
Cooperate with rePurpose Global to reduce the use of plastic in the future.
By using ethical marketing, this project also empowers many girls because women own this company, and they are not afraid to brag about it. 
Ethical Marketing Example #6. BetterBrand
This platform is not really subtle about its ambitious mission. They are not just another brand, they are a better brand. Why? Because it changes your life for the better. 
With the new formula that contains more protein and fewer carbs, you can take it easy on yourself and enjoy tasty bagels without feeling guilty about it. Now, society can eat healthy without sacrificing the pleasure of enjoying a meal.  
Ethical Marketing Example #7. Danner
Consumerism is humanity's bad habit that it struggles to get rid of. Yet, wouldn't it be nice to keep the things you love around for a bit and save them from a landfill? With this shoe crafting shop, you have a real opportunity to do it because they provide a recrafting service to their clients. All you need to do is complete a form, ship the boots, and their recrafters will do the rest.   
Ethical Marketing Example #8. Apolis
If your target audience largely consists of women who are mothers or have close relationships with their mothers, towards whom are you going to direct your helping efforts? The mothers in need, of course. That is why Apolis provides job opportunities with Fair Trade-certified wages, annual profit dividends, and a retirement fund to hundreds of mothers in Bangladesh. Naturally, they are also a Certified B Corporation, and they strive to promote the Global Citizenship concept, which implies that despite borders and different languages, we are all part of the same community.  
Ethical Marketing Example #9. Soon Skincare
Not everyone aced chemistry. Some people might struggle with all those complicated words that you print on your skincare cream tube. Therefore, it is a nice gesture to add an Ingredient Glossary. This is how shoppers can confirm that your brand is as sustainable as you claim it to be.
Everyone adores snacks. They save your time and boost your strength with a quick energy bite. However, if you are a healthy lifestyle adept, it might be a quest to find the one that suits your requirements, right? Apparently, it will not. Turns out, Perfect Keto and Munk Pack are here to save the day and provide everyone with tasty, healthy, and vegan snacks. 
Ethical Marketing Example #11. Lunar Beauty
Who said that only women can wear makeup? Sometimes discrimination cuts on both sides. But if you are a truly passionate person like Manny Mua, the founder of Lunar Beauty, and a gay Latino man, your stamina and dedication will help you to overcome all the difficulties. Now his brand is an inspiration for everyone, regardless of their ethnicity, sexual orientation, or gender identity.
Ethical Marketing Example #12. Tropicfeel
Hey, kids, saving the planet is fun. You might want to argue with that, but wait until you see Tropicfeel's membership club and referral program, they will change your mind:
When you join the company's community, the Nation, you can start earning points by participating in weekend, weekly, and monthly challenges targeted at contributing to solving ecological problems. You can reduce your carbon footprint, plant trees, utilize sustainable energy sources, or generate ideas on how to spark positive changes in the travel and fashion industries.
Of course, you are rewarded for your responsible behavior with a bunch of free stuff, discounts, customized travel experiences, collaboration opportunities, and even trees planted in your honor. Plus, you gather some good karma points and new friends along the way. 
Naturally, this is a sustainable business that is transparent about its materials, dedicated to recycling and reducing carbon footprint, and strict about its requirements to the potential suppliers.   
Ethical Marketing Example #13. Homes Alive
Your pets are not just someone to keep you company during lonely nights. They are your friends and family. That is why it is important to entrust your cat's or dog's well-being to people who are pet owners themselves, and Homes Alive understands it. 
This is a family business and all the employees are devoted pet lovers. In addition, it is clear that they care about animals because they support and promote cooperation with many local shelters.   
Ethical Marketing Example #14. Italic
Quality products should be affordable for everyone. At least, that is the idea behind the Italic store. They collaborate with independent manufacturers (the same ones that work for popular brands) to create goods that possess premium quality characteristics but cost 50-80% less because all the brand or retail markups are eliminated.
Ethical Marketing Example #15. Rothy's
Using sustainable materials and cleaning oceans from plastic is great, but why not go further? For instance, you can use this example as an inspiration and start producing your products from twice-recycled materials. By now, Rothy's has used more than 125 million single-use plastic bottles and 400 000 ocean-bound marine plastic to craft their products.   
Ethical Marketing Example #16. Vox
Even when you are not a powerful business, but just a small publishing website, you can contribute to the cause. For example, you can grant free access to a special section of your platform that contains materials to make people with mental health issues feel better. 
Ethical Marketing Example #17. Aerie
While some brands continue to impose unrealistic beauty standards by encouraging skinny models to wear fat suits for photoshoots, Aerie welcomes women of all shapes, forms, colors, and abilities. If you want to feel appreciated and positive about your body, this is the right place to start. Here you can find comfortable and beautiful lingerie that is:
What is Ethical Marketing? The Premise & Principles
Essentially, the original notion of marketing ethics marked the following parameters as acceptable behavior:
honesty;
full disclosure;
equity;
and fairness. 
Now, the standards are significantly higher. It is hard to narrow common trends to a short list, but here are the most pivotal of them:
New additions. Businesses are now expected to promote not only their product but also human dignity, solidarity, social justice, sustainability, transparency, and respect for privacy. 
New 'crimes'. Misleading advertising, unsafe or harmful products, and abuse of channel power have always been here. Now, they are joined by many actions that can be considered discriminatory, harmful, disrespectful, and even unlawful. 
New rules. Of course, there is an unspoken etiquette that you might not follow, but if you do, it will boost your karma points and approval ratings (e.g., be cruelty-free, inclusive, accessible, and eco-friendly). Plus, some regulations make it law-binding to treat consumers with respect, such as GDPR to protect user privacy.     
Yet, it was not always the case. If you watched Mad Men, you know that back in the day advertising used to be a brutal manipulative game where ends justified the means. Society frequently condoned such campaigns because they either found the conveyed message appealing or lacked the information to see the whole picture. Just a quick walk down history lane will remind us that:
The glamorization of bad habits like drinking and smoking has caused a great deal of damage to people's health. Even now, when tobacco advertising is banned, the image of a successful man with a glass of whiskey and a cigar still manages to find its way to the viewers' minds.
Even though 34% of American women were working in the 1950s, their continual portrayal as housewives in every ad allowed society to reinforce the traditional gender roles concept and slow down the women's rights movement.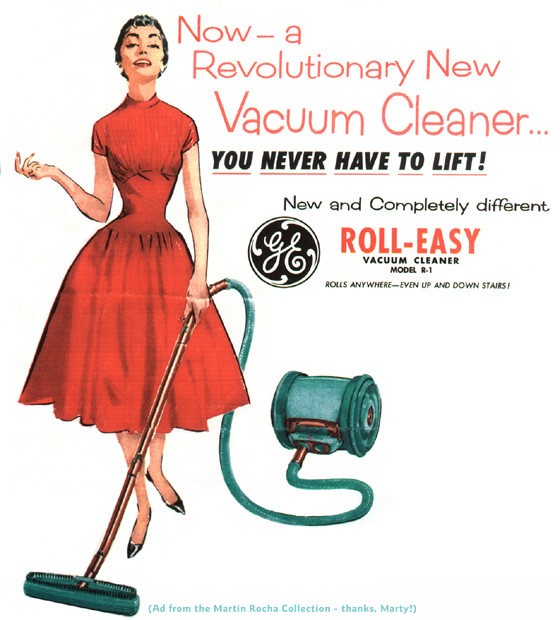 As many stereotypes became relics of the past and various new information sources emerged, some major shifts have shaken the marketing landscape. Almost 90% of consumers believe that companies should use their influence and power to promote moral values or resolve important issues. 
It might seem that the adepts of old-fashioned unethical practices have conceded. Every company calls itself customer-centric or customer-oriented. However, how many of them genuinely care about improving the lives of their potential or existing clients and not just increasing their profit margins? There is still plenty of work to be done:
Of course, there are many ways to invigorate traditional marketing techniques. Some of them might be tough to incorporate. Yet, plenty of them requires nothing but a genuine desire to do better. Here are some of the most effective tactics:
Be diverse and base your advertising on realistic, not stereotypical images of people. 
Practice sustainability and inclusivity not only as a part of your marketing campaign. Incorporate them into your business operations in general. 
Use consumer empathy to calculate and predict the harm that insensitive or deceptive ads can cause. 
Be transparent about how you are going to use consumers' data, and allow visitors to choose their cookie preferences.
Rely more on first-party data, shift to contextual targeting, and gather consent.
Refrain to use collected info for creepy personalization (e.g., ads involving products or services that people mention near their devices). 
Turn to specific tools, such as The Common Good Matrix, to assess your progress and determine the measures that can be deployed to achieve further development. 
Naturally, you might wonder why you bother and spend so many tangible and intangible resources on revising your ethical marketing campaigns. Because the unfolding changes are so significant that ignoring or opposing them may cost you a fortune (literally & figuratively):
The largest portion of contemporary shoppers (44%) are purpose-driven. Hence, they will opt for brands that share the same values and support the same causes. 
You repel a significant part of your potential audience by producing trite, offensive, or inappropriate ads that go against ethical marketing principles.
Trust is essential to building commitment and loyalty. When you treat your potential and existing customers unethically, you sever that connection and stray further from turning them into your brand enthusiasts. 
The majority of marketers agree that addressing the issues of ecological sustainability, inclusivity, and privacy is inevitable. Moreover, 85% of companies admitted that a responsible attitude toward consumers' data is a competitive advantage, emphasizing the importance of ethical marketing.
Marketing ethics has been a major interest for researchers for more than half a decade, and the definition of the subject continues to evolve. It becomes more comprehensive because the scientific community, business, and public are invested in further exploration of ethical marketing. 
Summary
Did these ethical marketing examples make your day a bit brighter or infuse you with ground-breaking ideas? Let's hope so because this call for more ethical business behavior is not just another trend. This embodies the core values that humanity better not lose in the future.