Top 35 DTC Brands to Keep an Eye on in 2023
19 June
10 July
~ 15 min read
2792 views
Going directly to a customer has never been as valuable as nowadays. With technology improving and most people shopping online, the lack of communication and interaction has put a direct connection between a seller and a buyer on another level. The brands that cut off the middlemen and go through every step of the customer's journey gain numerous business possibilities.
A direct-to-consumer (DTC) approach can bring many profits. Starting from increasing the cost of your products to receiving valuable feedback from buyers on how to improve. That is why more and more DTC brands appear, occupying 13% of all e-commerce companies on the market. So let's discover what it means to reach out to the client directly and see examples of top DTC brands.
The World of DTC Brands: What is DTC or Direct-to-Consumer Brands?
Direct-to-consumer brands are the companies that conduct the sales lifecycle fully on their own and reach out to consumers directly. This type of marketing brings more tasks and responsibilities to brands. They have to deal with promoting their products, doing advertisements, and providing customer support, while other companies have retailers or wholesalers to do the selling part itself. 
Even though the DTC approach seems to be more responsible and full of multitasking, it gives a lot of money for such efforts. Brands have complete control over their audiences. That means they can collect feedback from the customers firsthand, which gives them ideas for improvement: in email marketing, ethical advertising, and product upgrades. 
Direct to Consumer Brand History & Strategy
DTC marketing is not a novelty for sellers. When you think back to when there was no Internet, the only way for people who produced any products to sell them was to go door-to-door and offer what they had. Or stand behind the counter and serve their clients. 
A real example in the history of DTC marketing goes back to 1785 when farmers were selling milk at people's doors. Later, Avon came up with the idea of selling their beauty products through a team of women. It went very well, since even up to modern times, you can remember those ladies carrying Avon magazines and engaging other women to buy cosmetics.
The DTC strategy has many advantages, even though it sounds more complicated for business owners. First of all, the key benefit of going directly to customers is getting valuable feedback. Thus, you can get to know your client's needs better. Based on that information, you can encourage clients to complete the purchase by using cart abandonment popup examples, in those cases when they later decide to buy something from you online and abandon their cart. What's more, you can learn how to avoid negative impacts from annoying pop-ups on the website if you have such precious first-hand data from your customers.
Also, these tactics increase the margins. Instead of selling your product to retailers for cheaper, you can save a reasonable price for yourself and get higher revenue. And this fact will not leave any businessman indifferent.
What Sets DTC Brands Apart from the Crowd
Top DTC companies always catch the eye with their distinctive features. By visiting their website, you can tell at once that this service follows a direct-to-consumer marketing approach. So what is it that makes the best DTC brands so special?
Their story. Most DTC companies tell customers their unique stories that catch people's attention. And with that sincerity, they win customers as people buy stories, not goods. 
Their creativity. When running the marketing campaign by yourself, you can build it based on various techniques and add up your own creativity. Those brands that are not afraid to be unique always win more clients. 
Their goals and mission. Running a business is not only about money. It is about the value you can provide for people. The biggest DTC brands first identify their mission and let their audience know they are pursuing something more than revenue.
Their dedicated customer service. Having access to all customers' data and feedback, DTC brands can build exceptional customer service as they know firsthand their clients' needs and pains.
The Top 35 DTC Brands of 2023
To boost your inspiration, we've prepared a list of the 35 best DTC brands whose examples can give you ideas on how to get your direct-to-customer approach right.
1. Lovevery
Lovevery is a company that sells educational games for children. This brand sets its focus on helping kids develop with the help of their toys. And what is more distinctive is that they create the games with the help of professional therapists and specialists in the children's development area. Also, they stick to the Montessori method, which makes their products more qualified.
2. Marc's Magic Rub
DTC company Marc's Magic Rub, which sells seasoning for meat and fish of any kind, stands out on the market because of its special story. They see their mission as honoring their dad, Marc, who was fond of barbecue but tragically died from cancer. It's hard to disagree that, even because of that story, you would be interested in jumping on their website.
3. Knot Standard
What makes Knot Standard unique is that this brand offers custom-tailored suits. That means that you can actually book an appointment with their dressmakers and create a suit that will be specifically sewn to your parameters. Also, they have brick-and-mortar stores where customers in live mode can walk in and give their parameters.
4. Yellow Beauty
The Yellow Beauty brand sells turmeric-based beauty products for the skin. Their name perfectly matches the product they provide, as turmeric is bright yellow. When you visit their website, you will get aesthetic pleasure as every page is created with the best visual effects. And it is a pleasure to see how they promote themselves.
5. Burrow
Two friends were so annoyed by buying low-quality furniture in their college days that they decided to create their own company that sells furniture of exceptional quality and is easy to assemble. The Burrow brand focuses on providing elements of furniture that are long-lasting and, at the same time, easy to transport. Also, when you get your sofa or a bookshelf home, you don't have to spend hours "playing Lego" when assembling the parts together.
6. By Humankind
The DTC company By Humankind has a noble mission: to create personal care products without harming our environment. They promote themselves as a cruelty-free brand that doesn't use plastic and doesn't bother clients with annoying emails. The Humankind store offers monthly subscriptions and sends a monthly product set to every subscriber. 
7. Oura
Oura is the future of fitness trackers. With the help of this tiny 0.1 ounces piece of titanium, you can track your health indicators: heart rate, blood oxygen, and other metrics essential for human health. With the Oura rings, connecting to other applications and seeing your health data is accessible. You can even share your score with friends, which makes this product extra appealing for tech-savvy millennials.
8. Halfdays
The Halfdays brand is a paradise for women who love fashionable clothes and want to stay trendy even when skiing. We all know how bulky and shapeless the skiing uniform is. Halfdays handles that problem by offering stylish ski wear for women. They also have an online community where skiers can share their experiences.
9. DEUX
Unique in their niche, cookie doughs by DEUX are not only looking incredibly delicious but provide value for buyers. Their snacks are healthy, as the company represents its products as gluten-free, vegan, and full of vitamins. This DTC brand is, in fact, closer to customers, as right on the main page of the DEUX website, you will see a hello video from their founder. And by promoting healthy cookies, they indeed gather a lot of young and conscious audiences. 
10. Elvie
The Elvie brand embodies a vision of a real revolutionizer in the lives of mothers. Elvie's founders have created a smart version of the breast pump that doesn't look like a torture device. With their clear mission to help mothers simplify their hard work, Elvie wins the hearts of a lot of females.
This brand also sticks to the tactic of following up with the client. They periodically send emails to ensure their customers are properly guided on how to use the products.
11. Three Ships
The main goal of the Three Ships beauty products is to provide simple yet effective skincare for clients. Thus, they make their customers aware of every ingredient used in the item. What makes Three Ships an authentic DTC brand is that they make their buyers ambassadors.
The Fleet community they gathered is a group of fans who share the same values as the company. And yes, the community participants spread the word about Three Ships to their friends and family, getting rewards and discounts.
12. The Farmer's Dog
Being among the biggest DTC brands, The Farmer's Dog's main priority is to provide healthy, freshly-made food for our little friends. They create luxurious and expertly supported meals from meat and veggies, ensuring every dog receives the maximum value. And that approach made them billionaires.
13. LOLA
The LOLA brand is another perfect example of a company that cares about women's health. They create products for periods: tampons, cotton pads, liners, period underwear, and other tools for maintaining good female health. The LOLA company offers subscriptions that cover sending monthly bundles for the subscribers.
14. Feastables
The Feastables DTC campaign doesn't even need a commercial: its owner is a popular Youtube blogger named MrBeast. You can definitely spot these snacks, as they are designed in bright colors and with loud notes. Much of the advertisement is made by MrBeast himself, who films videos with his snacks. His Willy Wonka factory video has 90 million views, so imagine how viral chocolates by Feastables are!
15. Knix
Knix is an ideal representation of direct-to-consumer marketing as it connects with its customers by allowing them to be themselves. The brand's primary purpose is to let buyers feel comfortable in their underwear. They display people of all ages and body types in the commercials without photoshopped pictures that have zero connection with reality.
Knix is also active on social media. They post funny videos on Instagram and Tiktok, attracting more clients to their brand. 
16. Blume
Blume is an alternative to usual lattes but with healthy additions like lavender, turmeric, cardamom, or reishi mushrooms. Their website is a piece of a masterpiece, as the combination of colors and minimalism doesn't overload you with information yet gives a comprehensive overview of the products.
Blume's social media marketing is just right — they post interactive content while showing their real lives. And for those customers watching TikTok, they can get a unique code for shopping on Blume.
17. Misfits Market
Misfits Market's mission is to open the opportunity for everyone to get fresh organic products. This e-commerce store gets groceries that didn't pass the standards. It is tainted not because it doesn't fit the requirements — it is either too small/big or deformed. Thus, buying organic food becomes more affordable to everyone.
18. Cuts Clothing
Cuts Clothing has created a unique brand: they sell clothes that can both fit the official style and be comfortable. They position themselves as a brand for ambitious personalities who are winning in the sport of business. Cuts Clothing posts photos of professional sportsmen wearing their products to become more recognizable.
19. Joggy
The Joggy brand stands out from its competitors with its unique product. They offer energizing drinks with good components for any purpose in your daily activity: before sport, after sport, for gaining energy, to sleep better, or to be focused.
What is special about Joggy is their style. It feels like you are playing GTA while visiting their website. Also, they promote the Joggy community, which gives participants bonuses for future purchases.
20. MUD\WTR
For those looking for caffeine alternative drinks, MUD\WTR can fulfill your needs. They create coffee from mushrooms and other components like cacao or herbs. MUD\WTR is focused on helping people overcome caffeine dependency. They promote their drinks as those that give energy, support the immune system, and help with sleep.
21. Pepper
The Pepper brand creates bras for women with small breasts. They are promoting the idea that bras should be comfortable and bring confidence rather than inconvenience in wearing them. Pepper also prioritizes feeling satisfied, no matter your body's size and shape. They also compare their products to those not as customized as their special bras.
22. Diaspora
The Diaspora brand sells spices, but they are directly partnering with farms paying workers four times more than regular ones pay. The founder of Diaspora, Sana Javeri Kadri, identifies the company's main purpose as bringing flavor to people's lives. And indeed, Diaspora cares about the flavor as they display detailed information about the origin and harvest on every spice packaging.
23. Appointed
The Appointed store sells planners, calendars, books, and other tools that help make the daily routine more organized. Their main feature is in the design, which is quite minimalistic. What draws a lot of attention is their planner quiz. On the Appointed website, you can take a quiz and find your perfect planner.
24. Casper
Casper prioritizes comfort when sleeping or resting. They have online and offline stores, giving customers real ability to test a product. And when talking about testing, they indeed have special testing rooms where you can completely try their mattress and even take a nap.
Casper encourages its customers to participate in the reward program by getting 15% in cash from future purchases by buying with Accrue.
25. Glamnetic
The Glamnetic brand focuses on selling magnetic lashes, press-on nails, and accessories. Their marketing strategy is concentrated on promoting via social media. Especially valuable to customers is the founder, Ann McFerran, going live and showing how to apply the products. And surely, those who watch the translation get bonuses in the comments.
26. Ten Little
We all know how complicated it is to shop for kids, as they are growing rapidly and should have only high-quality products as their bodies are forming. Ten Little addresses that point and simplifies the shopping procedure for parents.
They serve as experts, advising exactly what is best for your kid as you go through the questionnaire and fill out your children's development stage. 
27. Caraway
The Caraway brand provides safe cookware. The company's main goal is to give its customers non-toxic and non-stick pans, kettles, and other kitchen tools. The story of the firm's creation will impress everyone. Its founder, Jordan Nathan, has been poisoned with Teflon and after that, he decided to create his own cookware that would be safe for people.
28. Hint


Hint is a provider of water with different flavors. But what makes them outstanding is the bundle collection. In fact, such a marketing strategy generates more sales. You can save up to 45% of the regular price when buying a bundle.
They also have attractive commercials. Hint water is loved by people and two lemurs — Larry and Lenny.
29. JuneShine
The JuneShine's idea of creation came from the thought that people know less about what they are drinking if compared with what they are eating. That is how the founders decided to brew their own kombucha and spirits.
A distinctive fact that sets JuneShine apart from its competitors is that the company organizes parties. They invite famous guests like comedians or artists to join the social events and treat everyone with their drinks.
30. Glossier
Another direct-to-customer brand, Glossier, identifies its duty as making people's skincare routine as simple as possible. They also claim that self-love is the beginning of everything in the world. Glossier is good at promoting its products via social media, cooperation with influencers, and popular brands like Sephora.
31. Smile Direct Club
The founders of Smile Direct Club had to wear metal braces to perfect their smiles. And that is how the idea of creating aligners and teeth whiteners was born.
The stages of selling look like the professional treatment, as a customer has to visit their physical shop and get scanned for analysis by orthodontists. Then clients receive instructions on what aligners to choose and how the treatment process will go. 
32. Cometeer
Being the first in the world, Cometeer sells frozen coffee capsules that can be prepared with hot water, cold milk or added to cocktails. The special feature of coffee from this brand is that it is easy to transfer. You can get some frozen capsules on the plane when traveling or at work, and the quality of coffee will not be damaged.
Cometeer attracts new clients with its generous referral program. When you buy their coffee as a gift for someone, you can receive bonuses.
33. Allbirds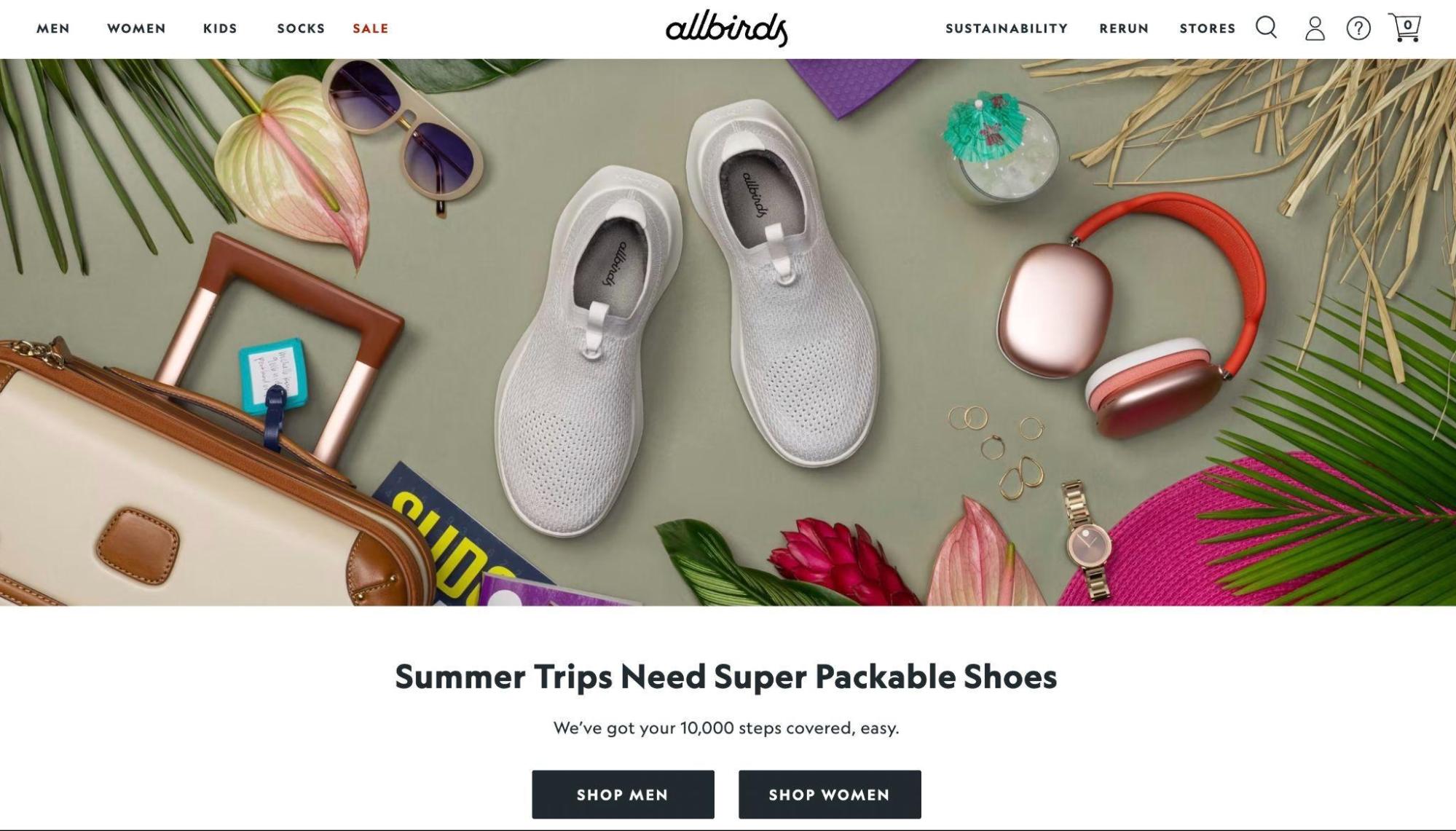 Allbirds' main rule is to create sustainable products. They offer Merino wool footwear for any kind of weather and purpose. What makes them special is their eco-friendly approach. The founders of Allbirds believe that having one high-quality item for years is better than buying several every year, polluting the environment.
34. Biossance
Biossance is something more than just a company that sells cosmetics. It is an educational hub about the content of every item they provide. Biossance teaches customers what ingredients are useful for the skin and what can cause harm. More than 100 articles on their website explain why sunscreen is important or what vitamin C does to our skin.
35. Braxley Bands
Braxley Bands is a shop that sells extremely comfy Apple Watch bands. They create bands that can be washed, stretched, and as diverse as possible.
The marketing campaign for Braxley Bands is an example of how to create interest in a product. They provide VIP access, mystery boxes, and reward programs for sharing Halloween photos with their bands.
Conclusion
The direct-to-customer approach is a chance to put your business on another level. With the examples of top DTC brands, you can see that being unique and providing value for your customers are the points that will drive your firm to incredible results. When you treat your clients as friends: stay close to them, give them presents, and check up on them, they become loyal clients. That is why the direct-to-customer strategy is the one to keep an eye on in 2023.
FAQ
Why is the direct-to-consumer approach effective?
DTC strategies provide many advantages for business owners. For example, when you cut off the middlemen from the selling cycle, you get access to all customers' data. Thus, you can learn what their needs and feedback are. Also, you can keep your initial price as it is without making discounts, when selling wholesale.
What are the main strategies top DTC brands use?
When you look at the examples of the biggest DTC brands, you will notice that they all sell the uniqueness of their products. Be it a cosmetics shop or a cookware store, the companies show people why they need to buy their services. Also, communicating with customers directly is what drives more loyal audiences. Founders of DTC brands organize parties, translations, or just show up on social media, ensuring clients are valued.