How to Use Shopify: Best Shopify Tutorial for Dummies
15 July 2022
01 September
~ 8 min read
1720 views
We are sure there are plenty of Shopify tutorials, but most of them require you to understand the platform. Let's break down how to use Shopify in an easier way so you know why to use it, what it can give you, and what the benefits are.
You've probably heard of Shopify as the most popular e-commerce software that helps to run any business type. That's true. This cloud-based platform is easy to use and intuitively helps sell, ship, and promote items or services. The cost is pretty low for all the goodies you can get from this online platform.
If you want to read about creating the store step by step, read our How to Start a Shopify Store: Step by Step Guide article. But for now, let's dive in and learn Shopify for dummies.
What is Shopify?
The first thing you need to understand from this Shopify guide is that Shopify is a user-friendly, complete business solution. Initially, it was a simple e-commerce site builder, but through the years, the developers have added so many cool things that this is a superb business solution. Shopify allows you to build an online store, customize your shop's look and functionality, sell digital products, services, and products online, in person, or via third-party stores, manage orders and shipping, integrate marketing tools, and monitor analytics, etc.
It is one of the best solutions you can get on the Internet to create your online store. Shopify is easy to learn, easy to use, relatively cheap, and provides lots and lots of valuable functions.
How Much Does Shopify Cost?
As there are plenty of different platforms that offer similar services, Shopify has a fair pricing policy.
It is extremely affordable, flexible, and has plenty of functions for each plan. Based on the features of the plans, you can see which one fits your business the best. And let us assure you, you won't struggle with picking the plan as all of them are suitable for different-sized businesses.
You can read about all Shopify features on their page to see which plan suits you the most. The best part is that you get 24/7 support, so any question that pops in your mind or any issue you face can be solved anytime.
Why is Shopify So Popular?
Many users google "how to use Shopify for beginners" and it is truly popular among those who have only started their career in e-commerce. It is extremely easy to use. Once you've started the free trial, you get access to plenty of learning materials and guides on how to open and market your store. This means that you don't have to look up loads of information elsewhere, since you have a little academy from the platform itself. 
1. The interface is very user-friendly 
You don't have to think twice before clicking any button or look up at how to upload the file, as you can simply drag and drop. Basically speaking, you don't have to have superb technical or coding skills to start your business. This means you can do it on your own and start a small independent store right away! The only thing you might want to learn is marketing, as it takes time, budget, and consistency to start selling on a regular basis.
2. Affordable and scalable
As we mentioned earlier, the pricing is very fair, and each plan offers the exact amount of features that might be useful for your business.
3. 24/7 Support
Shopify also provides extremely awesome support. Besides offering you Shopify tutorials, you can ask a worker at any time of the day any question. There are plenty of ways you can connect with Shopify experts: phone, chat, or email, which are useful for any type of client. And this support is not only valuable for Shopify business owners; people who search for items can use it as well. This helps attract more people to the platform and, eventually, to your business.
4. Secure and fast
You can be sure that all the data your customers share with you will be safe with the help of Shopify security systems. As the owners of the platform take personal information security very seriously, they often ask ethical hackers to check whether Shopify is hackers-proof. This leads to solving different issues far ahead of anything really bad happening. 
5. Mobile friendly
Shopify is mobile-friendly. It is not a secret that people use their phones for pretty much everything: photographing, reading, talking, having fun, working, and shopping! This is why it is important to create stores that look and work well on any device. All Shopify pricing plans include mobile shopping carts, which mean that anybody can shop — people using laptops and people using their phones. Even if you look at this platform as Shopify for beginners, you will be surprised how easy it can be and how much you can do with this website. 
6. Used for drop shipping purposes
Another reason why Shopify is so popular is that many use it for drop shipping. As drop shipping is the most popular way to start off in the business and retail world, this platform provides everything necessary, including the Shopify tutorials, for a reasonable price. The merchants' costs are minimal as all they need to do is to offer the products that others will ship for them. The most popular platforms where many find the goods are AliExpress or Alibaba, and Shopify gives an option to work with such business giants as well. 
As we said before, marketing is a huge thing when it comes to selling your products or services. Many those who start their business and don't know how to use Shopify also don't know the marketing. Shopify staff understands it and does everything possible to help people learn the basics of the business. That's why you can find different articles, tutorials, courses, etc., on the platform to book your marketing skills. Even if you plan to hire a marketing specialist, you still need to understand the basic principles of marketing, why you even need it, and what to expect.
How to Use Shopify: Tutorial for Beginners
You can sell anything on Shopify if you market it right. It can be anything from different digital or dropshipping products to anything you made yourself. Among others, you can sell hand-made products, makeup, home supplies, clothing, photography, online classes, gift cards, events, digital books, etc.
But don't think you can literally sell anything. You still can't sell drugs, guns, alcohol, tobacco, e-cigarettes, or other illegal products. Shopify has listed forbidden goods, so you can check them yourself.
There are plenty of ways you can use Shopify to sell goods and services, and many other e-commerce platforms can't offer what Shopify can.
Sell Online
How to use Shopify? As mentioned before, Shopify is a cloud-based service which means that all the hosting, inventory, management system, and shipping happens through the Shopify system. You can build your business alone sitting in your room! But, of course, if you want more, you can create a team of specialists to do more. 
More than that, there is an option to add different apps that Shopify offers to upgrade your business. You can pick among marketing tools or apps that allow you to buy now and pay later. You don't need any coding experience or tech knowledge to download and install such apps for your business. Basically, with Shopify tutorials, you can build and start your own business in under 30 minutes. 
Let's take a look at some popular and successful Shopify stores.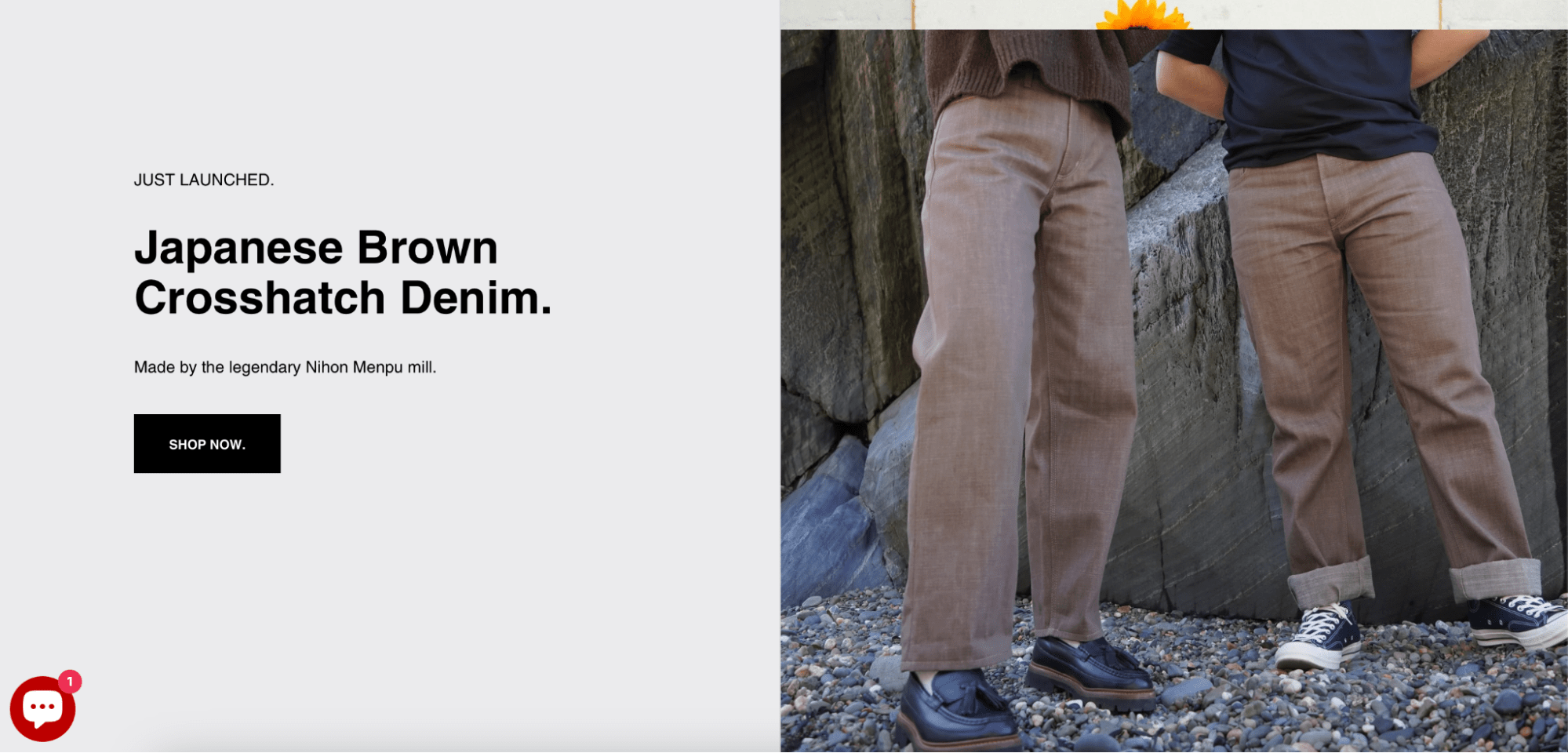 Hiut Denim Co targets a specific niche within the fashion industry — denim enthusiasts who value quality over quantity. This narrow focus allowed them to excel in a specific area and attract a loyal customer base.
Naja was known for being transparent about its production processes. The brand shared information about its supply chain and manufacturing practices, building trust with customers. At the same time Naja's brand story, emphasizing social responsibility and empowerment, resonated with consumers looking to support companies that align with their values.
Ketnipz often released exclusive and limited edition art prints, merchandise, and collaborations. This approach created a sense of urgency and excitement among fans, driving sales and engagement.
Popup templates are the best solution when you need to attract new subscribers inexpensively. Claspo popup builder allows you to promote special offers and make sales announcements and doesn't require a lot of resources to prepare. 
We understand that installing a script on Shopify is difficult: you need to understand the settings and add the script directly to the code. That's why we will add the Claspo app to the Shopify App Store soon. Then, if you have logged in, you can immediately install the app on your store, and the script will also be installed automatically. Next, you create your widget using the drag-and-drop editor in a few clicks.
And that's not all! We will soon add the ability to target the Shopify audience so you can tap into a pool of potential customers who are already familiar with online shopping and are actively seeking products or services.
Boost your sales quickly using catchy Claspo widgets on your website!
Sell Offline
If you want to sell offline only, Shopify got your back! You can use Shopify POS hardware, iPad, tablet, or even your smartphone to run your store. This option is available even for a Shopify Lite plan, so you don't have to pay much money if you need Shopify for offline stores only. 
Sell Online and Offline
Don't pick if you want to sell both online and offline! Shopify for beginners guides offer you the steps on how to create an online store and sync it with the POS app. As they are synced, you can monitor the revenue and stock levels, meaning the mistakes level runs to zero. 
Sell on Social Media
Shopify offers adding a button to any popular social media platform so your customers can purchase a product or service just from social media. It makes it easier to sell without asking people to follow another link to your website to buy something. Among many social media platforms, Shopify can be connected with Facebook, Instagram, Twitter, TikTok, Pinterest, and messengers WhatsApp and Facebook. 
This approach shortens the path that your customers have to take before buying your products. It always results in better selling rates. 
Omnichannel Selling
If you are still not impressed with how to use Shopify, check this out! You can connect Shopify to different popular sales channels to get more awareness and sell more goods. The most popular are Amazon, Etsy, eBay, Walmart, and Google Shopping. However, this requires building another selling strategy and sticking to it. It is quite simple to start selling via other channels. You have to connect the Shopify shop with your account on another platform to sell from several places at the same time. 
Think About Other Tools
To build a stronger store and bring more people, you have to work on much more things than simply creating a store and adding the items. You should learn and implement the things like marketing, SEO, work on conversion, accounting, customer service, shipping, and reporting. Shopify has tools for each of the above-mentioned topics as well as Shopify tutorials.
Get Everything You Need on Shopify
This is how to use Shopify from Claspo. Needless to say, Shopify is an extremely powerful tool when it comes to creating your business and your own store. It has everything you need, as it fits any type and any size of business. Furthermore, Shopify can be integrated into any social media platform or any omnichannel that can help you bring more people to your store.