14 Best Shopify Print On Demand (POD) Apps in 2023
18 May
04 September
~ 8 min read
1662 views
Are you planning to run a dropshipping business and wondering how to make money on Shopify? Read our review of 14 Shopify print-on-demand apps and successfully launch your business with these helpful instruments.
What Is Print-On-Demand?
Before we review the best print-on-demand Shopify apps, let's find out what print-on-demand means. Print-on-demand is a new business solution every online seller can implement. What is more important is that thousands of start-up entrepreneurs around the world benefit from this model. And the main advantage of print-on-demand is that you do not have to invest in your business.
It is simple: find a good supplier, develop a platform to place your products, and process clients' orders. Meanwhile, all the difficulties with sending and shipping the order will lie with your supplier. If that sounds like a plan, let's find out the top 14 best Shopify print on demand apps.
Best 14 Shopify Print-On-Demand Apps
Starting your print-on-demand business is essential if you are determined to receive a profit as quickly as possible. That's why you have to pay special attention to the choice of your print on demand app. We carefully checked every app listed below, so your main task will remain to reveal how to use Shopify and choose the best helper for you.
1. Gelato
Gelato is one of the most popular Shopify pod apps. According to open sources, Gelato is now actively developing in 33 countries. What is more important is that the app is constantly growing, which makes it a reliable platform.
Pros:
Trusted service with a good name;
Wide range of products set;
Transparent policies;
Recognition among famous e-commerce platforms;
User-friendly and easy-to-navigate website.
Cons:
Ability to receive support only by mail;
High-cost subscription plans;
Discounts are offered only to experienced users.
It's also worth mentioning that Gelato offers a number of helpful features. Let's start with the fact that the app provides a diverse range of tools to create designs for your products. Gelato will also back you up with the best available materials and allow you to track your order right to the customer's door.
Another great news is that you can sign up for the service for free. However, if you receive the maximum from the platform, you can buy a paid package of Gelato+ and Gelato+ Gold. Package prices range from $14.99 for one month to $999 for annual access to the app.
Shopify ratings: 4.5
2. Printify
Printify is another excellent platform on our list of the best print on demand apps for Shopify. The first thing that distinguishes this app is that it is engaged only in producing clothes. So if you were dreaming about selling stylish T-shirts online, this app would be perfect for you. And our list of pros will convince you even more. However, there can also be some pitfalls. Let's take a look at both the benefits and drawbacks of Printify so you can come up with the best solution.
Pros:
Reasonable price rates that will suit every budget;
Excellent quality of the final product;
Varied networks of different print providers;
Convenient website suitable even for newbies;
Integrations with platforms such as Shopify, eBay, Wix, and many others.
Cons:
Some customers claim poor customization options;
Unresponsive customer support service;
Need help to control the quality of the printed product.
One of the best features that Printify will offer to your attention is an unlimited number of free design options. Another amazing feature is that the platform uses only eco-friendly materials in product manufacturing. Also, you will not find on other services a product migration tool, with the help of which you can transfer your product to other platforms.
Another great advantage that we still haven't noticed is the price since you will be able to use the platform absolutely free. Meanwhile, the paid version will cost you only $29 per month (if you pay monthly).
Shopify ratings: 4.4
3. Printful
Printful is a pod Shopify app that will allow you to create an online selling business without any struggles. The first impression of this app is that you can bring to life any idea that you might have. So basically, on Printful, you will be limited only by your imagination.
Pros:
Personal account with excellent tips to make your first sale;
Affordable rates that spare your wallet;
Wide range of product sets;
Sophisticated delivery system.
Cons:
Poor customization abilities;
Possible delays during deliveries.
One of the best features Printful offers to clients is the printing options, like screen or digital printing and embroidery. Of course, you will be able to connect your shop on Printful with popular e-commerce platforms. Also, do not forget about the tremendous number of possible items you can design in your own way. This gives you the flexibility to create a wide variety of products that showcase your brand's unique features and attract different types of customers.
If you are worried about the price of the Printful app, you should not be. The fact is that this tool is free to sign up for. You will have to pay only when your prepared product is sent to the customer, and it will include the price for manufacturing and shipping.
Shopify ratings: 4.5
4. Spod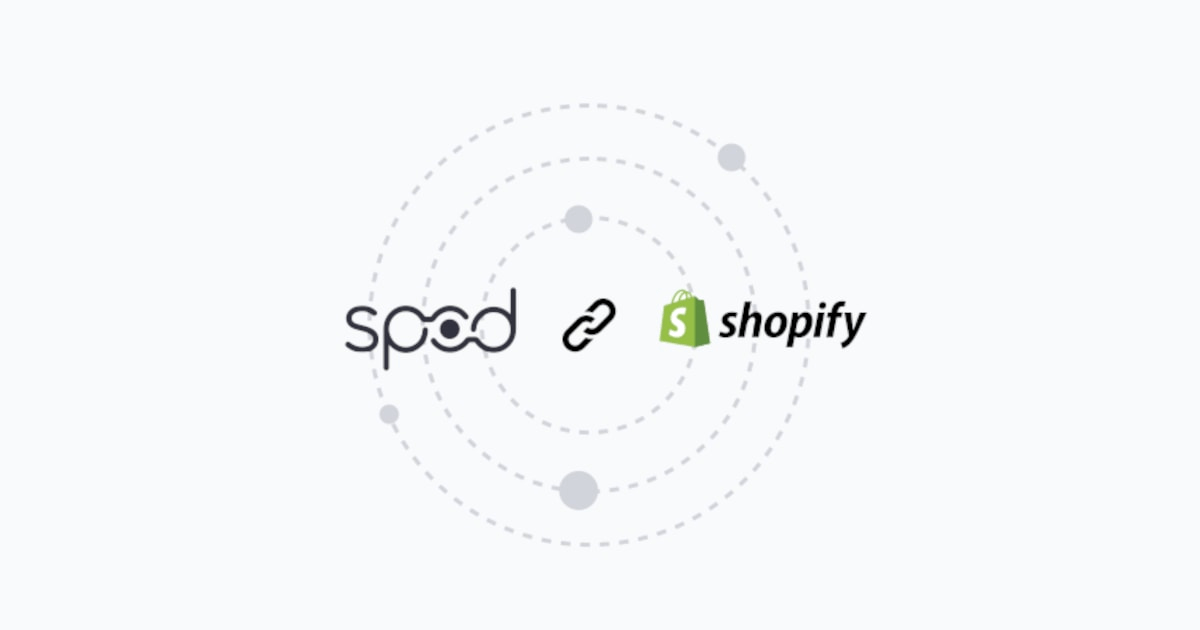 The first thing that will distinguish Spod from other print on demand Shopify apps is its focus on EU customers. Of course, you'll still be able to sell your products in the US or other countries, but the thing is that Spod is perfect for EU citizens. So let's find out what else Spod will be able to offer you.
Pros:
Guarantee of delivery within 48 hours;
Perfect selling service for EU citizens;
User-friendly set of functions;
A big library of free designs.
Cons:
Around 120 products option, which is less than on other platforms;
Some clients noticed the poor quality of the received products.
Spod offers you a wide variety of valuable features, such as a 20% discount for ordering a product sample. This feature will help you ensure your product's quality is up to par. It's also worth mentioning the special calculator that will help you find out the shipping cost.
Besides, Spod is known for maintaining high product quality standards, carefully checking each product to meet these standards before shipping it to the customer.
The app's usage will not cost you anything. However, the delivery and production of your product will take around $10 for one item. So, as you can see, Spod is offering affordable prices for a first-class service.
Shopify ratings: 3.9
5. T-Pop
T-Pop app is looking for a target audience within the European Union. That's connected with the fact that this service is located in France, making it perfect for people who want to do an online business in Europe. By the way, T-Pop has a few advantages you will not find in any other service.
Pros:
The delivery range between 48 and 72 hours;
Suitable delivery service for EU customers;
Free brand logo on every shipped package;
Service uses materials that are eco-friendly.
Cons:
Many users noticed slow delivery outside the EU.
You can choose to sell your products directly via the platform or connect it with some e-commerce service. T-Pop will also provide you with a huge amount of different items that you will be able to customize in your own way under the T-Pop brand. What is more important is that shipping in the EU will be really fast. Optimizing order fulfillment can effectively enhance customer satisfaction and loyalty, as it ensures timely delivery of their purchases.
It will cost you nothing to start your business on T-Pop. However, you need to keep in mind that you will have to pay some fees for delivery and manufacturing.
Shopify ratings: 3.8
6. JetPrint 
JetPrint is one of the best print-on-demand for Shopify apps. The thing is JetPrint will offer you more than just regular T-shirts or clothes for your online business. JetPrint is also known for selling shoes and watches. Nevertheless, it's not the only thing that makes it a great platform for business.
Pros:
An unusual selection of products;
Constant adding of new product sets;
Wide variety of different designs;
Great tools for the customization of your products.
Cons:
Difficulties in the ordering process;
Lack of empathy from customer support.
JetPrint is one of a few print-on-demand apps that will offer you extraordinary logistical infrastructure. This ensures quick order processing and delivery by partnering with leading global shipping companies, providing automatic tracking updates, and using strategies to cut down shipping times and costs.
You will not have to pay a single cent to subscribe to this platform. However, you have to be ready to spend a few bucks on manufacturing and delivering goods to your customers.
Shopify ratings: 4.2
7. CustomCat
If you're looking for a pod shop that will offer you hundreds of unique items, welcome to the CustomCat. This platform has been on the online market for a while, and during those times, it gained a tremendous amount of trust and popularity worldwide.
Pros:
High-profit margins;
Convenient and user-friendly platform;
Selection of products that are unavailable in other services.
Cons: 
Logistics offices located in the US;
The service doesn't offer custom packaging.
One of the greatest features available on CustomCat is that you're free to sell directly from the platform, there is no need for your own shop. It will also propose a mockup generator. This tool enables you to preview the presentation of your designs, minimizing the probability of errors and heightening the likelihood of customer satisfaction before the actual sale.
You will be able to start using the app for free or buy a special package for $30 per month. As a result, in the paid version of the app, you will receive the ability to sell more than 15 items per month and lower prices than in the standard package.
Shopify ratings: 4.3
8. Gooten 
Gooten is another app that provides smart solutions for big companies and beginners in e-commerce. This service is a symbol of reliability and trust; our list of advantages will convince you even more.
Pros:
Fast logistic solutions for all types of businesses;
The intuitive and convenient interface of the website;
Useful tips that the service provides to newcomers.
Cons:
Some users complain about the quality of mockups;
Shipping prices might be a little big-budget.
The app provides you with an opportunity to automate all your orders. This eliminates the need to manually process orders or manage inventory, giving you more time to concentrate on other essential aspects of growing your business.
Also, Gooten offers you shipping to any part of the world, and you will be able to manage all from your Gooten account. In addition, Gooten provides an extensive number of tailor-made products, ranging from clothing and housewares to accessories and beyond. With this, you can offer a broad selection of merchandise through your online storefront.
The great news is that Gooten is totally free. Meanwhile, some expenses might occur when it comes to production and logistics.
Shopify ratings: 4.2
9. Yoycol
It's not the most popular but promising app that was founded in the year 2016. According to the platform's website, only in 2021, Yoycol fulfilled around two million items. But what about other advantages that the app is ready to offer you?
Pros: 
Great reputation according to users' testimonials;
More than 900 items are available in the app's shop;
Ability to create custom designs for free.
Cons:
Difficulties with receiving refunds;
The possibility of poor quality of the final items.
The main peculiarity is a separate factory that manufactures most of your orders with exceptional quality. Also, the app will allow you to check a 3D mockup of your item and even have a virtual tour where you can visit the factory by yourself.
You will be able to sign up for the platform at no charge. Meanwhile, the expenses to create and send items will depend on your total profit.
Shopify ratings: 3.8
10. Fuel
Another winning business solution offers a great opportunity to integrate your Fuel profile with your Shopify account. As a result, you receive a ready-to-make-profit selling platform from the beginning.
Pros:
High quality of the offered item;
Different variations of customization;
Quick shipping.
Cons:
Delays on the part of suppliers;
Slow manufacturing of items.
The app will give you a great visualization of the design of your products. Also, Fuel offers you three different kinds of printing options: DGT, sublimation, and embroidery. As you can see, the app provides you with various options to bring your designs to life.
Fuel is free from charges of any kind during the registration on the website. Despite that, you should be ready for little spending when you will have to manufacture and deliver your product to the client.
Shopify ratings: 4.1
11. Print Melon
Print Melon is a Shopify app that will supply you with full assistance during manufacturing, storing, and shipping your products to customers. While all you will have to do is taste the advantages of online business.
Pros:
Fast delivery within the US territory;
High quality of the offered production;
A convenient platform to start your online business quickly.
Cons:
Slow shipping outside the US territory;
Poor quality of some items.
Print Melon uses the most modern security protocols that make your business as safe as possible. Print Melon also provides a versatile range of tools designed to offer complete customization options for various aspects of your products, such as color, design, placement, and sizing.
The app contains zero hidden fees or payments for registration. That means that you will be able to spend all your budget on manufacturing your products and delivering them to clients.
Shopify ratings: 4.4
12. Teelaunch
Teelaunch is a brilliant solution for young entrepreneurs who want to start their online business without any trouble. Teelaunch provides you with hundreds of bestsellers, which you will be able to customize and sell from your personal platform.
Pros: 
Ability to connect your account with the best e-commerce platforms;
Great customization options for all items;
Affordable prices that will suit any budget.
Cons: 
Limited integrations with other e-commerce platforms;
Unreliable outsourced fulfillment.
The best feature of Teelaunch is its worldwide production, which makes it easy to run your business anywhere. What's more, Teelaunch seamlessly integrates with Shopify, so you can easily manage your product listings and order processing.
You will not have to pay anything to use the platform. Despite that, some percent of your income and profit will be sent to the platform as a commission for services.
Shopify ratings: 4.1
13. AOP+
AOP+ is another solid app that will help you build your dropshipping empire even with a minimal budget. The app provides many items, so you will find something for yourself.
Pros:
Reasonable rates that everyone can afford;
High quality of the items;
Great functionality for customization.
Cons:
Limited functions in the free version;
The necessity to buy a paid plan to receive maximum from the app.
The software will provide you with many cool features, including creating unlimited designs for your items, fast and convenient integration with popular e-commerce platforms, and engaging discounts.
The app offers a free version, so basically, you will not have to pay anything for the platform. However, to receive the maximum potential from the app, you must buy paid subscriptions starting at $11.99 monthly.
Shopify ratings: 4.2
14. Printy6
If you focus on something other than selling T-shirts or hoodies, Printy6 is the perfect solution for you. On this app, you will find everything, starting with regular watches and finishing with posters and interior items.
Pros:
The convenient and simple interface of the app;
Wide variety of product sets;
Responsive customer support service.
Cons:
Worldwide delivery will take at least three weeks;
Claims for the discrepancy between received and ordered items.
This app will provide you with many great features, such as free worldwide shipping, democratic rates for complete ordering processing, and an impressive range of available items.
Since the platform is free, you will not have to pay anything to create an account. However, as you already understood, you will have to pay for the manufacturing and delivery of your item.
Shopify ratings: 4.1
Did You Know That You Can Earn Money Not Only Via Apps?
Earning money on Shopify goes beyond just using apps; it involves building a solid e-commerce business strategy. You can use various methods to earn:
Product Sales. The primary way to make money on Shopify is by selling physical or digital products. You can source products, create your own, or use dropshipping to fulfill orders. 
Branding and marketing. Effective branding and marketing strategies can significantly boost your sales.
Subscription services. Offer subscription-based products or services to generate recurring revenue.
Digital products. Sell digital products that customers can download. Examples include e-books, software, design templates, music, videos, and more. You only need to create the digital product once and can sell it repeatedly.
Services related to your niche or expertise. You can provide services like consulting, design, copywriting, or coaching if you have specialized skills. Create a service page on your Shopify store and clearly outline what you offer.
Physical products with unique value. Differentiate your store by offering products with unique value. Consider customization options, personalized products, limited edition items, or exclusive collaborations.
Content monetization. Write and monetize a blog with affiliate marketing, sponsored posts, or selling related products. Offer premium content, such as tutorials, guides, or in-depth articles for a fee.
Partnerships and collaborations. Collaborate with other brands, influencers, or businesses to expand your reach. Joint promotions, giveaways, or co-branded products can introduce your store to new audiences.
With many Claspo ready-made templates, it's easy to choose the one that meets the needs of your business and can boost your sales. 
We understand that installing a script on Shopify is difficult: you need to understand the settings and add the script directly to the code. That's why we will add the Claspo app to the Shopify App Store soon. Then, if you have logged in, you can immediately install the app on your store, and the script will also be installed automatically. Next, you create your widget using the drag-and-drop editor in a few clicks.
And that's not all! We will soon add the ability to target the Shopify audience so you can tap into a pool of potential customers who are already familiar with online shopping and are actively seeking products or services.
Conclusion 
There is a good number of different Shopify print-on-demand apps that will help you to launch and run a successful business. We recommend you spend your time choosing the most suitable platform since the development of your business will depend on it. Take a closer look at each platform, and we assure you that your success will be guaranteed after picking the right one.
FAQs
1. How to choose the correct POD app?
Do a little research and create a list of your favorite apps. As a result, you can compare platforms and choose the one that suits all the parameters.
2. Is it hard to start a POD business?
It's not as hard as you may think, since most modern platforms will provide you with all kinds of possible tools to run a successful business.
3. What is a perfect budget for starting a POD Shopify business?
There is no such thing as a perfect budget since you can start your business on the POD Shopify app even with a hundred bucks.